Main Content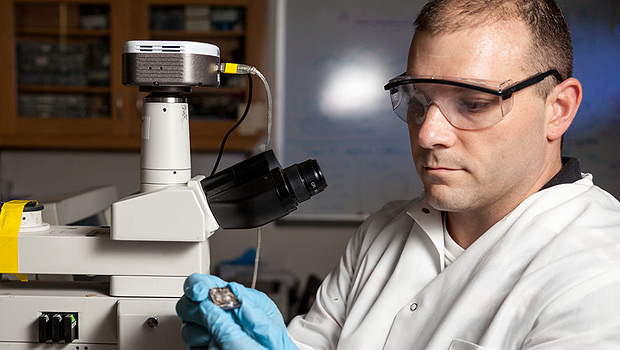 It's what scholars dream about: getting to work with the latest technology and leading researchers in the industry to develop a scientific breakthrough.
For Jason Gagliano, a biology graduate student, it's a reality.
Gagliano is part of the physics department team developing a technology called Next-Gen Lab-on-Bead. The tool uses next-generation genetic sequencing to make the drug development process thousands of times faster, much like a Google search.
"I usually just tell people I am trying to find new drugs for cancer," he said.
The National Institutes of Health (NIH) has awarded the team a $700,000 grant to bring Next-Gen Lab-on-Bead to market. The NIH awarded the funding through its Small Business Innovation Research program, and Wake Forest will share the funds with partner NanoMedica, a Winston-Salem company that has licensed the patent for Next-Gen Lab-on-Bead.
The research team, led by Keith Bonin, Jed Macosko and Martin Guthold of the physics department, also recently received a two-year, $160,000 Collaborative Funding Grant from the North Carolina Biotech Center to refine Next-Gen Lab-on-Bead for commercial use.
"We are using cutting edge technology that has only been on the market for about a year and a half," Gagliano said. "We have an application for this technology that, as far as we know, no one else has thought of, which makes it exciting to explore."
Next-Gen Lab-on-Bead uses a roughly one-inch-square chip, much like a computer chip. A football-shaped area in the middle of the chip is filled with millions of wells. Each well contains a bead, to which the researchers attach a potential drug molecule.
"We can do millions of sequencing actions in unison to find a possible drug to treat a specific disease," Guthold said.
To find a disease-drug match, a pharmaceutical company would supply the target – for instance, the tiny protein called Src kinase associated with many cancers. The researchers would combine the protein with a neutral solution and flow it over the chip. This is the work Gagliano has been performing.
If a well glows, it contains a drug that is potentially useful in treating the disease. The drug company then can begin developing the drug and testing it in the lab.
Though the Wake Forest-NanoMedica research team has focused on drug discovery, Next-Gen Lab-on-Bead also could be used for more accurate, speedy medical diagnoses.
"If you want to see if a biopsy is cancerous, you could use this technology to see if a biopsy sample binds to certain diagnostic molecules," said Guthold, an associate professor of physics. "If it binds, then it's cancerous."
Gagliano said he has enjoyed participating in the partnership between Wake Forest and NanoMedica.
"The NanoMedica team is made up of brilliant scientists who are also really good people. Often times our strategic meetings go a little longer than expected because we are having too much fun while mapping out new strategies," he said. "NanoMedica has a real noble philosophy of truly putting people before products, and collaboration before competition."
Categories: 2012 Highlights: Science and Research, Faculty, For Alumni, For Parents, Research, Top Stories, Wake Forest College
Wake Forest in the News
Wake Forest regularly appears in media outlets around the world.