Main Content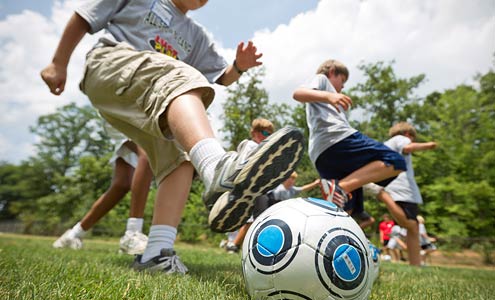 Max Floyd walks in front of the crowd of children, leaning in for emphasis as he reads an inspirational poem and thanking them for playing so hard during the All Sports Camp held on campus.
"Thank you this week for trying and trying, and getting back up when you fall," Floyd told the children sitting on the hill along Poteat Field.
Floyd is the director of Campus Recreation and the lead organizer for the annual summer camp, which introduces 6- to 12-year-olds to about 20 different sports, from archery to racquetball to soccer. The camp attracted about 85 children for each of the four weeklong sessions in June and July.
Floyd begins and ends each day with a short talk on lessons about life and sports.
"I speak about the failures and experiences I've had and how I've grown from them. It's something that I thoroughly enjoy," he said.
The mix of inspiration and athletics is what appeals to parents who send their children to the camp, said Jon Pinder, an associate professor of management in the Schools of Business. His three children — Alex, 11, Margaret, 8, and Matthew, 7 — have all participated in the camp.
Pinder said that Alex is generally more interested in learning than playing, and was a little intimidated by sports. Alex's fears went away after the first day, and Pinder said that he's grateful his son learned the benefits of both sports and values. "It's not all about winning," Pinder said.
The camp is in its 51st year, though the camp has been using a different format since 2001, when Floyd took over the camp.
The camp used to be focused more on physical fitness. Now instead of focusing on exercise, the camp is a vehicle to teach children and to give them a taste of several sports in the hope that they would find one they like, "to maybe spark something in the life of a young person for a sport they might grab onto and make it a lifelong endeavor," Floyd said.
Leo Ellison, longtime aquatics director and retired associate professor in the Department of Health and Exercise Science, managed the camp until 2001 after taking it on in the late 1950s. He said that the idea for the camp began during a time when children had few options during the summer months when they were out of school.
"The goal was to provide the children of Winston-Salem — though we had kids from other towns — with a chance to learn about sports and sports activities and make it fun, and enjoy it," Ellison said. "We were able to teach right much."
It became an annual tradition, and Ellison still runs into people who went through the camps in the past and want to share their memories with him. Many of the camp counselors are former participants.
Floyd said that he looks to his own childhood for inspiration when he plans the camp. His dad was an athletics director, and Floyd got to play just about every sport that you could think of. He eventually earned a spot on the Philadelphia Phillies before moving into education.
Floyd's speeches are part of the camp's appeal for Cynthia Angell. She considers the camp an annual tradition for her children, David, 16, and Michael, 7. She appreciates how it teaches her children how to enjoy sports, rather than be intimidated by competition.
The camp "makes all sports fun, and teaches that they (the children) can all be winners," she said.
Subscribe
Sign up for weekly news highlights.
Subscribe