Main Content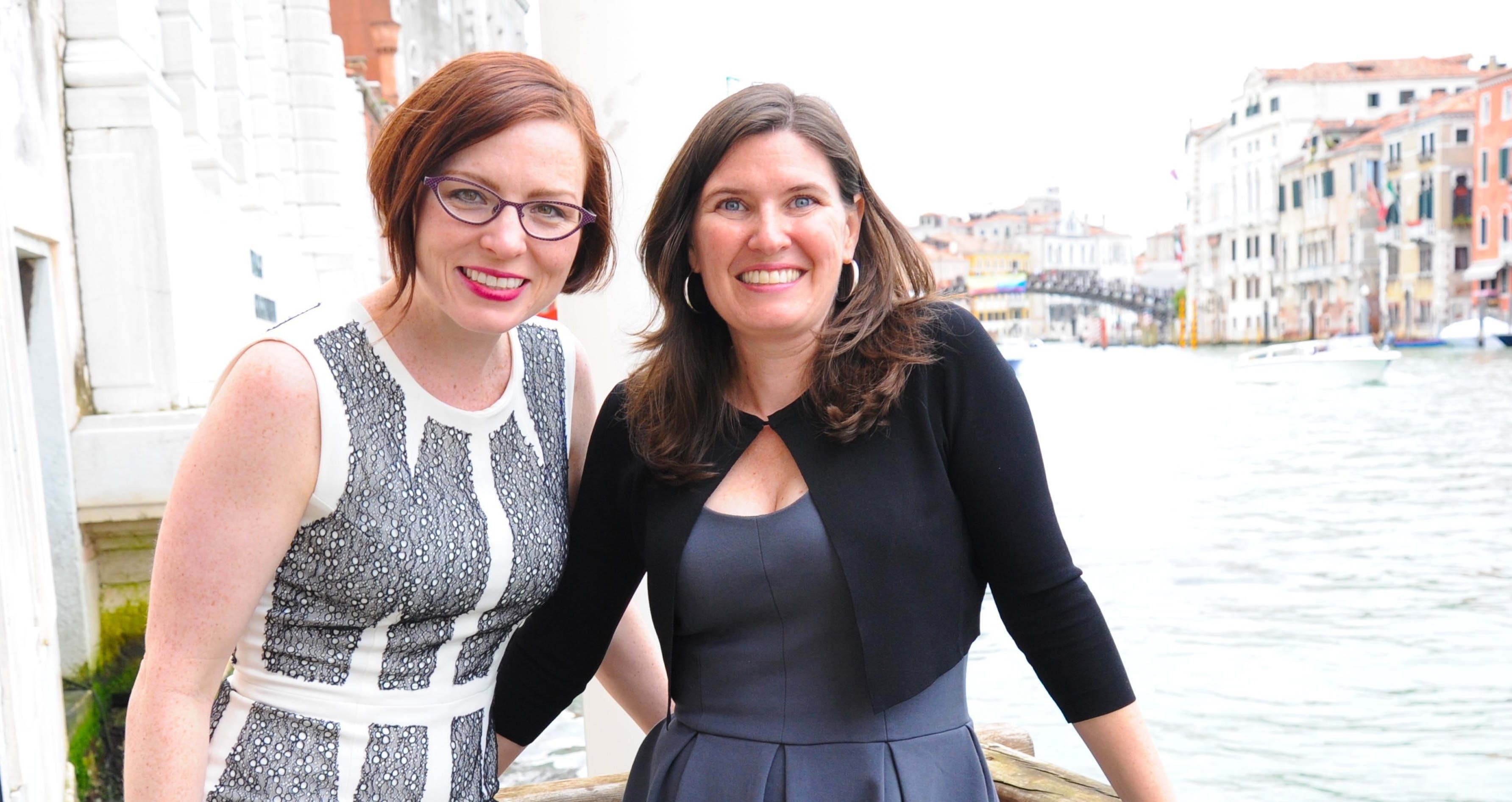 Casa Artom, Wake Forest's residential study center on Venice's Grand Canal, became a gathering place for artists, curators, collectors and art critics during the opening of La Biennale di Venezia this summer.
For more than a century, the Venice Biennale has been one of the premier cultural art festivals in the world.
Students and alumni had the opportunity to discuss works of art with key members of the international art community at an event organized by Wake Forest alumni, Mary Leigh Cherry ('97) and Cristin Tierney ('93).
Natalie Brashear, a junior art history student, met the curator Jota Castro and artists Jorge Tacla and Ella de Burca who shared the artistic inspiration behind their Biennale exhibition, Emergency Pavilion:  Rebuilding Utopia.
"We got the chance to hear them explain the actual locations and images that went into the formation of these paintings," Brashear said. "Meeting with the artists was easily one of the highlights of my Wake abroad experience. As a student of art within the University, I felt especially privileged."
Cherry, co-owner of the Cherry and Martin gallery in Los Angeles, and Tierney, owner of the Tierney Gardarin Gallery in New York City, saw an opportunity to connect students and alumni with movers and shakers in the international art world.
"The event at Casa Artom was a unique opportunity to bring together people from various aspects of the art world with students, alumni and faculty of Wake Forest,"  said Cherry. "This provides productive networking that can lead to internships for students and collaborations for alumni and faculty — who knows what is possible? It's thrilling that Wake, on all levels, will be involved on the world stage that is the Venice Biennale."
Among the other guests for the event were Eric Shiner, director of The Andy Warhol Museum in Pittsburgh, Penn.;  Lilly Wei, art critic, curator and historian; and Murano glass artists Giorgio Nason and Trina Tygrett.
Wake Forest  Professor of Italian Studies and Casa Artom's current resident instructor Roberta Morosini said the students' interactions with the artists was a tremendous opportunity to see the humanities at work.
David Finn, professor of art at Wake Forest, also attended the reception at Casa Artom and the opening of the Emergency Pavilion exhibit with students.
"To live next to the Peggy Guggenheim collection and be involved in prominent cultural events such as the Venice Biennale are unique opportunities that Casa Artom provides Wake Forest students. No other collegiate institution has a house like this on the Grand Canal and students, particularly those interested in an art- based career, take advantage of the major artistic influences housed in their own neighborhood," Finn said.
This is not the first time that Casa Artom has sponsored an event for the Biennale. Twin artists Mike and Doug Starn housed their major art installation 'Big Bambú' at the Venice house in 2011.
"We are always looking for creative ways to highlight the value of international study and provide ways for students and alumni to make cultural connections," said Dean of the College Jacquelyn Fetrow, who helped plan the gathering at Casa Artom.
Formerly an American Consulate, Casa Artom was purchased by the University in 1974 and named in honor of Dr. Camillo Artom, who taught at Wake Forest's medical school.  Wake Forest students live and study at Casa Artom each academic semester.
Categories: Alumni, Arts & Culture, Faculty, Humanities, International, Student, Top Stories