Main Content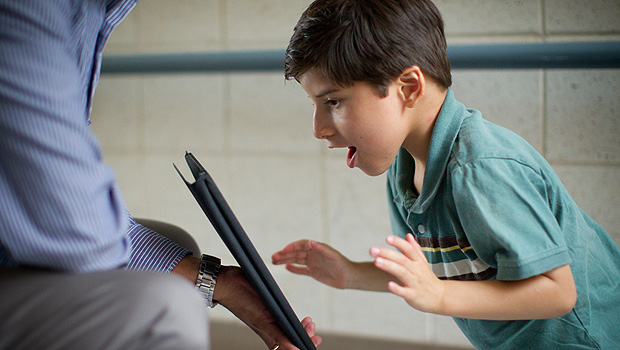 Victor Pauca is well known among the Wake Forest community. Now, thanks to the work of a young journalist, others around the country will soon learn of his inspiring story about finding his voice.
Victor, a happy, social six-year-old has Pitt Hopkins Syndrome, a rare genetic disorder that has delayed his development, but not his spirit. His father, Paúl Pauca, an associate professor of Computer Science, and a team of students created "Verbal Victor," an iPhone/iPad app to provide an affordable alternative to expensive communication devices.
What started out as Pauca's desire to help his son has turned into an international mission to help people all over the world embrace and empower their loved ones with disabilities. Developed with support from the Center for Innovation, Creativity, and Entrepreneurship, Verbal Victor has been downloaded nearly 3,000 times and featured by the Associated Press, USA Today and CNN. It has enabled children from Korea to Switzerland communicate in a way that was not affordable before.
Pauca said, "It has become a calling. Because of my son, I have found my mission to help give a voice to those without one."
The Pro Humanitate sentiment caught the attention of Christina Lopez, a second year student in U.C. Berkeley's Graduate School of Journalism. Last summer, Lopez was interning with "NBC Nightly News with Brian Williams" when she first learned about Verbal Victor and the Pauca family. She jumped at the opportunity to play a role in helping tell this heart-warming story.
"Verbal Victor is a unique story in that it demonstrates the power of the human spirit and what great lengths a father will go to in order to change the life of not only his son but those of countless others," Lopez said.
Pauca says that the experience of interacting with users of Verbal Victor around the world is particularly rewarding and has given him the impetus to start a new line of research, aiming to help those with special needs. A co-founder of the Pitt Hopkins International Support Network, he frequently gives presentations, including one recently at TEDxWakeForestU, about how mobile technology can revolutionize the way people with disabilities face everyday challenges – more accessibly, more affordably, and even more stylishly.
Students involved in Pauca's courses are working at local schools, interacting directly with children, teachers, therapists and sometimes even the parents. Pauca says it is powerful for students to hear directly from parents how their work in college can have an impact in other people's lives. Tommy Guy (MA '09, MS '10), the lead developer of Verbal Victor, is now a Ph.D. student, specializing in human computer interaction for disabilities and other problems at the University of Toronto.
Now, Pauca along with an interdisciplinary team of Wake Forest faculty in Health and Exercise Science, Computer Science, Nanotechnology, and Business are planning a multi-faceted program to focus on disability research and technology that leverages and integrates current research being conducted in these fields.
Tony Marsh, an associate professor of Health and Exercise Science, believes that these collaborative efforts at the intersection of health and technology can also benefit older adults whose lives are increasingly affected by physical and cognitive disabilities. The aim of this group is to empower people with disabilities at any age, conduct interdisciplinary research to advance the field and produce informed and socially conscious Wake Forest graduates in the process. Among various topics, they are exploring machine learning and novel sensor technology engineered by the Center for Nanotechnology and Molecular Materials to figure out new ways to enable people with disabilities to interact with their environment.
"My wife Theresa likes to say, I can choose to be bitter or better, and I choose to be better. Raising children is one of the most wonderful and rewarding experiences one can ever have, and raising a child with disabilities can be even so much more," said Pauca. "Victor with his great smile and his can-do attitude is inspiring people in ways we could not have foreseen before."
Categories: Faculty, For Alumni, For Parents, Research, Top Stories, Wake Forest College