Main Content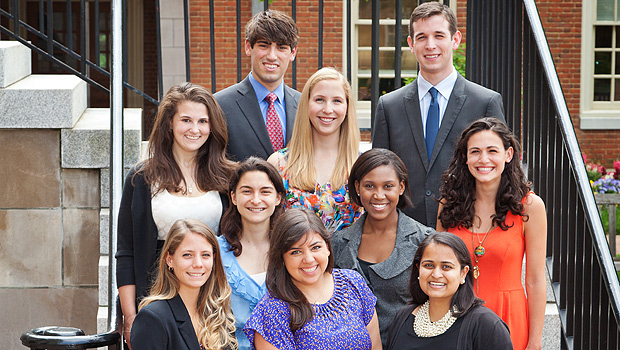 For a group of ten seniors, Commencement marks a time to say goodbye to many of their friends, but they don't have to bid farewell to "Mother, So Dear." That's because this group is the 2012-13 class of Wake Forest Fellows and will work on campus in areas from the President's office to Wake Forest Baptist Medical Center.
For Sam Perotta, the honor is something she's been considering since sophomore year. "The program has always been on my mind, especially as I started to think about and decide my career path," Perotta said. "I'm excited to be working with the Office of the Provost as Wake Forest welcomes Dr. Rogan Kersh to the office in July."
The Wake Forest Fellows Program began in 2008 to mentor recent graduates by with a yearlong paid internship in higher administration.  Fellows work with administrators and faculty and help represent the office to the Winston-Salem community and the Wake Forest campus.
"The beauty of the Wake Forest Fellows program is that we learn as much from the Fellows as they learn from us," said Marybeth Wallace, special assistant to the president, who oversees the Fellows program. "They are closely connected with our student body and whether crafting  communications, designing a website or collaborating on new student orientation or an upcoming conference, they are good at bringing students, faculty and administration together."
"I think the Fellows is a great stepping stone for students who have put a lot of time and effort into improving the Wake Forest community during their time here and are looking for a way to translate that into the real world," said Kim Struglinski who will be the Fellow in the President's office. "I love learning more about how the University runs behind the scenes, so I'm very excited to see what and who makes Wake Forest run how it does."
The mentoring aspect of the program most appealed to Kristen Bryant. "The idea that I would be surrounded by people who truly want me to succeed appealed to me so much and made the Fellows program my first choice for employment after graduation."
Each student applies with a resume and references, and must go through several interviews. Many of the Fellows say the opportunity to gain career experience while staying in a familiar setting was too good to pass up. Even more so for Carrie Stokes, who hadn't originally planned to extend her stay at Wake Forest.
"The opportunity seemed too incredible to pass up," Stokes said. "I owe everything I have accomplished to the faculty and staff mentors who have challenged, supported and guided me along my journey thus far, and I look forward to my future development as a young professional in this position."
Here's a list of the 2012-13 fellows and the offices where they will serve:
Office of the Dean: Robert O'Connor
Humanities Institute: Carrie Stokes
Office of Information Systems: Nilam Patel
Office of Personal and Career Development: Thomas Derry
Office of the President: Kim Struglinski
Office of the Provost: Sam Perrotta
START Gallery: Adelaide Knott
Office of Student Life: Kristen Bryant
Office of Sustainability: Annabel Lang
Wake Forest Baptist Medical Center: Amanda Kilgore
Categories: Alumni, For Alumni, For Parents, Top Stories