Main Content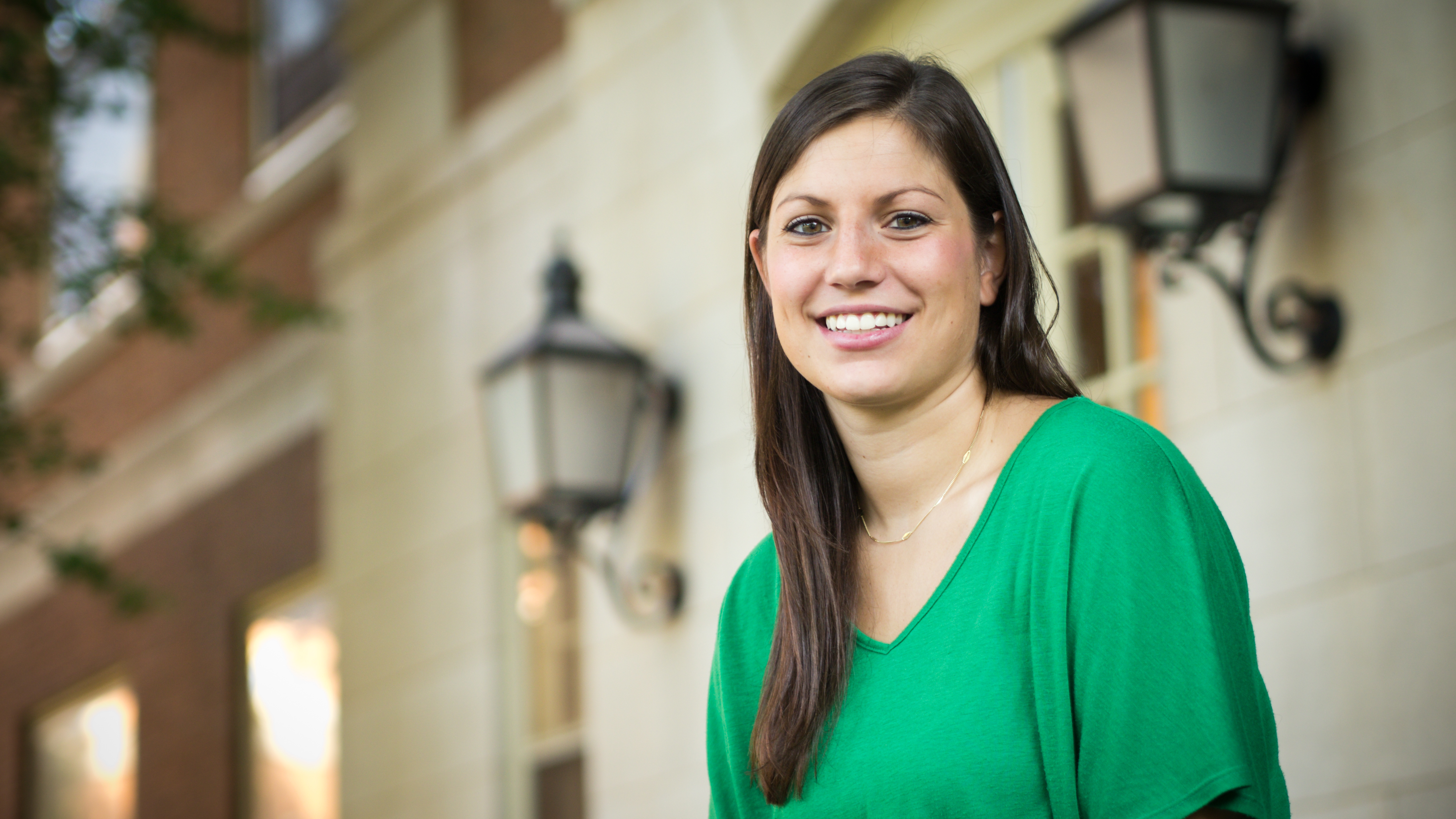 As the 4th of July approaches, members of the Wake Forest community reflect upon the hard work, discipline and self-sacrifice that were integral to our nation's founding. Senior Alexis Lauria embodies these values.
As a resident advisor, aspiring doctor and one of only 15 women in the Demon Deacon ROTC Battalion, her greatest challenge and greatest strength seem to be one and the same – managing her time.
For many, Lauria's schedule might seem overwhelming. Each week she balances 17 hours of class, three days of physical training, daily RA duties, four hours of chemistry labs and weekly sorority meetings. But according to her, juggling multiple commitments has always kept her motivated.
"Even in high school I worked part-time jobs in addition to school and sports. I've worked everywhere from retirement homes to restaurants," she said. "I thrive on the responsibility."
Pursuing her passion
While in high school in West Chester, Penn., Lauria volunteered at a local hospital shadowing doctors after class. It was through this experience that she decided medicine was the field which she wanted to pursue, and quickly began the pre-med track upon arriving at Wake Forest. For Lauria, medicine not only represents a career track, but a way of giving back to the community.
"My volunteer experiences in medicine have been incredibly rewarding. Knowing that I was able to help patients made me feel accomplished and has given me a sense that I can do something meaningful."
Her desire to work in medicine was also what led her to join ROTC. In addition to providing a financial aid benefit, Lauria viewed ROTC as a pathway to learn more about the medical field and gain experience. She hopes to work as a doctor for the U.S. Army one day.
"I want to save soldiers who put their lives on the line on a regular basis, because they deserve more than anything to be guaranteed a doctor who will do everything and anything to help them."
Self-discipline of a soldier

Her ROTC experience has been instrumental in helping Lauria grow as a person as well as a soldier. Four-hour ROTC labs that focus on leadership development and teamwork have helped her build communication skills, discipline and confidence.
"Alexis is a great example of what ROTC is all about here at Wake Forest. We want to help students develop their personal discipline and time management, then step up and be leaders to underclassmen when the time comes," said Major Andy Blanton, Assistant Professor of Military Science. "Alexis' ability to be an effective leader and mentor to our younger cadets while taking such a challenging course load herself is very impressive.  ROTC claims to be the best leadership training in the world, and with students like Alexis we live up to that."
Although she admits that her demanding schedule can be rather exhausting, it has taught her invaluable discipline skills that set her apart from her peers.
"The skills I have developed in ROTC have helped me to become a better student and ultimately a better person," said Lauria. "Yes, my schedule is hectic, but at the end of the day I wouldn't change a thing."
Categories: For Alumni, For Parents, Life on Campus, Pro Humanitate, Student, Students Taking the Lead, Top Stories, Uncategorized, Wake Forest College
Subscribe
Sign up for weekly news highlights.
Subscribe