Main Content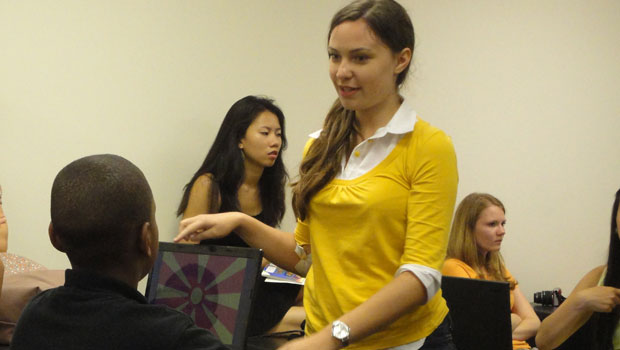 Since 2006, the brightest and most driven 17 to 19-year-olds from across Europe and America have represented their countries at the month-long program at Wake Forest University.
This year, 68 fellows from nearly 50 countries took courses in civic engagement and constitutional democracy, then traveled to Philadelphia and Washington, D.C., to learn about the nation's history and meet policymakers. When they returned to Winston-Salem, they began putting their new skills to use developing arts and service projects.
Students can choose from different programs according to their interests, including radio broadcasting, environmental activism, and documentary filmmaking.
Wake Forest communication professor Allan Louden, who directs the program, said that the BFTF teaches students to critically evaluate and engage with these projects. "They have to think, 'why do these things matter? What causes hunger? What are the real distribution needs?'" That way they will commit to programs they feel strongly about and will continue their work when they return home.
Louden's goal for the program is to prove to the fellows "that they are actors in the world and that they can change things."
The BFTF is funded through a grant from the U.S. Department of State. The government developed the program to foster friendships between nations and to instill the values of collaboration and diversity.
"The embassy in Kosovo, for instance, tends to pick one ethnically Albanian student and one Serbian. The two groups have been enemies, but the two fellows can become best friends," said Louden.
This collaboration is exemplified by the radio program, a new feature of the Institute. Coordinated by mentors Mladen Petkov of Bulgaria and Daniel Voda of Moldova, the program functioned as an introduction to journalism through the creation, from start to finish, of a current-events radio segment.
The 10 students in the program came from countries as varied as Slovakia and Spain, Belgium and Belarus.
Petkov says he hopes that the fellows learned about the value of challenging preconceptions and inspiring thought through researching their programs. He sees this responsibility as journalism's addition to democracy.
At the end of their month in America, the BFTF fellows shared their passion for learning about other cultures by hosting an "Around the World Tour" for the Boys and Girls Clubs of Winston-Salem.
The children, many of whom have never traveled outside of the U.S., were able to learn traditional Belgian and Romanian dances, play British games, hear the Bulgarian national anthem, and say "I love you" in Lithuanian.
Mentor and Wake Forest senior Amanda Gambill says the tour was a great opportunity. "The kids from the Boys and Girls Club are up for anything. They enjoy learning and trying new things."
Categories: Admissions, Events, International, Top Stories
Subscribe
Sign up for weekly news highlights.
Subscribe