Main Content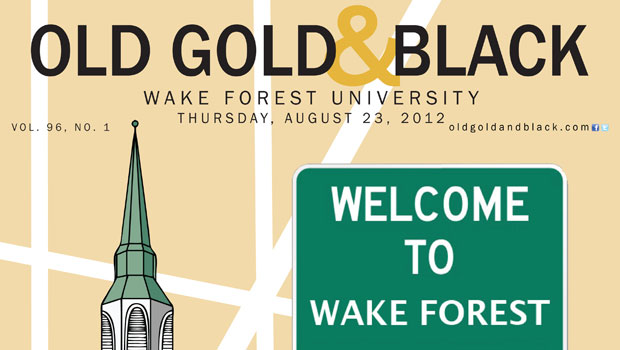 When students picked up the freshman issue of the campus newspaper, "The Old Gold and Black," on move-in day, they might not have realized the substantial ways the editorial staff is reinventing its coverage, both in print and online.
"We have a younger, fresher audience and wanted an issue they could read on the go," said editor-in-chief Meenu Krishnan ('13). "We switched to a tabloid size to make the paper more mobile, while also ramping up our online edition and social media presence. Now students have even more ways to find out what's happening on campus."
The entire campus will see the new OGB with the Aug. 30 issue. Along with the physical changes, the leadership team at the OGB has altered some of the content. "Our print edition will have more in-depth reporting, more features about topics that students are interested in, but less breaking news," said print managing editor Renee Slawsky ('13). "Our breaking news will now go online immediately, instead of waiting several days to be printed in the next issue."
Krishnan says she, Slawsky, former online managing editor Ken Meyer ('13) and current online managing editor Matt Poppe ('13) have been working on the overhaul since January with input from faculty advisor Justin Catanoso, the director of the journalism program.
"We've been working at the OGB going on our fourth year, and we've seen it really progress towards this point – so we've just capitalized on it," Slawsky said. "We have a young staff. They are all sophomore and junior editors. With the changing face of journalism, it's the time."
The OGB staff will continue to print and distribute 4,000 copies of the paper each week, and it hopes that renewed focus on Facebook and Twitter channels will help students, faculty and staff find great daily content online, accessible through their laptops, tablets and smartphones.
While the OGB staff brings new technology into the mix, they say they were inspired by an editorial printed during the paper's founding in 1916.
"That first editorial sounded so similar to our plans," Krishnan said. "It said the OGB was founded to make sure the students are informed, know about developments on campus and what's going on with the administration. That editorial said subscribing to a newspaper is not only an act of patriotism, but an act of defense."
Krishnan said that current Wake Forest students should also consider reading the OGB an act of self-defense – not only to be well-informed about topics on campus, but also to ensure the staff holds up its end of the journalistic bargain.
Categories: For Alumni, For Parents, Life on Campus, Student, Students Taking the Lead, Top Stories
Subscribe
Sign up for weekly news highlights.
Subscribe