Main Content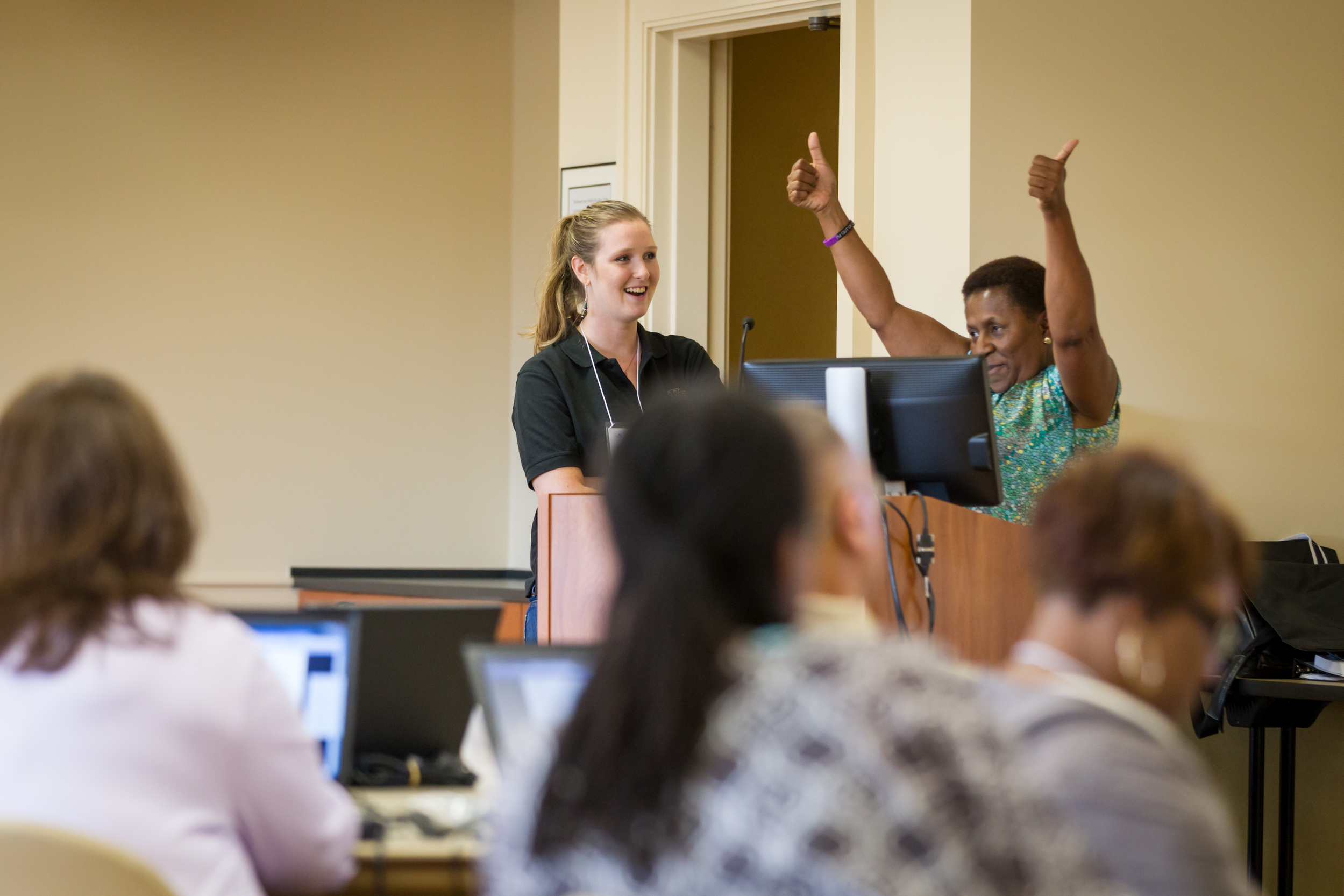 Students headed back to school at Hanes Magnet School in Winston-Salem will find a whole new subject in some of their English, Spanish, social studies and math classes: computer science.
"Fortune Magazine ranks many computer science careers in their top or fastest-growing lists," Samuel Cho, assistant professor of physics and computer science said. "Even though we are in a rough economy, computer science graduates are in high demand."
Cho and fellow computer science professor Paúl Pauca created a two-day workshop for Hanes Magnet School teachers, along with graduate and undergraduate students. The goal: to demonstrate how computer science could be worked into lesson plans across their curriculum. The workshop was made possible with a $5,000 grant from Google, matched by Wake Forest University and recently highlighted as one of the reasons tech website Mashable listed Wake Forest as one of the "top ten campuses for tech."
"We need to expose young students at the middle school level to computer science," Cho said. "It's fundamentally as important as math, English or science."
The Wake Forest computer science department turned the workshop into a learning opportunity for college students too. Several of them created breakout sessions that taught the middle school educators how to use a basic program called Scratch to create lesson plans for creative writing or to make literature come alive.
"I've already figured out a lesson plan to use with Scratch," Hanes Spanish teacher Yu'Vonne James said. "It's called 'games people play'. Students will pretend to be a game company and create Spanish review games for other students to play. They'll play each others' games to review what they learned in Spanish."
James says the workshop will help her accomplish a dream that began when she switched from a computer engineering major during her own undergraduate years. "I've always been interested in computer science, but couldn't figure out how to incorporate it into my Spanish lesson plans. Now I can. We are supposed to be making future-ready students. I tell students they need to study Spanish, there's not a job they won't need Spanish for, and it's the same with computer science."
Cho says social studies teachers can incorporate computer science history and interesting facts in their lessons. "Many students don't know that the first computer programmer was a woman – Ada Lovelace. Also, the inventor of the first high-level programming language is Rear Admiral Grace Hopper. She's also credited with popularizing "debugging" as a term for fixing computer glitches, inspired by an actual moth found and removed from a troubled computer."
Andrew Proctor, a computer science graduate student at Wake, helped create a lesson plan that showed teachers how they could create fun quizzes that run on Android phones. "I didn't get any exposure to computer science until I came to college. Some of our foreign students talk about having computer science in middle school. We need to expose kids to the possibilities – especially when you think about how many of them have smartphones. They're curious and interested."
Cho said one of the teachers who attended the workshop emailed him afterward. "She said she went home and shared what she learned with her son who was trying to decide on his major. He adjusted his schedule to add an introductory computer science class and is considering a double major to add to his economics degree."
Feedback like that from the participants was overwhelmingly positive, and they were particularly impressed with the Wake Forest computer science students who participated. One teacher wrote, "I was very impressed by the well-spoken student volunteers who showed great knowledge, poise, and class. They are the hope for the future!"
Cho says the department hopes to offer the workshop again, and perhaps even expand it to other middle schools. It's an important mission.
"According to the U.S. Bureau of Labor Statistics, the projected number of jobs for computer science majors over the next 10 years is three times higher than the number of students graduating with those degrees," Cho said. "If there aren't enough graduates in the United States, those high-paying, skilled jobs will simply go overseas."
Categories: Faculty, For Alumni, For Parents, Recognition, Scholars and Scientists, Student, Students Taking the Lead, Teacher-Scholar, Top Stories, Wake Forest College
Wake Forest in the News
Wake Forest regularly appears in media outlets around the world.