Main Content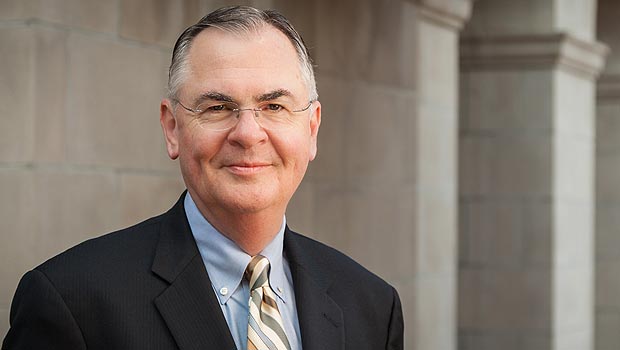 President Nathan Hatch is involved in decisions at the highest levels of collegiate athletics and academics today. He recently sat down to discuss the latest developments in intercollegiate sports, leadership and academics.
Q: ACC Commissioner John Swofford acknowledged your pivotal role in bringing Notre Dame to the conference. Given your previous role as provost, dean and faculty member at Notre Dame, what is your unique perspective on this historic move and what does it means for Wake Forest?
A: It has been my distinct privilege to have grown up in the heart of ACC country and to have represented the fine institutions of Wake Forest University and the University of Notre Dame for most of my professional career. Personally, the convergence of these three things – Wake Forest, Notre Dame and the ACC – is quite terrific.
When the 4x4x4 committee¹ asked Clemson President Jim Barker and me to join John Swofford in discussions with Notre Dame, I was both honored and glad to do so. Whenever there are delicate negotiations, it helps when you know someone. I knew all the parties in this discussion and have a longstanding relationship with President John Jenkins.
As I said in the news conference, the institutions in the ACC and Notre Dame share a belief in the balance of academics, athletics and integrity. Keeping that strong blend is something we take particular pride in at Wake Forest. Bringing Notre Dame to the ACC only reinforces that distinctive. We believe in doing things right. We're committed to the well-being of student-athletes. We are serious about becoming better universities.
In these ways and more, Notre Dame is an excellent fit for our conference, and I look forward to welcoming the Fighting Irish to Winston-Salem again. And since I have the floor, it's worth noting that I also look forward to a Demon Deacon victory in South Bend on November 17.
Read more of President Hatch's perspective in this USA Today article written by Tom O'Toole ('78, P '07).
¹ The ACC's 4x4x4 committee is comprised of four university presidents, four athletic directors and four faculty representatives, each from one of the ACC's schools before Notre Dame's joining the conference.
Q: "Academics, athletics and integrity." What do you think the state of college athletics is today, and where does Wake Forest fit into that picture?
A: Many strains weigh on collegiate athletics today, including commercialism, winning at all costs, the treatment of student-athletes. At Wake Forest, athletics is a great source of pride, but we are also careful to keep it in its proper role within the greater institution. We have seen what can happen when this balance is not sustained.
There is a misinformed narrative that intercollegiate athletics today is worse than before. Rather, I believe that overall, college athletics is in a stronger position than ever before. Of course, when there are problems or scandals, they become so public in this interconnected age. But when you consider the NCAA's ongoing reform efforts, continual improvements for student-athletes, and higher graduation rates, it paints a pretty good picture. For example, Wake Forest has the second highest percentage of varsity teams with perfect Graduation Success Rate scores in all of Division I sports. Our goal is to serve as a model for what intercollegiate athletics can be.
Read the NCAA profile on President Hatch's longtime interest in sports.
Q: As chair of the NCAA Division I Board, what priorities will you focus on during your two-year term?
A: Under the leadership of President Mark Emmert, the NCAA has a reform agenda that began about a year ago. Reform efforts span academics, playing standards, transfer students, and perhaps most significantly, new baselines for what it means for teams to compete in NCAA championships. These are significant efforts.
In the coming year, the NCAA is streamlining its enforcement efforts by taking a 1,000-page rulebook and simplifying it drastically. The process of establishing core principles instead of focusing on minute details is complicated. In doing so, the NCAA hopes to make enforcement more transparent so that people will know the range of penalties for certain violations. It also will speed up related processes.
Right now, the NCAA is also doing a lot to improve the well-being of student-athletes. For example, there are serious efforts in football around the issue of head injuries. Wake Forest, in partnership with Virginia Tech, is a leader in this important area of research. For women's athletics, ACL injuries are another area of focus. I certainly applaud those efforts and the national studies that assist individual colleges and universities in addressing these chronic issues with student-athletes.
Learn more about the Wake Forest and Virginia Tech's research on head impact exposure in youth football from ESPN.
Q: You also currently serve as chair of the National Association of Independent Colleges and Universities. What is your personal approach to leadership?
A: Max DuPree said, "The first job of a leader is to define reality." That is, understanding where an organization is and where it needs to go. This includes having a vision and a collective sense of purpose.
I would add that getting the right people and building a collaborative team is also the sign of a good leader. I'm so blessed at Wake Forest to have strong leaders around me who work collaboratively. I'm convinced that teams of leaders together can do so much more than leaders working in isolation.
I often reflect upon Ralph Waldo Emerson's certainty that "character is higher than intellect." If university leaders are to fulfill our highest purpose, we must focus on educating whole people and framing issues of character. It's a big challenge given the highly professionalized, specialized academic environment in which we live. At Wake Forest, we are trying to address these issues creatively because they are the heart of what we do.
Q: Character is central in educating the whole person, a great passion of yours. What other passions do you envision bringing to life on the Wake Forest campus over the next few years?
A: We have to challenge and encourage students to be able to focus, deliberate, and think deeply about things. In this world of digital connection, continuous partial attention and continual interruption, maintaining that kind of focus is difficult. I don't think we will have really well-educated people and develop mature leaders unless students can learn to focus. It's a passion of mine in some measure because I see how easily I can be distracted by a full range of digital connections.
Read President Hatch's 2012 commencement speech, The Art of Conversation, on this topic.
We also need young people who don't accept easy answers. I hope our students will read all sides of a position and, at times, agree with both The New York Times and The Wall Street Journal. Communities of discourse tend to be internal. In other words, one person watches a certain channel with one point of view, while someone else watches another. The upcoming election is a great example. I would encourage students to listen to the best arguments of both sides, not just to caricatures one of the other.  This kind of cultural and political polarization is great danger in our society.  In this vein, I am delighted that Wake Forest is welcoming Alan Simpson and Erskine Bowles to campus on September 25.
Finally, Wake Forest is looking at a broad range of issues relating to wellness and well-being. In keeping with our mission to educate the whole person, we want Wake Forest to be where they learn a lifestyle that helps them integrate complexities. Students today have never been under more stress, but this will also be true as they become young professionals. This year, we will talk more about how Wake Forest will help students develop habits of the body that include physical fitness and nutrition, as well as habits of mind that relieve stress and promote relaxation. If we can establish a culture that addresses those issues to and prompts young people to live healthfully – not just in body, but also in spirit – we will have done a great service to our students.
Q: Of course, academics are also central to educating the whole person.
A: I hope Wake Forest will be a place that continues to know the magic between great teachers and great pupils. There's something about that kind of interaction that is at the heart of quality education. The President of Williams University recently wrote about the irreplaceable value of a student's relationship with a "living, breathing professor" in The Wall Street Journal. I agree with his suggestion that there's a deep correlation between improving the skills students really should develop in college – how to write clearly, communicate effectively, and think clearly, among them – and time spent between students and professors. I would hope we nurture great teachers so they can continue inspire students on an ongoing basis. That nexus is at the heart of what we do.
And it's great to welcome Rogan Kersh ('86), back to Wake Forest as our new Provost and professor of politics and international affairs. Before his return to Wake Forest, Rogan has been a brilliant and captivating teacher at Yale, Syracuse and, most recently, at NYU. Rogan absolutely loves students, and he is a riveting lecturer and a wonderful scholar. He represents the very best of Wake Forest, and I look forward to his leadership of our academic life.
Get to know Provost Kersh.
Q: Do you have any advice for Wake Forest students?
A: Students need to break out of their comfort zone. It's very easy to say, "I'm good at math or writing or I'm 'this kind of person,'" and tailor one's curriculum and social life according to perceived strengths. As I look at people who are really successful, transformative experiences ultimately become very helpful, and often those experiences are completely unexpected.
Say someone wants to go to Wall Street. Perhaps one summer, she should go to a third-world company and do something completely different than a track in finance. Or, if someone has avoided math, science or art, he should delve into those. That's the beauty of the liberal arts environment Wake Forest offers. By expanding one's mindset, a person begins to use muscles that previously haven't been exercised, which can be both surprising and enriching. After all, isn't that what college is all about?
Categories: Athletics, For Alumni, For Parents, National, President, Top Stories
Subscribe
Sign up for weekly news highlights.
Subscribe