Main Content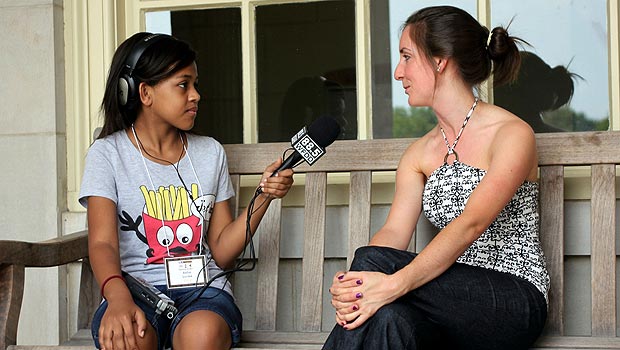 Chances are, you've heard WFDD's programming, but don't know much about the local NPR affiliate's history at Wake Forest.
Find out more about that history in an Old Gold and Black profile of the radio station, plus learn about how they are teaching middle school students how to listen, and find out more about an upcoming event that looks at communication technology in the classroom:
Technology in the classroom
This week WFDD, the Wake Forest Department of Political Science and the Forsyth Education Partnership will host "Cyber Communication in the Classroom: the Good, the Bad and the Ugly." Featuring Ananda Mitra, whose study of "narbs" (narrative bits of social media), and NPR blogger Omar Gallega, the goal is an in-depth conversation about the benefits and pitfalls of technology use in the classroom.
The event will be held Sept. 27 in Brendle Recital Hall from 7-8:30 p.m. It is free to the public, but registration is encouraged here: http://forsythedpartnership.org/programs/community/cyber-communications-forum/
A look back at WFDD's storied history
By Yasmin Bendaas, Old Gold & Black
In 1946, at the university's old campus, three students named Henry Randall, Alva E. Parris and James H. Hampton illegally started a radio station called W-A-K-E broadcasting from a student room. Two years later, while the station received a Federal Communications Commission (FCC) license, the students learned that there already was a W-A-K-E and they changed the station name to "WFDD," standing for Wake Forest Demon Deacons.
Read more in the Old Gold & Black »
Sounds like learning
By Kory Riemensperger, Intern, Office of Communications and External Relations
The ring of a wind chime … the chirping of birds … the start of a car's engine. Noises like these might blend into the background and go unnoticed for many people. But, to the ten children enrolled in 88.5 WFDD's summer radio camp, these "natural sounds" function as the first building blocks in producing a proper radio segment.
Categories: Community, For Alumni, For Parents, Staff, Top Stories
Subscribe
Sign up for weekly news highlights.
Subscribe