Main Content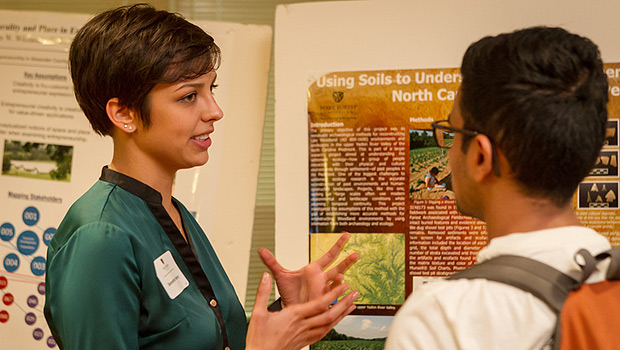 Undergraduate research has been a longtime cornerstone of Wake Forest's commitment to academic excellence.
"Our goal is to provide undergraduate students the opportunity to engage in mentored or independent scholarship," said Rebecca Alexander, an associate professor of chemistry who serves as co-director of the Undergraduate Research and Creative Activities (URECA) Center.
The URECA Center provides student grants (summer fellowships include $4,000 plus housing) and an administrative umbrella for mentored, undergraduate research and encourages and supports high-quality programs of great impact.
Alexander leads by example as a faculty mentor. Mubhij Ahmad, a senior in her research group, joined her lab during his first year on campus. His research has explored the genetic sequence of a VSV, a virus in the same family as rabies and Ebola.
With Alexander's guidance, Ahmad has studied intricate details of mitochondrial RNA structures, learned new lab techniques, and refined complex methods for RNA extraction – opportunities not always possible in a regular class or lab setting.
"Allowing students to work closely with faculty on scholarly research is central to our teacher-scholar model at Wake Forest, and it's taking place in a variety of settings and across all disciplines," said Shannon Mihalko, an associate professor of health and exercise science who co-directs the URECA Center with Alexander.
During Family Weekend, 135 students presented the findings of their mentored scholarship at Undergraduate Research Day. Students gave oral and poster presentations on research on important, timely issues, such as:
Gundeep Singh, a junior sociology major, gauged sympathy for the poor demonstrated by President Barack Obama and GOP Presidential candidate Mitt Romney. His advisor was Steven Gunkel, a lecturer in sociology.
Amanda Cain, a senior health and exercise science major, evaluated the role of the brain in over-eating. With the guidance of associate professor of psychology Wayne Pratt, she looked at what behavioral and motivational impact stimulating or blocking the hormone serotonin would have.
Tayler Bungo, a senior psychology major, studied the relationship of brain activity to post traumatic stress disorder diagnosis and severity among veterans returning from Iraq and Afghanistan. She conducted her research with neuropsychologist Jared Rowland and neurobiologist Dwayne Godwin from Wake Forest Baptist Medical Center.
Gerson Lanza, a senior history major, focused on demonstrating how the culture and traditions of people of Brazilian heritage have shaped tap dancing today. With director of dance and associate professor Nina Lucas as his mentor, Lanza found that the popularity of tap, an American cutting edge art form, is evolving quickly due to influence of Brazilian attributes such as Maracatú, Forro and Bossa Nova.
In November, several Wake Forest students will present at the State of North Carolina Undergraduate Research and Creativity Symposium. In April, Wake Forest will host the ACC Meeting of the Minds Conference to celebrate undergraduate academic scholarship and research with students from all ACC schools.
Coaching students to present and share their findings at conferences and events provides valuable experience for faculty. It is also particularly helpful for students who plan to attend graduate school or become a researcher full-time. It's just one of the many rewards students and faculty gain from the experience.
"Acting as a mentor for undergraduate scholarship is an extension of a faculty member's other commitments, such as classroom teaching or academic advising," said Mihalko. "But the heart of the URECA Center is one of faculty-student engagement. Supporting mentored scholarship is not something we have to do, it's something we love to do."
Read more about Undergraduate Research Day in the Old Gold & Black or learn more about the URECA Center.
Categories: 2012 Highlights: Humanities, 2012 Highlights: Mentoring, 2012 Highlights: Science and Research, Faculty, For Alumni, For Parents, Mentoring, Research, Student, Top Stories, Wake Forest College
Subscribe
Sign up for weekly news highlights.
Subscribe