Main Content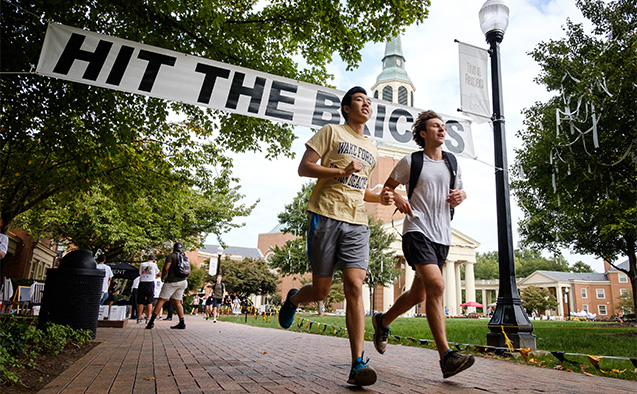 On Thursday, Wake Forest students, faculty, staff, alumni and friends will once again Hit the Bricks at Hearn Plaza to raise money for the Brian Piccolo Cancer Research Fund.
Hit the Bricks runs from 11 a.m., with an opening ceremony featuring Wake Forest University President Susan R. Wente, to 7 p.m., with a closing ceremony featuring a student who will share how cancer impacted his life.
In between those hours, countless laps will be run or walked around Hearn Plaza and tens of thousands of dollars will be raised for cancer research by participating teams and individuals.
"This year we'll be merging the best elements of last year's virtual event with the best elements of the last in-person event we had in 2019," said Brad Shugoll, associate director of service and leadership in the Office of Civic & Community Engagement (OCCE.) "We've had lead-up events since Monday and have been encouraging people to engage throughout the week, and look forward to a large turnout on Thursday for our main event."
Louis Morrell, a senior mathematical economics major from Houston, is senior director of Hit the Bricks this year and has been affiliated with the fundraising effort since his sophomore year. His paternal grandmother passed away from cancer during his first year on campus.
"People really love this event, which is unique to Wake Forest," Morrell said. "To have such a small student body show up and raise money for cancer research like this is amazing.
The atmosphere is exciting, but when you get to the remembrance lap around 7 p.m. or so, that's when the gravity and importance of the event sets in."
Shugoll and Morrell hope this year's effort eclipses last year's record-breaking total of just over $130,000 — a $50,000 increase over 2019 totals. The purchase of luminaries — in memory or in honor of someone — is another way money is raised. To purchase luminaries, go here.
Funds raised from Hit the Bricks support the Comprehensive Cancer Center at Wake Forest Baptist Medical Center. Since 1980, Hit the Bricks and other student-led initiatives have raised more than $3 million for the Brian Piccolo Cancer Research Fund.
Piccolo was an All-American football player who attended Wake Forest in the 1960s and went on to become a running back for the Chicago Bears. Piccolo died of embryonal cell carcinoma at age 26 in 1970.
Media are invited to cover Hit the Bricks throughout the day; however, Shugoll expects turnout to be heaviest between 4-6:30 p.m.
To interview Shugoll or Morrell or to learn about media parking, please contact media@nullwfu.edu or Laurie D. Willis at willisla@nullwfu.edu or 336.549.1994.
Categories: Events, Pro Humanitate, Student, Top Stories
Subscribe
Sign up for weekly news highlights.
Subscribe