Main Content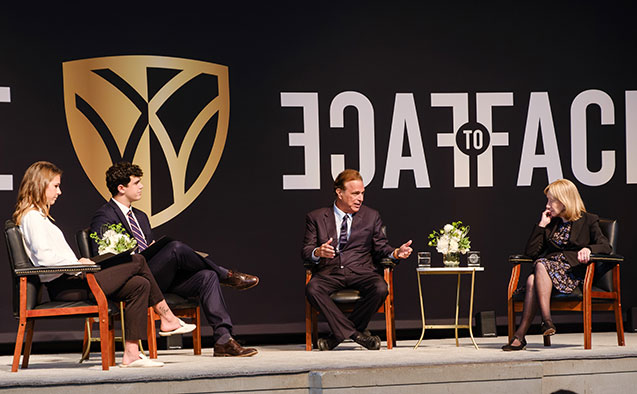 Political historians Doris Kearns Goodwin and Michael Beschloss talked with students about leadership and character by shining a light on the U.S. presidency. The conversation highlighted some of the most lauded Presidents who at pivotal moments in history, made decisions that set a course for the country. 
The event was held in Wait Chapel as part of the University's Face to Face Speaker Forum. Senior politics and international affairs major and Stamps Scholar Ritt Culbreth and Junior English major Caroline Thompson led the discussion. Both are scholars in the University's Program for Leadership and Character,
Goodwin is the author of seven bestselling books, including "Leadership in Turbulent Times," which incorporates her five decades of scholarship on Presidents Abraham Lincoln, Theodore Roosevelt, Franklin Roosevelt and Lyndon B. Johnson. She was awarded the Pulitzer Prize in history for "No Ordinary Time: Franklin and Eleanor Roosevelt: The Home Front in World War II." 
"There are moments when a person in a crisis has to decide what to do. If a president has capacity to resolve a crisis, he has a chance of being remembered," said Goodwin. "It's how you get your legacy."
Facing America's bloodiest and most divisive conflict, President Lincoln included three of his most vocal political rivals in his cabinet – keeping them close as secretary of state, secretary of the treasury, and attorney general.
"Lincoln brought the strongest most able people by his side. He knew his weaknesses. In today's world it is much harder to have someone from the opposite party in your cabinet, though it could make you a better leader," said Goodwin, who earned the Lincoln Prize for the bestseller "Team of Rivals," the basis for Steven Spielberg's Academy Award-winning film "Lincoln."
"For most of American history, the idea of assessing the character of a person running for president would have been stupefying. Until the 1960s, it was assumed that if you were nominated you were a person of character." Michael Beschloss
Writing about contemporary figures will be challenging for future historians, said Beschloss, who has written nine books on the United States presidency including "Presidential Courage: Brave Leaders and How They Changed America 1789-1989," and two volumes on President Lyndon Johnson's secret White House tapes. 
Beschloss was one of the first people to listen to recently discovered taped conversations on Air Force One during its flight following Kennedy's assassination on November 22, 1963. He heard private conversations, including President Lyndon B. Johnson's phone call telling Rose Kennedy, JFK's mother, that her son had been killed. 
People don't keep diaries, write 20-page letters or record tapes of private conversations anymore, said Beschloss. "This is the closest you can get to being there, but these kinds of letters and tapes no longer exist" to inform the work of future biographers.
Can character be cultivated?
"There are certain gifts people are born with, but there is no question character can be developed by acknowledging errors and learning from your mistakes," Goodwin said. "Teddy Roosevelt had to moderate his swelled head by developing empathy for people who were living harder lives than he was."
"The crucial presence of humility in leadership and the ways individual presidents grew in this virtue resonated with me. The personal humility of the speakers and their eagerness to extend praise of the other's work served as evidence to this call to humility in spaces of leadership. " Junior Caroline Thompson
For the first 39 years of his life, Franklin Roosevelt was overdressed and pompous. He would focus over a person's head when talking with them rather than looking at them directly," Beschloss said. "After he got polio, he became more empathetic to people with different life experiences."
Though Eleanor Roosevelt was mostly overlooked by early presidential biographers, her determination, empathy and problem-solving during FDR's presidency was influential. One example Goodwin noted was Eleanor's weekly press conferences for women writers only which resulted in newspapers hiring more women.
"She pushed. He was presidential," said Goodwin. "Narrative history needs to tell the story about relationships and not an individual alone. Academic research moves to public conversation. Storytelling is a part of that."
For Ritt Culbreth, one of the most interesting themes of the conversation was how the actions and character of these presidents were described as inseparable from the people they had around them. "Be it their Cabinet, family or advisors. Leaders need not be stoic, solitary figures."
About Face to Face
The community-facing Face to Face Speaker Forum brings world-renowned, influential voices to Winston-Salem to discuss topics in a variety of areas including politics, arts and culture, business and social justice. 
This Face to Face Speaker Forum Goodwin and Beschloss was presented by Reynolds American. A complete list of Face to Face Speaker Forum sponsors is available here.
Categories: Top Stories
Wake Forest in the News
Wake Forest regularly appears in media outlets around the world.