Main Content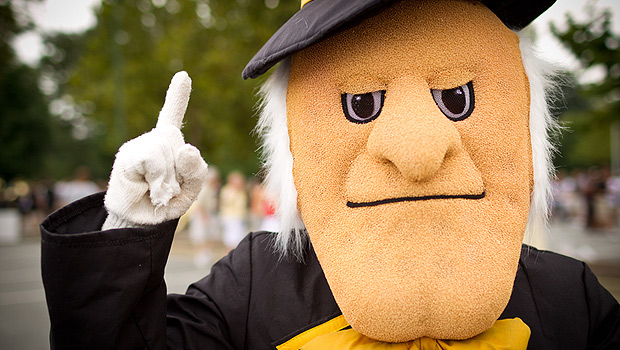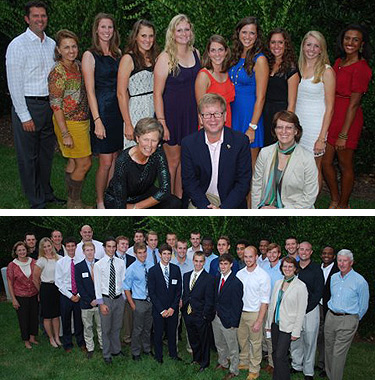 Established in 2005, the Dean's Cup recognizes the Wake Forest athletic team with the highest grade point average each academic year.
Recently, men's track and field/cross country and women's golf celebrated a three-peat.  Each team has captured three consecutive titles.
Emily Wright, a junior on the women's golf team had a perfect 4.0 GPA last semester and shares her advice, "Sacrifices need to be made, and often times these are leisure activities. I try to focus on what needs to be done on a given day as time management is particularly important as a student-athlete."
Many Wake Forest athletes not only seek high GPAs, but also find time to give back to their communities.
Despite a busy class and athletic schedule, Wright works as a peer tutor and volunteer in the emergency room at the Wake Forest Baptist Medical Center. Upon graduation, she hopes to attend medical school and specialize in the cardio-surgery field.
"This shows that our students can excel in both academics and sports," head women's golf coach Dianne Dailey said. "On a typical tournament week, we are out of town for four and a half days at a time between the travel, practice rounds and three rounds of competition. As a coach, we do what we can to ensure our athletes have time for their studies whether it is providing them with Internet in the vans or finding a few hours between rounds to complete their work."
Paul Loeser, a 2012 Wake Forest graduate and former member of the track and field/cross country team was a key player for the team's three straight Dean's Cups. Loeser graduated with a cumulative GPA of 3.91 as a biology and spanish double major.
In his time away from the track field and the library, he tutored children at El Buen Pastor and served the homeless as a part of Wake Saturdays. As a result of his continued service, he was a two-time recipient of the ACC's Top Six for Service Award.
"The Dean's Cup exemplifies what we strive for as an athletic team at Wake Forest," said John Millar, director of the men's track & field/cross country team. "It is very exciting for our program to have won the award three years in a row and shows academics and athletics can go hand-in-hand if our athletes use the resources available to them."
The success the teams find quickly translates to incoming players. As Student Athlete Services Assistant Director Sherry Long said, "The guys are very driven and goal-oriented. Those who aren't as naturally driven in the classroom when they first arrive quickly become inspired by the work ethic of the other guys on the team. It's contagious."
Categories: 2012 Highlights: Life on Campus, Athletics, For Alumni, For Parents, Life on Campus, Recognition, Student, Students Taking the Lead, Top Stories, Wake Forest College
Subscribe
Sign up for weekly news highlights.
Subscribe