Main Content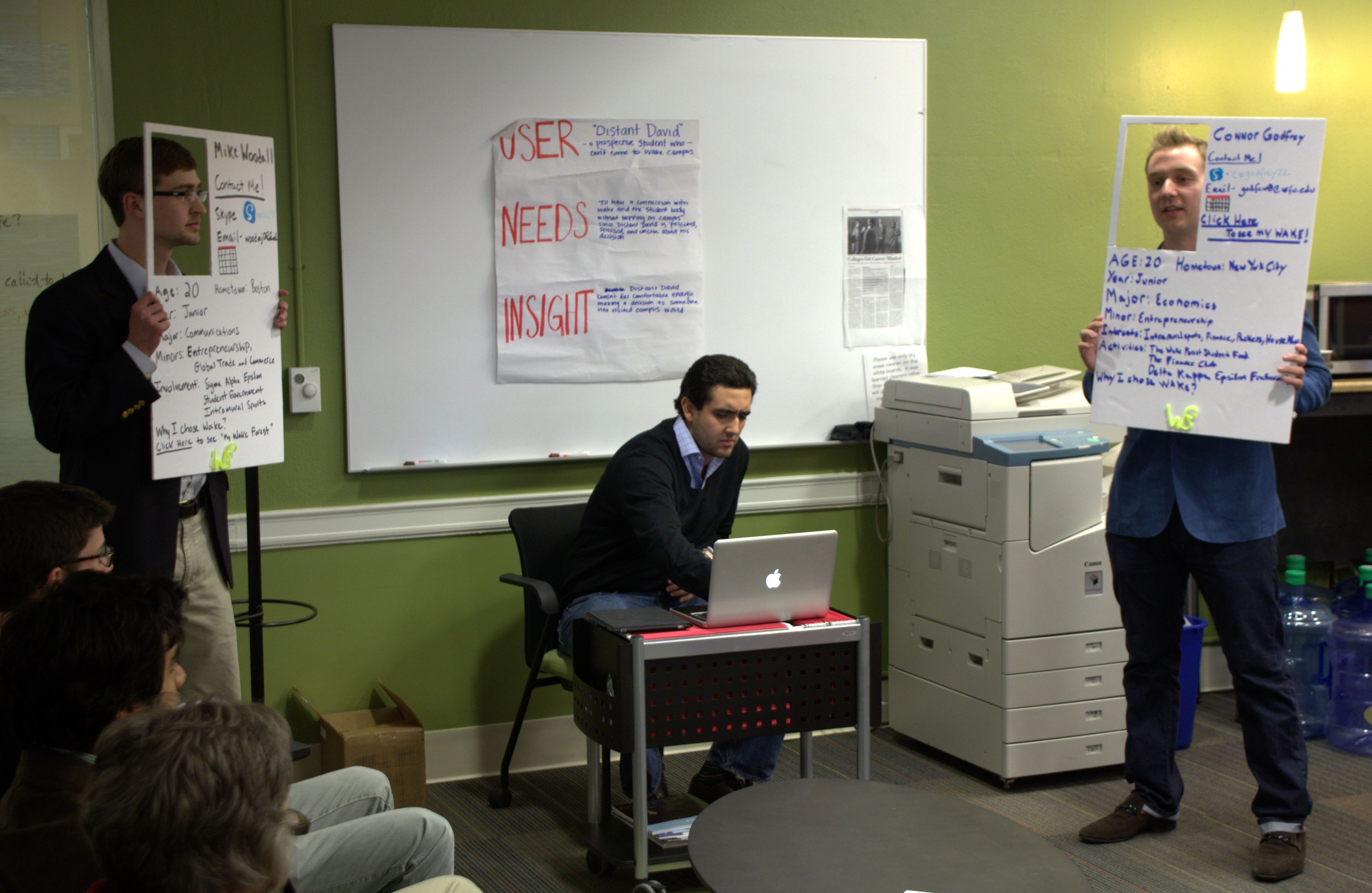 In the quest to build a better mousetrap, the usual approach would include schematics, engineering and experimentation – generally following the scientific method.  But if you put on your "design thinking" cap, you might ponder these questions: What attracts mice? Is catching them the solution?
If you ask potential mousetrap users these design thinking questions, you'll discover different perspectives. Humane Hannah might want to trap and release them, Parent Paul might want to protect his young toddler, and Greenie Gabe might want to be able to compost the whole thing.
Design thinking, an innovative problem solving approach, balances art, science and business perspectives and asks, "what is to be achieved?" It's part of a new class taught in the entrepreneurship and social enterprise (ESE) minor for undergraduate students.
Guided by Evelyn Williams, associate vice president for leadership development, and Gordon McCray, senior associate dean of the schools of business, the students learned to take teamwork to the next level.
"I have learned so much about teamwork and communication through the design thinking lens, and it has helped me further explore what it means to work effectively in a group," said senior psychology major Hannah Clark.
"Design thinking allows you to explore a need, whether it is a product, service, class or experience, through different filters," Williams said.  "You can use anthropology to consider how communities and cultures form and work, or history to ask, "how did we get here?" – or psychology to figure out what emotional factors might exist."
Design thinking applied
For the final project, the students created a digital experience for their fellow Wake Foresters that would increase collaboration. They evaluated existing tools, such as WIN, Gmail, Sakai, Facebook, and new ones, such as Cisco's new WebEx Social, to see how they could best help students.
The teams identified specific kinds of users, researched experiences and imagined ways to improve the digital experience. They presented their findings to their class, Wake Forest IS team members and their client – Cisco executives who pulled strings to give this class access to the brand new WebEx Social platform, even before publicly announcing it.
"Working with Cisco was empowering," said Clark. "It was a powerful experience to have an actual client take the time and the effort to hear what we had to say.  I think it speaks volumes for the design thinking method and how effective it can be at identifying a client's needs, creatively fulfilling those needs and delighting a real world client with our ideas."
Ted Mead, a Cisco unified communications and collaboration specialist, said his team was inspired by the design thinking class projects. "They empathized with the target users and delivered a vision of a solution that gave us some great ideas about how to personalize WebEx Social. Their input will help make some next generation collaboration technology more useful."
Nancy Crouch, deputy chief information officer at Wake Forest, said the design thinking class provided valuable input to her team of developers.
"What we heard is that students are using multiple programs for bits and pieces of their lives as Wake Foresters," said Crouch. "They are visiting WIN to register, Sakai to find coursework, Gmail to communicate and collaborate, and Facebook to find out what their friends are doing. What the design thinking students presented was a need for one hub to provide a menu of options that could enable people to effectively manage all these parts of their Wake Forest experience."
"When one process or solution doesn't seem to work, perhaps it's because we are focusing too narrowly or on a goal that is a secondary goal instead of on what is most important." said Ryan Smith, a senior philosophy major. "Design thinking fits well with the liberal arts study — it equips us with a variety of ways to look at a problem.
"I have been applying design thinking methodology to my other leadership positions on campus," said senior Lindsay Schneider an English, and politics and international affairs double-major. "It has challenged me to consider how I can better connect with members of any team to produce not only the best results but also an enjoyable and productive process."
Categories: For Alumni, For Parents, School of Business, Student, Students Taking the Lead, Top Stories, Wake Forest College, Working Together