Main Content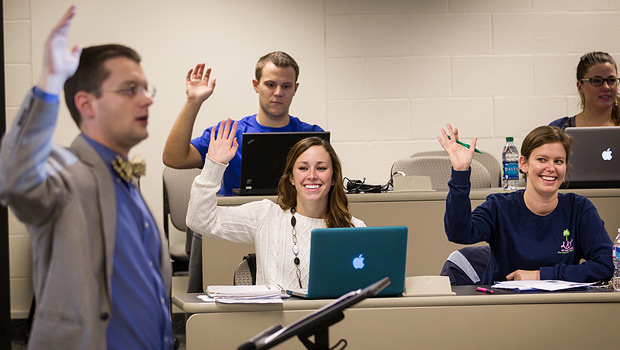 The Wake Forest Schools of Business Master of Science in Accountancy (MSA) program continues to boast a 100 percent job placement rate and attract candidates from across the country and around the world.
Victoria "Tori" Stewart grew up in Medina, Ohio, and was initially attracted to Wake Forest as an undergraduate student.
"During my junior year of high school, my dad and I researched a lot of schools.  We were looking somewhere toward the South, and we wanted a good business school.  I visited a lot of schools in North Carolina and South Carolina, but I just fell in love with Wake Forest's campus," she said.
Stewart didn't specifically come for the accounting program, but she quickly learned that was the place for her.
"I've always been a math person," said Stewart.  "Once I was accepted into the Schools of Business, the accounting program just really seemed attractive with its internship program, high job placement and success rate on the CPA exam."
One of the draws of the Wake Forest MSA program is a required nine- to 10-week professional internship, typically conducted during a student's second semester of study. The internship has proven not only to deepen students' understanding of their coursework but enhance full-time job opportunities.
"I completed an internship with PwC [PricewaterhouseCoopers] in Charlotte, which gave me the opportunity to work directly with three of their clients," says Stewart. "It was an awesome experience to work for a Big 4 accounting firm while still a student, and at the completion of my internship I accepted an offer to work for PwC full-time after I graduate this year."
In a market where finding a job is of paramount concern, every 2012 graduate of the MSA program received and accepted a job offer prior to graduation, with many choosing among multiple offers.  In Stewart's case, in addition to having accepted an offer from PwC, she is currently in the running for a spring internship with the Financial Accounting Standards Board post-graduate technical assistant program.
A large draw to Wake Forest's program is the 100 percent placement rate it boasts for nearly every year since the first class graduated in 1997. The vocational success of Wake Forest MSA graduates is hardly surprising, given that Wake Forest has held down the top pass rate on the CPA exam a record 10 times, including in 2012. Last year, Wake Forest's pass rate exceeded the pass rates at 792 other institutions with 10 or more candidates sitting for the exam.
Wake Forest University, which also boasts the #1 pass rate for large programs, is considered a premier recruiting school for the Big 4 accounting firms. Wake Forest MSA graduates draw an average starting salary of more than $53,000, and under the "MSA Advantage" program, they also have the opportunity to further advance their careers by completing an MBA degree at Wake Forest in just 12 months.
"The success and growth of our accounting program over the roughly 25 years I've been here boils down to what I would describe as a restless pursuit of excellence," said Jack Wilkerson, Professor of Accountancy and Senior Associate Dean, Accountancy Programs. "The faculty, staff, students, and alumni of this program refuse to take our successes for granted. This characteristic permeates, epitomizes, and describes our culture better than any other feature of our program."
The MSA program is AACSB accredited in business, with a special accreditation in accounting. Students in the MSA program have the option of specializing in one of three career tracks: Assurance Services, Tax Consulting and Financial Transaction Services. They can also take courses in other areas of interest, including business, law and entrepreneurship.
"I truly believe Wake's MSA program is the quintessential accounting program," says Stewart. "It combines excellent faculty with a demanding curriculum, an internship requirement and thorough CPA exam preparation, making it ideal for diligent students committed to learning. I will graduate confident that Wake has prepared me well for the working world."
Wake Forest is currently accepting applications for admission to the Master of Science in Accountancy program. Learn more at business.wfu.edu/msa.
Categories: For Alumni, For Parents, Recognition, School of Business, Student, Top Stories
Subscribe
Sign up for weekly news highlights.
Subscribe