Main Content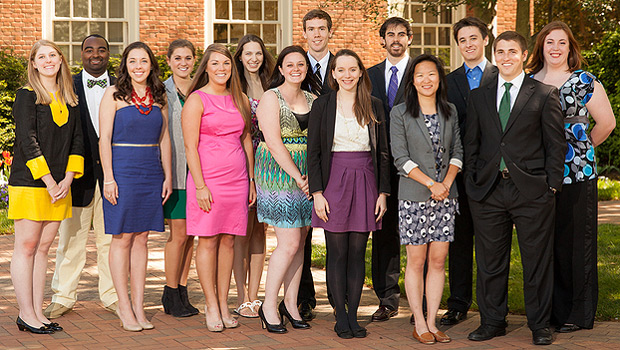 As most seniors prepare to leave Wake Forest to begin jobs, attend graduate school and go on service trips, a small group of talented students have decided to start their careers here, at "Mother, So Dear."
After commencement, 15 recent graduates will stay at Wake Forest for at least another year, having accepted positions in Admissions, Information Systems, University Advancement and as Wake Forest Fellows.
The President's Office established the Wake Forest Fellows Program in 2008 to provide mentorship to recent graduates though a yearlong paid internship in higher administration.
"The program gives graduates exposure to a number of high-level projects across the University," said Marybeth Wallace, special assistant to the president, who oversees the Fellows. "This helps them determine their interests and strengths and propels them toward the next stage of their lives."
As the first-ever fellow to work in Z. Smith Reynolds library, Lauren Suffoletto ('13) sees an opportunity to learn more about the career she intends to pursue. In this position, she will assist in the development and implementation of year-round programs and events for the library and engage in other activities.
"In the next few years I would like to work in research and development for a university or non-profit organization," said Suffoletto. "In my year as a fellow, I hope to not only engage in administrative tasks, but act as a liaison between the student body and library staff. The Wake Forest Fellows Program is the perfect way for me to give back to an institution that has given me so many opportunities."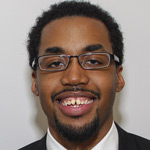 Keon McGuire ('08), who was a fellow in the Office of Student Life, described his experience as a "crash course" into the career world. "It gave me a picture of what different professions in higher education entail," said McGuire, who since has worked at The College Board and Complete College America and is currently pursuing a joint Ph.D in Higher Education and Africana studies. "The fellowship gave me the invaluable opportunity to work with and learn from experienced Wake Forest personnel."
Caroline Naughton ('11) went on to become a sales assistant at ABC Television Network after serving a year as the fellow in the Office of Personal and Career Development team, where she played an integral role in organizing a 250-person conference at Wake Forest called Rethinking Success.
"The fellowship gave me the incredible opportunity to learn in a safe environment," she said. "I wish every student could experience this program. There is something beautiful about making mistakes in an environment where you feel comfortable."
In addition to having a Wake Forest Fellow, the Office of Information Systems will employ two additional graduates to bring a student perspective to I.S. and help us ensure that student needs are being understand and met.
Leya Wood ('13) looks forward to working with students and staff as the new Bridge Associate. "I have been working at The Bridge for the past three years and I love the environment and the people. I am excited to continue working with them," she said.
Mark Covington ('13), one of at least two fellows working in University Advancement, will focus on increasing annual giving participation from alumni and parents while learning the ropes of higher education fundraising. He looks forward to transitioning from student to staff member. "I am excited that I will be able to travel and meet alumni from all over the country," said Covington, a Winston-Salem native. "I am grateful for the opportunity to work in college administration. My ultimate career goal is to work in higher education."
Here is a list of the 2013-14 fellows and the offices they will serve:
Office of the Dean of the College: Lindsay Schneider ('13)
Office of Information Systems: Laura Chin ('13)
Office of Investments: Paige Bosworth ('13)
Office of Personal and Career Development: Benjamin Magee ('13)
Office of the President: James O'Connell ('13)
Office of the Provost: Frances Fisher ('13)
START Gallery: Katie Wolf ('13)
Office of Student Life: Brad Shugoll ('13)
Wake Forest Baptist Medical Center: Sarah Sebton ('13)
University Advancement: Isabelle Ruane and Mark Covington ('13)
ZSR Library: Lauren Suffoletto ('13)
Additionally, these recent graduates have also accepted positions at Wake Forest:
Information Systems Bridge Associate: Leya Wood ('13)
Information Systems Collaborative Technologies Associate: Kory Riemensperger ('13)
Admissions Counselor: Victoria Hill ('12)
Categories: Alumni, For Alumni, For Parents, Student, Top Stories
Subscribe
Sign up for weekly news highlights.
Subscribe