Main Content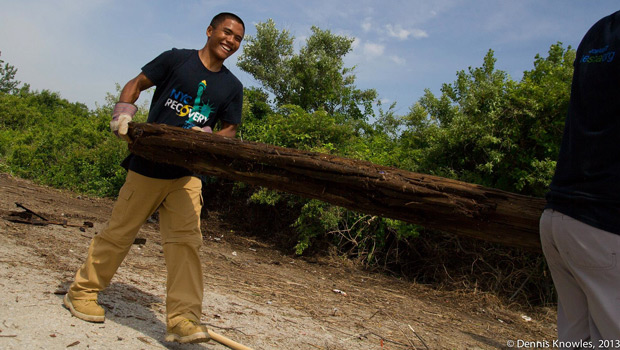 In June, sophomore Jamal Garcia participated in a weeklong service project to help clean up the Gateway National Recreation Area, a national park in New York City and New Jersey, which was severely damaged by superstorm Sandy last October. Although 5,000 miles from his home in Kihei, Hawaii, Garcia has brought his love for the land to the East Coast and Wake Forest. He plans to continue to "Malama i ka 'Aina," or take care of the land, throughout his undergraduate experience.
Q: What do you think separates Wake Forest from other universities? 
A: While growing up in Hawaii, I always felt very connected to the environment. At a young age, you're taught to appreciate the land – so after my campus visit, I knew I wanted to attend Wake Forest.
Also, everyone is so friendly! During my first year, I talked to as many people as I could and asked as many questions as I could, so that hopefully in the long run, I find what I truly want out of my Wake experience … I know my education at Wake Forest has all kinds of opportunities.
Q: What advice do you have for first-year students?
A: Use your first month at Wake Forest as an exploratory month. Ask lots of questions to everyone you meet. And, if you are interested in service, know that you made right the choice to come to Wake Forest.
Q: Who at Wake Forest has helped to enhance your undergrad experience?
A: My faculty advisor, Hu Womack, is a great advisor. He follows up and checks in with me every week to help me with my studies. It's very clear he cares for his students and their experience at Wake.
I've also found the Wake Forest Gospel Choir, a group of faith-driven people that are dedicated in their mission to impact others through faith and service. Every member shares a special passion for serving and caring for others. This was one of the reasons why I naturally gravitated towards the choir.
We're not just a club or even a choir, but a family. A family of like-minded individuals who are dedicated to serving our community, all while upholding our motto of Pro Humanitate ("for humanity"). I am so blessed to have met such a strong group of people because I know our voices will be heard at Wake Forest. I am proud to call them my family.
Q: What service project did you participate in during your first-year at Wake Forest?
A: During spring break, I went to New Orleans. While there, I had the opportunity to talk to students about college life and education, I volunteered at soup kitchens and served meals to those less fortunate.
From this experience, I've realized I want to participate in another service project as soon as possible. At Wake Forest, I hope to keep motivating students on and off-campus to serve and I want to share my perspective on taking care of each other, our community and to Malama i ka 'Aina.
Categories: For Alumni, For Parents, Mentoring, Pro Humanitate, Student, Top Stories, Wake Forest College
Subscribe
Sign up for weekly news highlights.
Subscribe