Main Content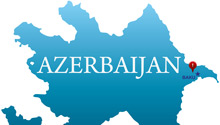 As I sat in a coach bus driving down a wide desert highway, closely tailed by two police escorts, I surveyed a landscape reminiscent of the oil fields of West Texas. Derricks, pipes, and 'pumpjacks' created an interlocking and seemingly random maze of machinery that stretched off into the horizon. Gradually, as our convoy approached its destination, the arid scene replaced itself with views of a burgeoning, Dubai-esque metropolis. Overhead a large electronic sign proclaimed clearly in English, "Welcome to Azerbaijan."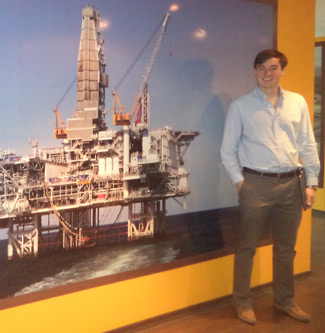 For a month this summer, I lived in Azerbaijan's coastal capital of Baku where I studied the relationship between energy and political outcomes in Central Asia. My research was primarily focused on the political 'game' newly independent states, Russia, and the United States have played over the control of oil and gas reserves in the surrounding area.
In Baku, oil wealth has brought tremendous development. Extravagant public works, high-end fashion outlets, multi-million dollar high rises, and European style facades are ubiquitous and ever increasing parts of the city. At the same time, such opulence is contrasted with the less-developed remnants of the Soviet era. Azerbaijan has accomplished a great deal since independence, but it is important to note that the country is still very much in transition.
During my time in the capital, I focused on compiling up-to-date information through interviews with officials from the state oil company SOCAR, British Petroleum, Azeri government, and the U.S. Embassy. These meetings were instrumental in helping me conceptualize the geopolitical challenges the region will face in the coming years. Through my contact network, I was also fortunate to attend a NATO Energy Security Conference and visit the sprawling Sangachal oil terminal complex.
Later on in my trip, I found myself listening to the president of Azerbaijan, Ilham Aliyev, speak to U.S. diplomatic delegation in an elegant, ultra-modern convention hall. The speech, part of the broader four-day US-Azerbaijan Diplomatic Conference, echoed the necessity of close diplomatic relations between the young country and the American people. Sitting in this moment, I couldn't help but think about the events that had brought me to my current location.
I've always been a believer that the most profound intellectual opportunities arise from fundamentally challenging circumstances. However, we live in a world that often lacks the societal impetus to push ourselves to discover the unknown. Academically, traveling half way around the world fit with my future ambitions: I hope to one day translate my experience into a job in foreign affairs. But more basically? Azerbaijan presented just the challenge I was looking for.
My independent research trip was possible through funding from the Wake Forest Richter Scholarship, and thanks in large part to my in-country host organizations Azerbaijan Diplomatic Academy and the State Oil Company of Azerbaijan. Special thanks also goes to my faculty sponsor, professor Thomas Brister of the politics and international affairs department.
Categories: Campus Life, For Alumni, For Parents, International, Research, Student, Top Stories
Subscribe
Sign up for weekly news highlights.
Subscribe