Main Content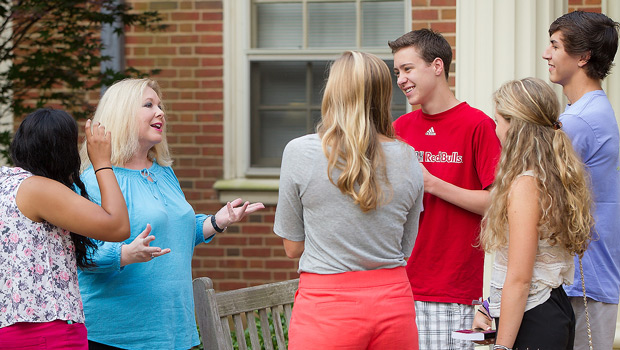 Nineteen professors taking part in the new Faculty Fellows program will become familiar faces in the first-year residence halls. Each residence hall will have at least three faculty members assigned within this partnership program between the Provost's Office and the Office of Residence Life and Housing. They will work closely with the residents throughout the year, creating programs, hosting dinners and hanging out in the building.
The Faculty Fellows will spend at least two hours a week in their assigned halls, providing a sense of belonging for the first-year students in their new home.
The program gives faculty the opportunity to engage with students outside the classroom and provides a model for students to talk with and get to know faculty one-on-one. Often, students wait to create connections with their professors once they've been accepted to their majors. The Faculty Fellows program jumpstarts those student-faculty relations before first-year students even attend their first day of classes.
"We have intellectual vibrancy in the classrooms, so the Faculty Fellows will bring that vibrancy to the residence halls," says Matt Clifford, director of residence life and housing. "The program will be a deep and enlightening transformation of the faculty-student relationship."
Transition from high school to college can be difficult
The Faculty Fellows will be alongside the first-year students on move-in day, carrying boxes and talking to their parents. They will be side-by-side, sharing their first college experiences and the adjustment to Wake Forest.
"As the mother of a college-age son, I've been reminded of things large and small that have an impact on the first year of college, and I've recently reflected on my own first year as an undergraduate at Wake Forest," says Mary Dalton, a Faculty Fellow and a professor of communication. "I want to help students navigate the waters of Wake Forest and have the opportunity to engage with them on a deeper level outside of the classroom."
Each Faculty Fellow will be responsible for planning weekly informal events, like ice cream socials, book clubs and organized study breaks, at each of six, first-year residence halls. Dalton and her Associate Fellows have decided to highlight a programmed event each week that they will encourage students to attend. For example, a coordinated event with the Z. Smith Library staff could be planned to familiarize students with the library.
Dalton plans to have regular "out of office hours" each week to sit in the lounge to give students the opportunity to come and interact with her one-on-one or in small groups.
These casual opportunities to get to know one another will be fun, but are also important for students as they make the transition to college life.
Since Dalton's area of expertise is in critical media studies and she teaches a course on culture and the sitcom, she hopes to integrate popular culture activities into the mix like a series of events structured around television shows that the students may remember from their childhoods. She says discussions might address the social issues presented in the shows and could spark a video competition where the students make films on their cell phones about Wake Forest culture or traditions.
The goal of the program is that each Faculty Fellow will bring his or her own unique strengths and interests to their residence hall, which will help to further educate the whole student through cultural and social experiences that are intellectually enriching.
Engagement outside of the classroom
Participating in the Faculty Fellows program was a no-brainer for Jose Villalba, an associate dean and associate professor of counseling. He believes that enhancing the feeling of belonging on campus is not only important for the students, but faculty as well.
"When you have connections with faculty on campus, the students' likelihood of belonging will exponentially increase," Villalba says. "My goal is to demystify the student-faculty connection and show students that faculty are people, too."
Categories: Campus Life, Campus Life Highlights, Faculty, Life on Campus, Mentoring, Teacher-Scholar, Top Stories
Subscribe
Sign up for weekly news highlights.
Subscribe