Main Content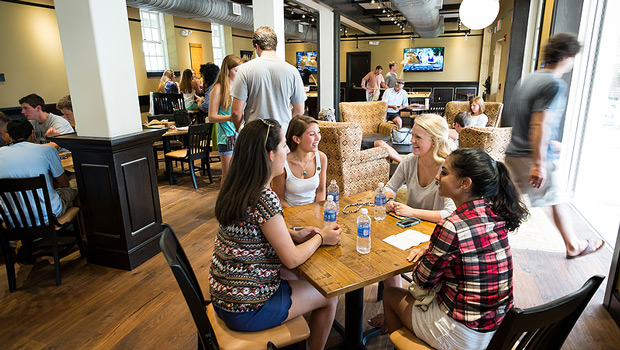 Walk by Zick's and you will likely hear popular music playing, smell pizza baking in the oven and spot friends playing pool, foosball or watching a game on one of the large television screens.
Located on the first floor and basement levels of Poteat Residence Hall, Zick's offers pizzas (with gluten-free options), wings, salads, sodas, wine and beer. It is a comfortable place to eat and unwind.
Over the past year, 18 focus groups were conducted, numerous local downtown spots were toured and several universities in the region were visited, to see how Zick's could and should be designed. The 4,286-square feet space reflects interest in having more places to gather in the heart of the campus.
Zick's is named for Ken Zick, Wake Forest's longtime vice president for student life who retired from that role in June.
"Food brings people together, so we created a central spot for students, faculty and staff to build community and campus vibrancy, but also a space for downtime and relaxation," said Mary Gerardy, associate vice president and dean of campus life.
It can be a challenge to find a convenient and comfortable place to take a break, without the distractions of homework assignments, deadlines or even emails. With only a few power outlets, Zick's intentionally creates a place to unplug.
"It's not so much a restaurant where ordering is expected, but rather a place to meet your friends that also serves food," Gerardy said.
With large doors that can be opened up to the brick patio area, Zick's will also connect the inside space with the outside.
"The University looks to provide enrichment for the 'whole student' spiritually, physically and intellectually," said Thomas Ray, coordinator for outdoor programming initiatives. With the goal of relieving student stress and increasing overall well-being, Wake Forest has made improving the public spaces on campus a priority.
Something old, something new
Margo Tanner and Cassie Smith, both sophomores, made it a point their first day back from summer break to stop by Zick's.
"We live on north campus, so Zick's is going to be a great place to hangout with friends or study in between classes," Smith said.
Brooks Bradway, a senior business and enterprise management major, remembers stories that his parents and grandparents told him about the rush they felt of having to go to the post office on Hearn Plaza to get their mail.
To make room for Zick's, the university post office was relocated to Benson University Center.
"Honestly, I was a little nervous about a major change to the Quad, but I understand why Wake Forest decided on Zick's," Bradway said. "It is sure to be an amazing social spot on campus."
Even when the kitchen doors close at 11 p.m., the place will stay open until 12 a.m. on weeknights and 2 a.m. on Fridays and Saturdays for hanging out with friends, finishing a game of pool or watching a big game.
"I can just see students now: making a point to watch away Wake Forest football games or staying at Zick's, even when the kitchen is closed, to hang out with friends," Bradway said.
Categories: For Alumni, For Parents, Top Stories, Top Stories 2013-2014, University Announcement
Wake Forest in the News
Wake Forest regularly appears in media outlets around the world.