Main Content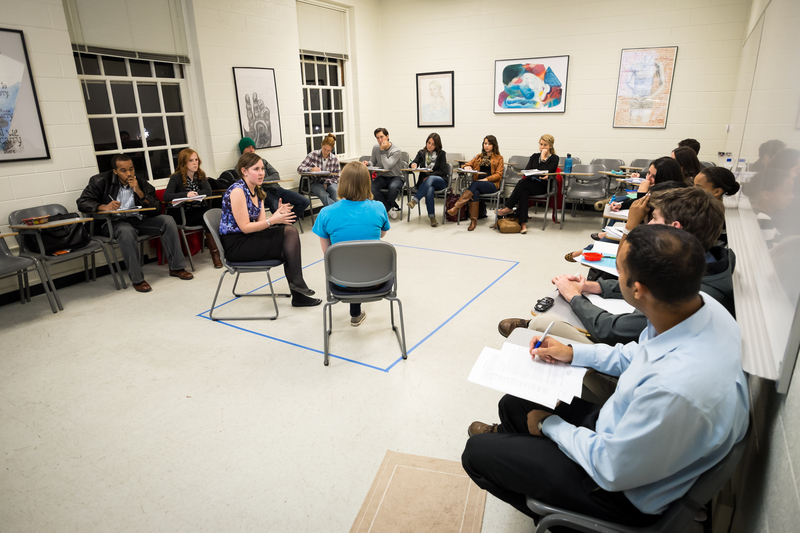 Taking on roles has taken on new meaning for a group of theatre students helping to train counseling students.
How they portray characters struggling with crisis issues can influence the effectiveness of the next generation of professional counselors.
In practice counseling sessions in Tribble Hall classrooms, undergraduate theatre students act as clients for students in the graduate counseling program. The IPLACe-funded initiative is led by Phil Clarke, assistant professor of counseling, and Sharon Andrews, professor of theatre. For four semesters, they have partnered so the theatre troupe can sharpen their improvisational acting and the counseling students can gain realistic counseling experience.
"As an actor in a play, you know where the character is going and exactly how he or she is going to get there," said Alyssa Gera-Rappe, a junior theatre student who has taken a leadership role in the troupe. "The acting being done in the counseling sessions is entirely different because it's essentially improv on both sides – the counselor and the client. There's no script."
Playing roles
While the theatre troupe members are refining their characters, the counseling students are practicing their responses to crisis situations. Often the counseling students role-play with their classmates, but they sometimes get too comfortable working with their peers.
"I am trying to create a healthy amount of anxiety," Clarke said. "The actors bring unfamiliar faces and ways of being, and can portray crisis situations in a way that our counseling students cannot. It is helpful because it mimics more closely the thoughts and feelings they would experience when working with real clients in crisis."
Jay Buchanan, a first-year student from Linville Falls, said his interest in experimental theatre is what drew him to Andrews' troupe. He auditioned and was cast as one of three men.
"My experience with the troupe has been very rewarding," Buchanan said. "I am able to practice my own improvisational skill and realism while providing a medium for training future counselors. I plan to stay involved for the rest of my time at Wake Forest."
Counseling student Steven Rockey appreciates the effort the actors put into developing their characters, particularly the non-verbal behaviors. "In counseling, it is so much more than what you are talking about," Rockey said. "Body language and body movement are so important."
As Clarke explained, a significant part of crisis counseling is a counselor's ability to manage his or her own reactions so that the counselor focuses on connecting, assessing, and safety planning with the client. The partnership of the counselors with the actors enables the students in the crisis counseling course to be exposed to more realistic crisis situations.
The counseling students provide each other with peer feedback on their crisis assessment and counseling skills and the actors offer their impressions of the counseling student's ability to be empathic and helpful. The counselors also journal about these role-play experiences to help determine what can apply to their future work with actual clients.
"Packing" the character
As the counseling students hone their crisis counseling skills in the classroom, the theatre troupe works with Andrews to "pack" their characters – to bring a sense of reality to the crisis situations that the counseling students will then navigate.
The scenarios assigned can be very high pressure and surprisingly realistic. Each troupe member approaches their performances differently, but have found it helpful to research tendencies and symptoms of the characters they are going to portray, so that they behave truthfully for the counselors.
"During the counseling sessions, there is an element of spontaneity," Andrews said. "The actors have to make moment-to-moment acting decisions."
There are no small roles
In scenarios ranging from a married man experiencing domestic violence to a teenager struggling with suicidal thoughts, the actors are playing roles.
The counselors respond to what they see and hear and assess the severity of the "client's" crisis. This experience gives the counselors the opportunity to respond in real-time to a "live" client, while the actors strive to be realistic and truthful with their character development.
"Students often reflect that in practicing with actors they increase their confidence and their ability to work with clients in crisis," said Clarke. "The counseling students are able to take healthy risks in sessions with actors because the sessions are not real.
And, as the actors develop these characters, they are better prepared for parts they may play on stage or screen.
Clarke, who first met Andrews when he was a student in her introduction to theater class, quickly realized he was not destined for an acting career. But, he had no idea the two would collaborate as professors.
"The role-play collaboration is a win-win," he said.
Categories: Arts & Culture, Faculty, Humanities Highlights 2013-2014, Mentoring, Student, Teacher-Scholar, Top Stories
Wake Forest in the News
Wake Forest regularly appears in media outlets around the world.