Main Content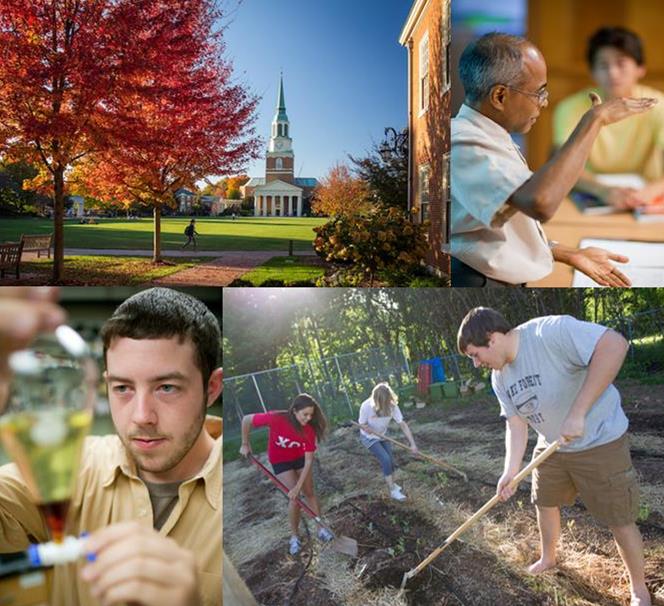 Sustainability is big business.
The U.S. market for sustainable products and services has more than doubled in the past four years. It is expected to eclipse $60 billion by 2014.
The need for leaders who can understand and translate the implications of emerging technologies and government regulations into practical social, economic and environmental outcomes has never been greater.
A new master's program created by Wake Forest's Center for Energy, Environment & Sustainability (CEES) will give students and early to mid-career professionals the diverse skillset they need to carve out a place in the burgeoning global sustainability marketplace.
The Master of Arts in Sustainability is a distinctive interdisciplinary one-year program that combines coursework in the social sciences, humanities, natural sciences, management and law. The program is currently accepting applicants for the Fall 2014 semester.
"We are looking for entrepreneurial self starters who see themselves doing something important with their work," says Dedee DeLongpré Johnston, director of sustainability at Wake Forest University. "This program will be the catalyst that gets them there."
The 30-credit MA in Sustainability includes core courses in global human systems, resource management and energy science, sustainable organizational management and environmental law and policy.
DeLongpré Johnston says classroom work in Applied Sustainability is designed around the needs of the marketplace and the tools sustainability professionals use on a daily basis.
"Assessment frameworks, metrics and sustainability reporting," DeLongpré Johnston says. "These are some of the tools we are focusing on that will empower graduates to do what they want but are hard to come by in a program that doesn't specifically focus on sustainability."
In addition, students will engage with organizations outside of the classroom through the completion of a two-credit practicum.
"We want to make sure these are the best educated sustainability professionals in the field," says Dan Fogel, Executive Professor of Strategy in the School of Business and Director of the MA in Sustainability program. "The only way to do that is to give our students the opportunity to work with government entities, NGOs and private companies both here in North Carolina and across the globe."
Locally, Fogel says students might work with companies like Duke Energy to determine whether new energy technologies meet regulatory guidelines.
Internationally, MA in Sustainability students could have the opportunity to develop their natural capital evaluation and resource management skills in countries like Peru, the Bahamas and Belize.
After spending a month in Peru conducting research through the Wake Forest Tropical Diversity Program, Allie Gruber, who is pursuing her MA in Management, sees promise in the program for students and young career professionals who, like her, aspire to a career in sustainability.
"I think this will be a great opportunity to develop the skills needed to succeed in the field of sustainability," she said.
Fogel said while the program's primary focus is on helping students realize their own personal career goals in the field of sustainability, CEES is actively scouting employment opportunities to help graduates get their foot in the door.
"We are committed to helping our graduates find success in a profession where they will actively contribute to society," he says.
Categories: 2014 Highlights: OPCD, 2014 Highlights: Research, Online, Personal and Career Development, Pro Humanitate, Research, Scholars and Scientists, Student, Students Taking the Lead, Sustainability, Teacher-Scholar, Top Stories, Top Stories 2013-2014
Wake Forest in the News
Wake Forest regularly appears in media outlets around the world.