Main Content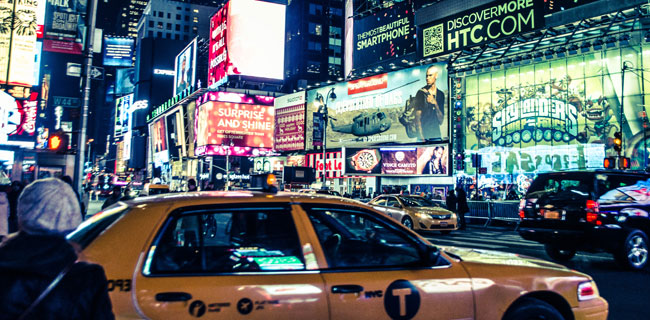 From Times Square to Brooklyn to Queens, 60 Wake Forest students covered miles of sidewalk and subway lines exploring careers in media, fashion and retail, public relations and advertising, and the arts.
Wake Forest's Office of Personal and Career Development led the "Career Trek" in December, with students divided into groups according to their interests. Altogether, they visited 21 organizations and met with more than 35 alumni and parents for an eye-opening exploration of what it's like to live and work in New York City.
At an evening alumni reception, students enjoyed a round-robin meet-and-greet where trekkers talked with alumni in their own field of interest as well as those from other industries. Students on every trek were able to share stories and connections with other Wake Foresters. "It was amazing to see where some alumni are now, even the ones who just graduated a semester ago," senior Jeremy Heftner wrote in his journal. "People are Wake Forest's most valuable asset. We should never forget where we come from for it is Wake Forest that helps provide the steps to success."
Below are reflections from a sampling of students who attended the two-day Career Trek.
MEDIA/ENTERTAINMENT/SPORTS CAREER TREK

Visited: The Mets, Hearst Publications, FWRV Law Firm, Turner Sports, Viacom
Over the span of two short days, our group visited five different companies. As a senior communication major, with a concentration in media studies, I was eager to gain a broader perspective on what career opportunities might interest me. We learned about various ways to set ourselves apart from competing applicants and the profound importance of showcasing our social and digital media abilities. Hearing first-hand what employers are looking for in entry-level candidates was an amazing opportunity. It gave us an inside look at major corporations in very competitive industries. The key lesson I learned: Make connections and stay in touch.
Senior communication major Michael Woodall
FASHION/RETAIL TREK

Visited: The Jones Group, Macy's, ANN Inc., Bloomingdales and a 5th Avenue Scavenger Hunt
This trek gave our group a rare glimpse into the fashion and retail industry. The employers we met are looking for workers who show initiative, know the latest fashion trends, and are optimistic and eager to learn. A career path is a journey and not a destination. Every job I take throughout my career may not be the ideal job, but each step will better equip me for my dream job. Some industry leaders we talked with never thought about their current job as a possible career choice. It developed as they learned more about their interests, gained skills and discovered where they could reach their fullest potential. This trek opened doors to future careers I never considered. I realize now that everything in life cannot be planned, but as long as I maintain a strong work ethic, enthusiasm and a positive attitude, I'll have an extraordinary journey.
Junior English major Brianna Brewer
PUBLIC RELATIONS/ADVERTISING/PUBLISHING

Visited: Ogilvy Public Relations, BBDO, RJ Palmer, CDMiConnect, Golf Digest
This career trek was an amazing adventure. I admit I didn't know what I was getting into when I initially applied for Wake Forest's career trek in New York City. I knew that I was interested in public relations, having completed an internship in the industry, but I never fully understood all the complex mechanics surrounding the world of advertising, publishing and public relations. In just 48 hours, our group learned about the unique dynamics of these industries by allowing us to ask questions to individuals passionate about their work. As an added bonus, many people we met were alumni who share a desire to help Wake Forest students succeed. They enthusiastically provided guidance, insight and honesty. Furthermore, they allowed us to explore the importance of telling an impactful story as we transition throughout college and beyond.
Senior politics and international affairs major Jeremy Hefter
ARTS TREK

Visited: The Independent Filmmaker Project, 52nd St. Project, Lincoln Center — Mitzi Newhouse Theatre, Christies, The Metropolitan Museum of Art and Carnegie Hall
In New York City, we hit some major companies in the art world and also discovered some hidden gems. We learned that working in the arts world is no easy task; it takes a vast amount of courage, grit and networking, networking, networking. Most people in the arts world gravitated towards their prospective companies based on their passions and interests — stopping at nothing until they got there. By participating in the Career Trek as a sophomore, I was able to get a comprehensive perspective of the arts industry. From art curator to stage manager to filmmaker, there are unlimited options. No matter what field I decide to pursue, I've gained valuable insight on how to stay focused, have the courage to put myself out there and the confidence to connect with helpful mentors and professionals in my field of interest.
Sophomore computer science major Lisa Sun
Categories: 2014 Highlights: OPCD, Admissions, For Alumni, For Parents, Mentoring, Student, Top Stories, Wake Forest College
Subscribe
Sign up for weekly news highlights.
Subscribe