Main Content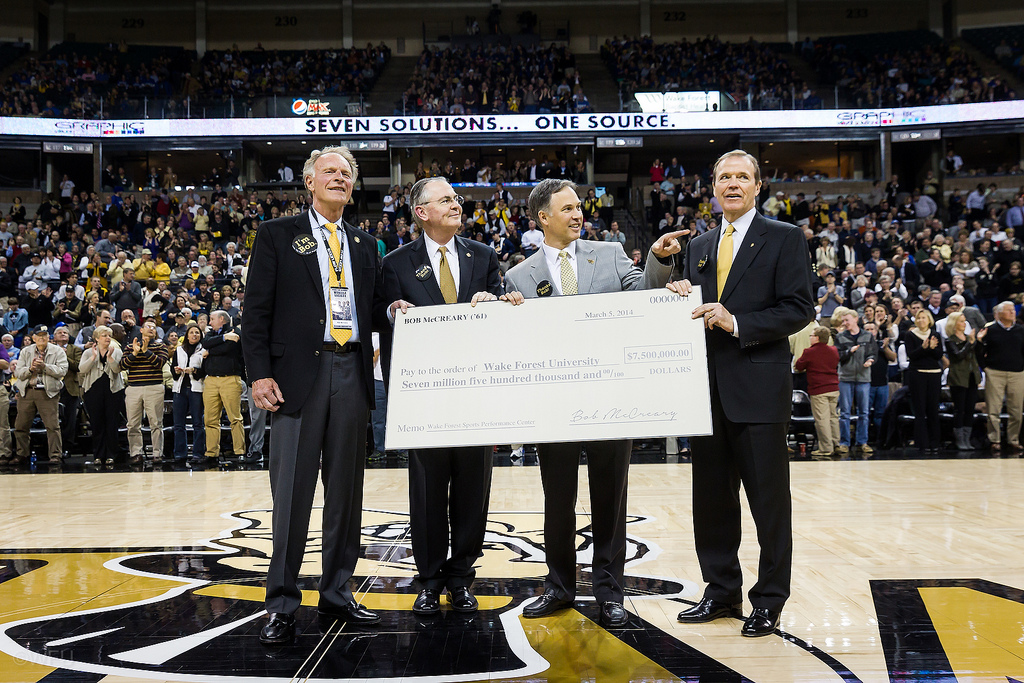 Ever since Bob McCreary ('61) came to Wake Forest in 1957 on a football scholarship, he has never forgotten the power of a transformative gift on a young student-athlete.
Now his $7.5 million gift in support of the Wake Forest Football program adds momentum to Wake Forest's plans to move forward with a 95,000-square-foot sports performance center.
Designed to meet the training needs of more than 350 student-athletes who compete in 18 sports, the four-story sports performance center will be located behind Miller Athletic Center on the Reynolda Campus. The new building will serve as the home for the football program, while featuring a robust strength and conditioning facility that enables multiple athletes in different sports to work out simultaneously, improving upon the current Bob McCreary Strength Complex in Manchester Athletic Center.
Additionally, the facility will include space for football coaches' offices, team meeting rooms and other areas designed to enhance recruiting efforts. There will also be space dedicated to enhancing the nutrition program for all Wake Forest student-athletes with convenient access to nutritional resources and grab-and-go food options.
Wake Forest President Nathan O. Hatch and Director of Athletics Ron Wellman publicly celebrated McCreary's longtime philanthropy, which includes nearly $15 million in lifetime commitments, at the March 5 men's basketball game where Wake Forest defeated Duke University.
"Bob personifies the success brought by hard work and dedication and the generosity inspired by passion and Pro Humanitate. We appreciate his magnificent gift to the sports performance center, which will enable future generations of student-athletes to compete at the highest levels," said Hatch.
McCreary grew up in rural Caldwell County, N.C., with humble means. He often credits the scholarship that provided him the opportunity to receive a Wake Forest education, and as a result, enabled him to succeed in business and in life.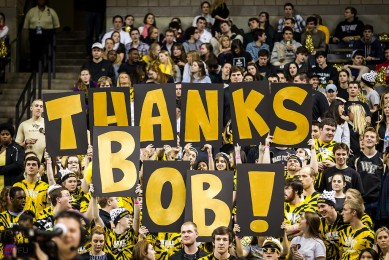 After a brief professional football career, McCreary worked for 20 years in sales and marketing in the furniture industry before founding his own furniture company, McCreary Modern, in 1986.
"Coming from where I came from to have what I have today, I am so incredibly blessed to give back to the University that gave so much to me," said McCreary, a Moricle Society founding member whose significant contributions also include support for the construction of Deacon Tower and the impressive video board that bears his name at BB&T Field. "I look at this as an investment in the future of Wake Forest Football and our athletic programs as a whole. The new sports performance center is going to be a game-changer when it comes to training Wake Forest student-athletes as well as recruiting future generations of Demon Deacons, and I am looking forward to seeing it come to fruition."
"To say that Bob's longtime investments in the Wake Forest Football program and Wake Forest Athletics have been transformative would be an understatement," said Wellman. "Our plans will provide a state-of-the-art space for our sports performance staff to improve every aspect of student-athlete recruitment, competitiveness and overall wellbeing."
McCreary's most recent gift, when combined with a recently announced $2 million gift from alumnus Alan Fox ('79, MBA '81, P '12) and $3 million in other gifts, brings the total commitments made in support of the football program to $12.5 million since the launch of Wake Will: The Campaign for Wake Forest in October and nearly $10 million since the arrival of new head football coach Dave Clawson.
"A first class sports performance center is vital to the success of any college football team. The proper equipment, the right amount of space and the right coaching all play a role in how we perform on the field," said senior wide receiver Michael Campanaro ('14). "We don't attract many 5-star athletes coming out of high school but with our coaching staff and the proper strength and conditioning program, we can play like 5-star athletes at the collegiate level."
Additional fundraising for the sports performance center is underway and will determine the timeline for ground breaking.
Categories: Alumni, Athletics, Student, Top Stories, University Announcement, Wake Will
Subscribe
Sign up for weekly news highlights.
Subscribe