Main Content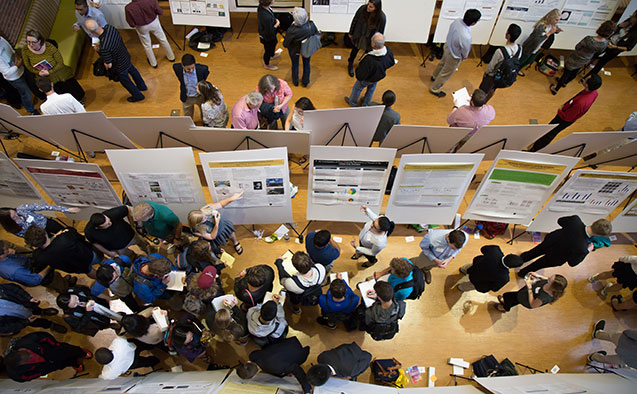 Undergraduate Research Day, a hallmark campus event at Wake Forest University, celebrated its 10-year milestone Friday, Oct. 7 in a new space, Z. Smith Reynolds Library's atrium.
Research Day, held during Family Weekend, is a highlight of the academic year, showcasing original scholarship developed through the personal interaction and intellectual exchanges between the very best and brightest students and their teacher-scholar mentors, said Dean of the College Michelle Gillespie during her welcome to students, their parents, faculty and staff.
See a 360-degree photo of the Undergraduate Research Day:
Check out this 360-degree photo from Undergraduate Research Day @WakeForest! – Spherical Image – RICOH THETA
A total of 123 posters were presented, showcasing research from history and psychology to physics, math and health and exercise science. Research Day is sponsored by the Undergraduate Research and Creative Activities Center (URECA), which promotes and celebrates mentored scholarship.
Sophomore Smiti Kaul, who is majoring in computer science and physics, presented research about the potential of mind-body meditation to address pain management, a subject she got interested in following a first-year seminar with Associate Professor of History Qiong Zhang that examined traditional Chinese science and medicine.
"I think I learned how to do real research," Kaul said. "It was surprising to me how much information is out there."
Biology professor Wayne Silver, who was among the 100 or so faculty members who mentored students, said every time he attends Research Day, he is struck by the level of knowledge the students demonstrate.
"This is big time research," he said. "Every time I come here I'm blown away by the quality of the research."
Categories: Faculty, Mentoring, Research, Student, Teacher-Scholar, Top Stories
Subscribe
Sign up for weekly news highlights.
Subscribe