Main Content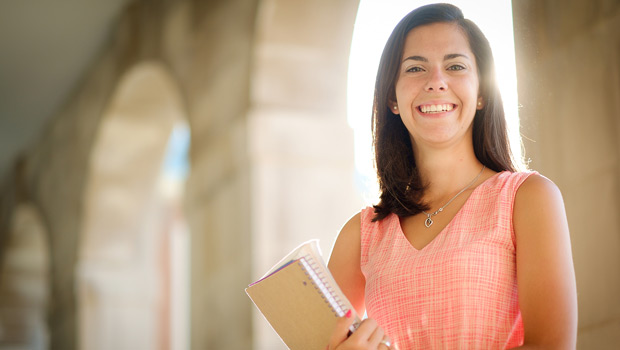 It was on a two-week summer road trip with her mom that Elizabeth Jay ('14) entered the gates of Wake Forest for the first time. Like so many, as soon as they stepped onto campus, they realized Wake Forest was the perfect school for Elizabeth. "In a rare mother-daughter moment, we completely agreed," commented the business and enterprise management major.
In the fall of 2010, after traveling 1,400 miles from her home in San Antonio, Texas, Elizabeth was beginning to find her place at Wake Forest. Her business classes were challenging, and she was starting to explore her new community.
Excited to see her family, Elizabeth split the cost of a plane ticket with her brother, Jacob, and surprised her family for Thanksgiving. While home, Elizabeth's parents revealed that her mother had been diagnosed with cancer. Treatment would begin immediately.
Still stunned, Elizabeth returned to Wake Forest to finish the semester and was welcomed back to campus. "I had a lot of people who immediately reached out to me," Elizabeth said. "They were great about being there when I needed them and going away when I didn't want them."
Good news came in May 2011. After nearly seven months, Elizabeth's mom was in remission.
***
Like many Wake Foresters, Elizabeth took full advantage of the opportunities she was offered, developing relationships with a network of faculty and finding a family among her sorority sisters. She was settling into student life when, in the fall of her junior year, Elizabeth learned that her mother's cancer had returned – and it had spread to her brain.
Elizabeth returned to Texas to spend the holidays with her family. "It was an incredible time," she remarked. "I got to spend three solid weeks being the point person for my mom. It was special, and I had so many Wake Forest people checking on me. Wake Forest's community doesn't stay on this campus."
Friends called. They texted.
"Do you want to chat and get your mind off things?"
"I know you're going to be up all night in the hospital. I'm not doing anything. Let's talk."
She would need their support. On January 10, 2013, Elizabeth's mom, Annamaria Ferraro, passed away.
"She was incredible," Elizabeth remembers.
***
Trying to regain normalcy, Elizabeth returned to Wake Forest to finish her junior year and found wonderful support from the community she had come to depend on – the community her mom was glad to know surrounded her.
One pivotal professor was Dr. Holly Brower, associate professor of business.
"Elizabeth shared with me on several occasions how very supported she was by the Wake Forest community," Dr. Brower stated. "She is deeply appreciative of the Wake Forest culture and how this place and its people surrounded her with love, care and support. She's very grateful for her time with her mother, for mentors in her sorority, for the Wake Forest community, for her father and for her faith. How many students would come through a storm such as this grateful and strong? In my view she is utterly amazing."
Elizabeth developed another relationship she hadn't planned. This year, she was awarded the Neal Chastain Scholarship. It is given to a senior student who exemplifies a joy for living, a sense of humor, concern for others and an interest in academic achievement, specifically in business.
This spring, Elizabeth met the scholarship donor, Mrs. June L. Booth from Charlotte, N.C., and immediately had a shared connection. Mrs. Booth created the scholarship to honor her son, Neal, a member of the Class of 1986, who died of leukemia during his senior year.
Neal, a driven, determined student, always wanted to be a Demon Deacon. Though he did not finish, Mrs. Booth has made sure a student every year since Neal's death has had financial help during their senior year – the year Neal was unable to complete.
"While Neal's hopes and his dreams could not be fulfilled," remarked Mrs. Booth, "he will always be a part of helping other young men and young women fulfill their goals."
***
"Wake Forest is the story of propelling students to do incredible things," Elizabeth commented. "The relationships I've made have truly defined my time here. My favorite thing about Wake Forest will always be the people."
After graduation, Elizabeth will move to Atlanta to take a job with the ADDO Institute, a leadership consultancy that helps business and brands ideate and activate initiatives for leadership and social good.
But this weekend is devoted to community. For four years, she shared joy, pain, struggles and victories with the people sitting on the Quad with her. Today, they celebrate.
"There will be this moment sitting on the Quad just realizing how many incredible students are graduating," she said. "We are around people that we are going to see doing big things. We may not see them all, but I think every student here will go on to impact lives in some way. They already have. They've impacted mine."
Her mom was right. Wake Forest was the perfect school for Elizabeth.
Categories: Alumni, Commencement, Events, For Alumni, For Parents, Student, Top Stories, Wake Forest College
Subscribe
Sign up for weekly news highlights.
Subscribe