Main Content
Highlights
WFU honored nearly 1,900 graduates of the Class of 2016
Speakers encouraged lives filled with gratitude and improvisation
Temps in the 60s made for a cool and comfortable celebration
A crowd of almost 13,000 gathered Monday on Hearn Plaza to celebrate the accomplishments of nearly 1,900 graduates in Wake Forest University's Class of 2016.
Happy images of smiling, waving and selfie-taking students, families and friends filled giant jumbotrons on the Quad, serving as oversized tributes to the tremendous achievements of 1,046 undergraduates and 827 graduate and professional students who received degrees on a picture-perfect day.
Brendan Busey ('16), from Arlington, Va., a double-major in mathematics and computer science, appreciated the celebratory day and his Wake Forest experience.
"Today is a culmination of four years of a lot of blood, sweat and tears, and it's definitely been a lot of learning, inside and outside the classroom." Brendan Busey ('16)
In his address, President Nathan O. Hatch encouraged graduates to receive everything with gratitude and to extoll its virtues with others they encounter along life's journey.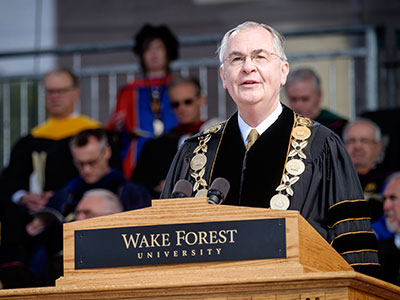 "I could suggest you cultivate gratitude because such people do live happier and more fulfilling lives … But that is not the primary reason for my challenge. The primary reason is that without gratitude, we have a misplaced view of the world and our place in it. It is only when we quiet the self, muting the sound of our own ego, that we can begin to see the world clearly."
Chanel Shulman ('16), a Jewish student whose early interest in dialoguing with those from other faith groups such as the Baptist Student Union evolved into "a passion that became the focal point" of her time here, was excited to hear who would serve as commencement speaker.
A double-major in economics and psychology who will spend the next year as a Presidential Fellow at Wake Forest Baptist Medical Center, Shulman hoped Eboo Patel, founder and president of the Interfaith Youth Core, would speak to the importance of "unity across ideological divides."
Meet the Grads!
Learn more about the Class of 2016. Read about their favorite Wake Forest traditions, advice for first-year students and their future plans here.
Patel did just that, delivering life lessons through a story about the early life of musician Louis Armstrong and his influence on jazz. When Armstrong's sheet music fell off the stand during a recording session, he didn't stop, but instead improvised and sang a string of rhythmic nonsense, now known as scat. Patel, who served on President Barack Obama's inaugural Faith Council, told the graduates there are a lot of missteps when you improvise.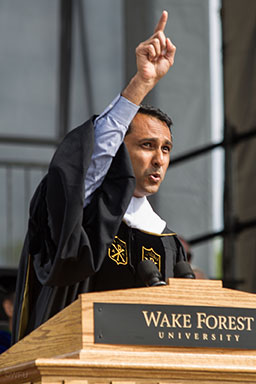 "I'm not telling you to throw away the road map you've sketched for your life. I'm just saying that your liberal arts education has given you the eyes to read the road signs along the way, and the ability to change direction when the original plan goes sideways," he said. "There is something to be said for reaching the milestones you set for yourself. There's a lot more involved in re-charting your course when you miss them."
"This isn't just how careers are made, it's also how countries are built. You are at a jazz age in your lives and we are at a jazz age as a nation."
Double Deac Addison Sutton ('14, MAM '16) may be finishing her academic career, but this fourth-generation grad will put her M.A. in management to good use fundraising for Wake Forest Athletics as a Deacon Club Fellow.
"I'm nervous and sad because my friends are leaving, but I'm not leaving Wake Forest and that makes me happy," she said. "It's been a dream of mine to work here and I'm blessed to be able to do so. I'm really excited to be starting my career here."
For Julian Gilyard ('16), who is headed to New York City to work as a trader with UBS and was one of two Wake Forest students recently featured in The New York Times, graduation is the reward for 16 years of academic rigor, he said, and his time at Wake Forest has included a maturation process.
"I feel like I'm a completely different person today than when I walked through the gates four years ago," he said.
Categories: Commencement, Events, Faculty, President, Provost, Recognition, Speakers, Top Stories