Patel did just that, delivering life lessons through a story about the early life of musician Louis Armstrong and his influence on jazz. When Armstrong's sheet music fell off the stand during a recording session, he didn't stop, but instead improvised and sang a string of rhythmic nonsense, now known as scat. Patel, who served on President Barack Obama's inaugural Faith Council, told the graduates there are a lot of missteps when you improvise.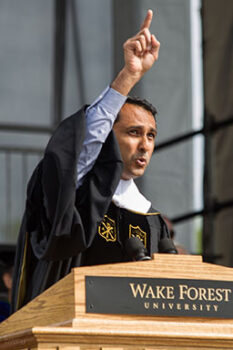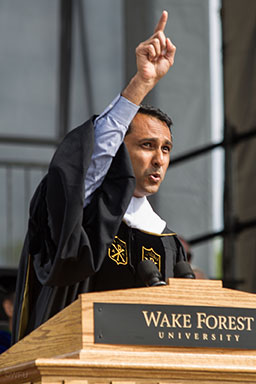 "I'm not telling you to throw away the road map you've sketched for your life. I'm just saying that your liberal arts education has given you the eyes to read the road signs along the way, and the ability to change direction when the original plan goes sideways," he said. "There is something to be said for reaching the milestones you set for yourself. There's a lot more involved in re-charting your course when you miss them."
"This isn't just how careers are made, it's also how countries are built. You are at a jazz age in your lives and we are at a jazz age as a nation."
Double Deac Addison Sutton ('14, MAM '16) may be finishing her academic career, but this fourth-generation grad will put her M.A. in management to good use fundraising for Wake Forest Athletics as a Deacon Club Fellow.