Main Content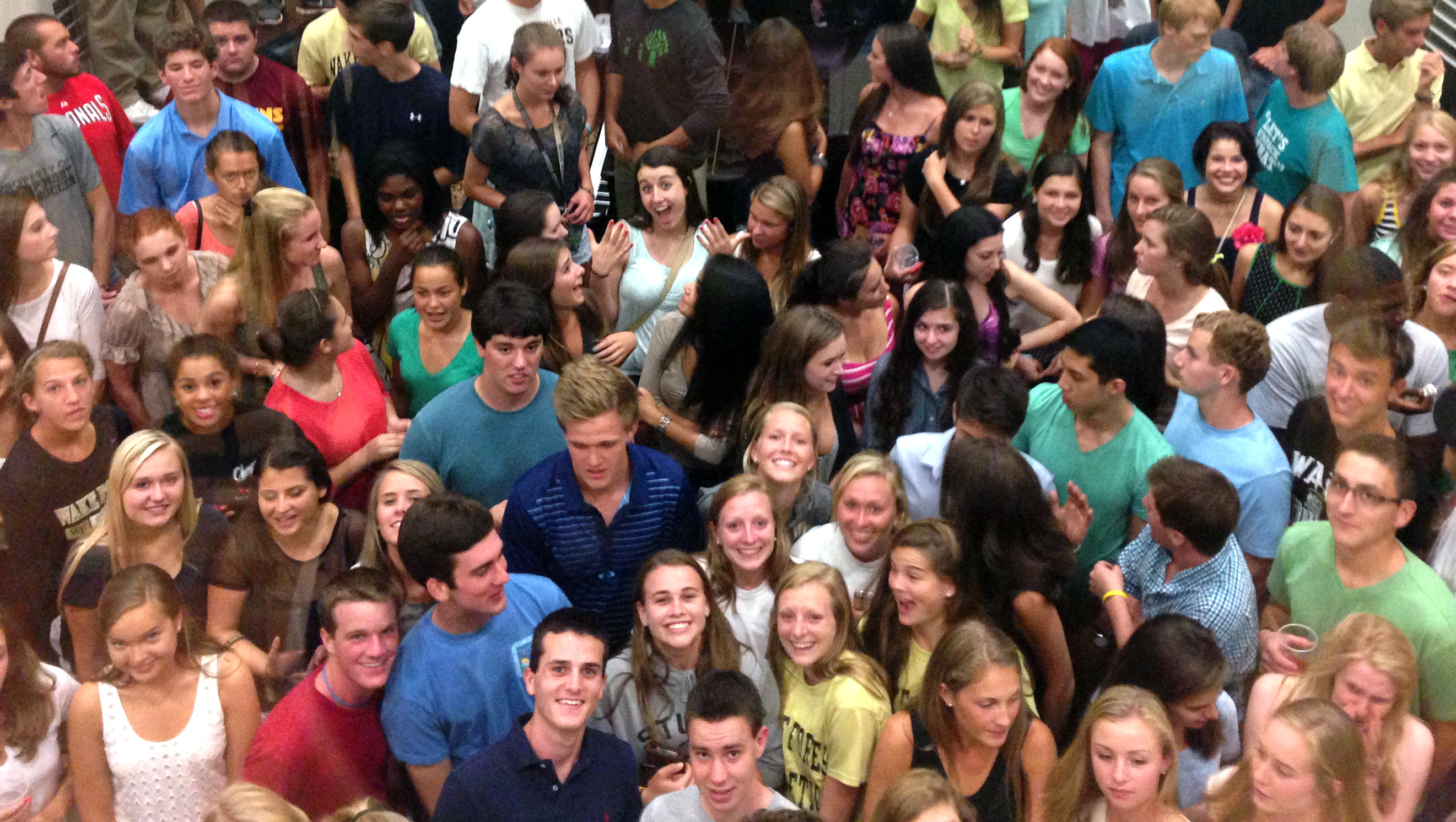 During his first-year at Wake Forest, Hugh Thompson, a rising sophomore from Peapack, N.J., attended an activities fair hosted by his residence hall Faculty Fellows: Professor of history Susan Rupp and Hu Womack, a reference librarian at the Z. Smith Reynolds Library.
Because of the Faculty Fellows' efforts to connect the academic and residential experience,  Thompson had conversations with representatives from the business school, medical school and the global studies program that shaped his thinking about what he wanted to do while at Wake Forest.
"The Faculty Fellows are a priceless asset for students who need someone to talk to concerning all issues, big or small," said Thompson. "They provided me with peace of mind."
Teacher-scholar model
Wake Forest prioritizes engagement inside and outside of the classroom. With an 11:1 student-faculty ratio and national recognition, like the U.S. News #11 ranking for undergraduate teaching, the Faculty Fellows program is an extension of the University's teacher-scholar model.
Faculty Fellows work closely with first-year residents throughout the academic year, creating programs, hosting dinners and interacting with students in their assigned residence halls.
South Forest, a partnership between faculty and Residence Life and Housing, is designed to support first-year students as they navigate the many opportunities at Wake Forest. Much more of a community than a program, South Forest brings first-year students and faculty together to provide a greater understanding of both the University, and each other. The 18 Faculty Fellows assigned to the six first-year residence halls spend at least two hours a week in the residence hall lounges, which gives first-year students the opportunity to interact with faculty outside the classroom when no grades are at stake.
Through the program, first-year students are exposed to cultural events and happenings like trips to downtown Winston-Salem for gallery hops and movie screenings, productions on the Wake Forest Main Stage, a lecture or an event at Reynolda House, and book clubs or Oscar-night movie parties.
"We inspire civil discourse, build faculty-student engagement, and refer students to other resources or opportunities that we know they are interested in," said Hu Womack, Faculty Fellow for South Hall. "We interact with the first-years regularly, fostering dialogue on an array of topics, and encourage students to participate in both the campus community and the broader community."
A two-way street
It was important to Cindy Gendrich, Faculty Fellow for Johnson Hall, and professor of theatre, to be a Faculty Fellow to show students that faculty can be friendly and approachable. She wanted to use her experience to help ease first-year students' transition to college life.
"Most of us have been teaching for a long time and have good insights about how to handle the teeter-totter that is life on a college campus," she said.
From participating in small group discussions to having faculty on-hand to help navigate registration for spring semester classes, new students have opportunities to ask questions about Wake Forest, the college experience and life in general.
Katy Harriger, Faculty Fellow for Babcock Hall, and professor and chair of the department of politics and international affairs, explains the program has an important flipside – Faculty Fellows can help faculty understand students better, too.
"I've been teaching many years and have always been involved with students, but I certainly gained some insights into all of the changes that first-year students are going through and how that affects their attitudes about their academic work," Harriger said. "Participating in Faculty Fellows reminded me that laughing, having fun, feeling like you belong, having someone listen to your ideas and answer your questions are all important parts of wellbeing – not just for students, but for faculty as well."
Ashley Laughlin, a rising sophomore from Reno, Nev., remembers her first-year experience and recommends paying attention.
"If it looks like something fun is happening in a social space like a lobby or lounge, check it out," she says. "My favorite aspect of Wake Forest is the faculty and staff's willingness to support the students. The Faculty Fellows are another group of Wake Foresters who want to help, lend an ear or mentor you."
On Thursday, Aug. 21, the Faculty Fellows will  be waiting outside each first-year residence hall with a Wake Forest welcome, eager to carry a suitcase or offer a smile of encouragement, to the class of 2018 as they move into their new home.
Categories: 2014 Highlights, Campus Life, Faculty, Student, Teacher-Scholar, Thrive / Wellbeing, Top Stories
Subscribe
Sign up for weekly news highlights.
Subscribe