Main Content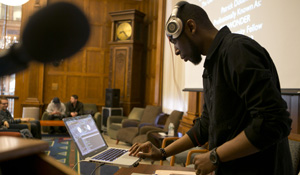 Wake Forest University will host Winston-Salem's Grammy Award-winning producer 9th Wonder and North Carolina-based Emmy Award-winning filmmaker Kenneth Price on Friday, Sept. 12, for three events, which are free and open to the public.
•  Kenneth Price's Independent Filmmaking Lecture: Kenneth Price, a Raleigh, N.C. native, will discuss the challenges and rewards of independent documentary filmmaking based on the making of "The Hip-Hop Fellow" at 2 p.m. in Carswell Hall's Annenberg Forum.
•  9th Wonder's "The Standards of Hip-Hop" Lecture: 9th Wonder will deliver "The Standards of Hip-Hop" lecture based on the course he taught as Harvard University's inaugural Hip-Hop Fellow in Carswell Hall's Annenberg Forum at 4 p.m. 9th is currently director of N.C. Central University's Hip-Hop Institute, CEO of It's a Wonderful World Music Group and an adjunct professor at Duke University.
•  Hometown Premier of "The Hip-Hop Fellow:" "The Hip-Hop Fellow," directed by Kenneth Price chronicles 9th Wonder's time teaching as Harvard's Hip-Hop Fellow. The film focuses on the emerging relevance of hip-hop studies in an academic curriculum and spotlights the scholars and musicians at the forefront of preserving 40 years of hip-hop culture. Screening is at 6 p.m. in Brendle Recital Hall.
Interview times for 9th Wonder are available on Sept. 12 from 3 to 3:45 p.m. and again from 5 to 5:45 p.m. by appointment only. Contact the Wake Forest news and communications office to schedule an interview.
About 9th Wonder: 9th Wonder has been active in the hip-hop community since 1997. The breakthrough of his career came in 2003 when he collaborated with Mary J. Blige, which won him his first Grammy. In 2010, he was invited to co-teach a hip-hop class at Duke University and, in 2012, he became a Harvard Fellow at the Hutchins Center for African and African-American Research. 9th is still active in hip-hop, producing music for Destiny's Child, Ludacris, Murs, Drake and Nas.
Categories: Media Advisory
Subscribe
Sign up for weekly news highlights.
Subscribe