Main Content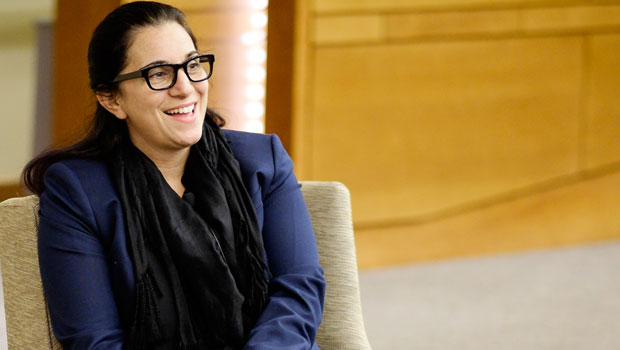 How would you change the world with $5,000? With a $5,000 inheritance from her great-grandfather, Nancy Lublin, at age 23, founded Dress for Success, a nonprofit that has helped 700,000 women get jobs by providing interview clothing.
Next she launched DoSomething.org, one of the largest youth organizations in the world, and turned her TED talk, into her third company raising $4 million and launching Crisis Text Line.
"The common thread between all these startups is they are all about helping people be the best they can be," said Lublin. "They have all met a need and added value for someone else."
As part of Wake Forest's Leadership Project, students had the opportunity to hear Lublin, who was named to Fortune's 2014 list of "World's 50 Greatest Leaders." The Project builds upon existing opportunities for Wake Forest students to learn what it takes to become an effective leader.
"I knew I was a leader at six when one of the boys in my class announced purple was a boy color. I reclaimed that color for the girls," Lublin told students in an "Up Close and Personal" conversation held as part of her campus visit.
Later in life she embraced her leadership abilities and channeled them into launching businesses. Because she "had opinions," Lublin said family and friends told her to go to law school. "But law school isn't a very good place for creative thinking," she said. "That $5,000 saved me. I decided to follow my passion and make something happen."
When asked what makes a good leader, Lublin highlighted humility, a sense of humor and a commitment to listening more than speaking.
At several events throughout the day, she emphasized the importance of taking classes on unfamiliar topics and meeting people with different backgrounds and academic interests. "History majors should get to know computer science coders. They think differently. People who write code are used to failing over and over and having to search hundreds of lines of coding to find an error."
College is like a petri dish, she added. "Being in your 20s is a great time to take risks. Try things that can feel uncomfortable. Do things you will likely never have the opportunity or time to do after you graduate."
The DoSomething Challenge
In conjunction with Lublin's talk and the Leadership Project, Wake Forest's Center for Innovation, Creativity, and Entrepreneurship and the Office of Personal and Career Development sponsored a DoSomething Challenge, inviting undergraduate and graduate students to present two-minute pitches on how they would use $5,000 to support the cause of their choice. Seventy-seven students participated.
Junior Colt Mienke won not only the $5,000 prize but also an additional $5,000 from politics professor Melissa Harris-Perry, who volunteered to match the amount at the event.
Mienke's pitch focused on the problem of food insecurity in northwest North Carolina. According to Second Harvest Food Bank, one in six people in this region are hungry.
"It's not much better on a national level either," said Mienke, who is studying economics and sociology. "The $10,000 will be immensely helpful for taking the idea to a nationwide scale after I've established what works and doesn't work here in our own community."
Mienke plans to use the award to partner with local restaurants to raise awareness of the issue. He proposes that restaurants encourage their customers to add $1 to their check, which would enable Second Harvest Food Bank to provide seven more meals for those in need.
"As a judge, I was struck by the passion of the presenters for their ideas," said Polly Black, director of the Center for Innovation, Creativity and Entrepreneurship. "Colt's proposal attacks the problem of hunger in a manageable way with a reasonable and achievable goal for the money spent. His was a model that could be replicated elsewhere in the country and perhaps move beyond Winston-Salem to become a national movement."
In an unexpected surprise, Lublin donated $5,000 to the runner-up of the DoSomething Challenge, junior Kelly Guin, who proposed an electronic platform to fight depression by promoting positivity.
"Many people don't acknowledge mental illness as an issue," Guin says. "I want to create something targeted to treat depression, so people know they aren't alone and that they are loved."
Categories: Campus Life, Events, Mentoring, Personal and Career Development, Top Stories
Subscribe
Sign up for weekly news highlights.
Subscribe