Main Content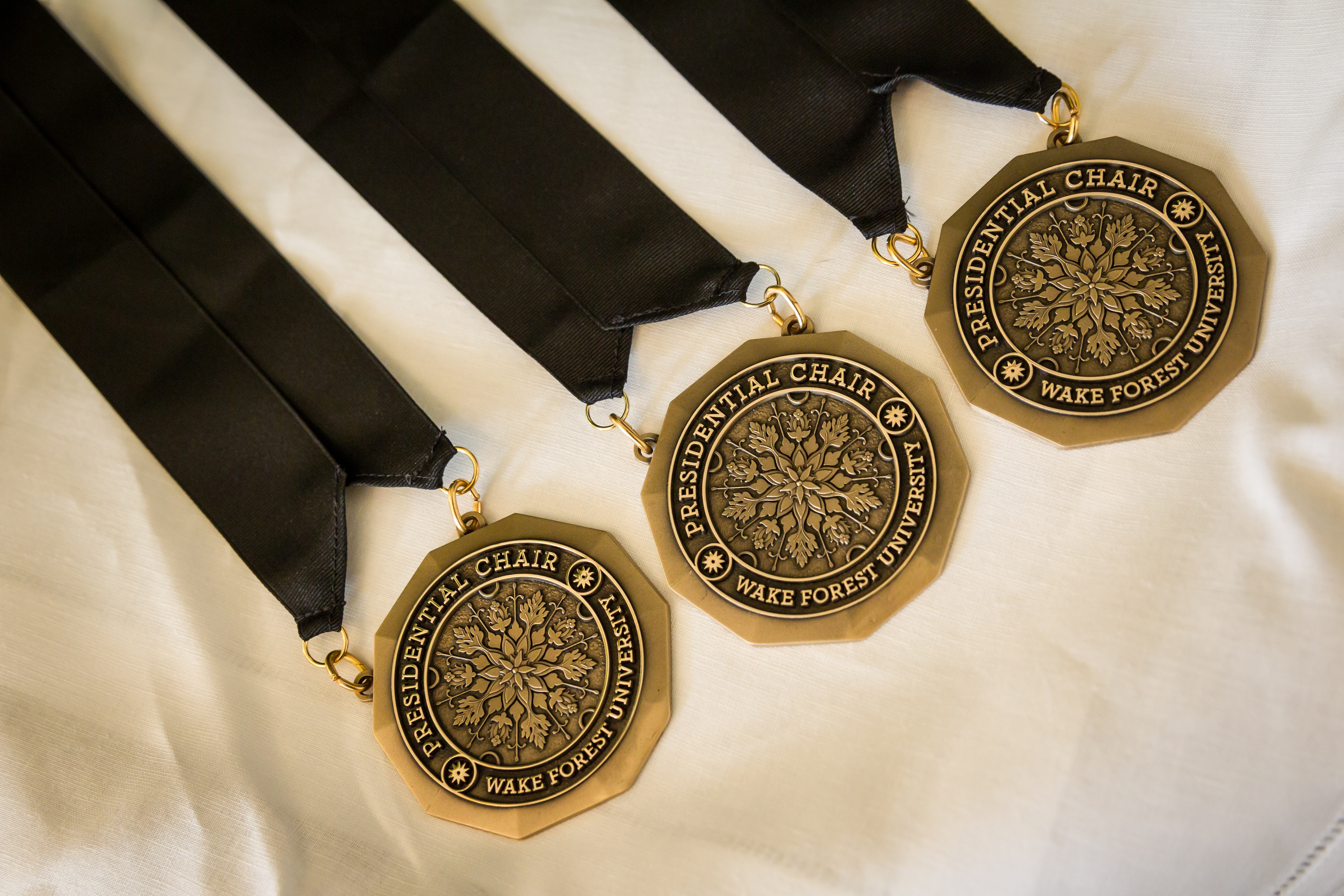 Wake Forest University has announced five new endowed Presidential Chairs to recruit, retain and reward outstanding faculty who embody the teacher-scholar ideal.
When announcing the Presidential Chair initiative in 2012, Wake Forest President Nathan Hatch outlined his vision for providing significant support for faculty through endowed chairs that give ongoing support for professors in these prestigious positions.
This initiative — made possible through Wake Will: The Campaign for Wake Forest — provides a University match to the first 10 donors to establish an endowed Presidential Chair of at least $1 million, effectively providing the equivalent faculty support realized from a $2 million endowed fund.
"An endowed chair is a magnificent gift to a university because it supports outstanding faculty in perpetuity, it is the highest academic award that can be bestowed on a faculty member, and it is an enduring tribute to the person who established it," said Hatch. "Universities with endowed chairs have a clear advantage in recruiting and retaining the most talented faculty."
With gifts of at least $1 million, the following have established new Presidential Chairs:
Donna A. Boswell ('72, MA '74), a university trustee and alumna, has established the Donna A. Boswell Presidential Chair of Health Care Innovation. This chair will promote teaching and scholarship that fosters a more comprehensive understanding of the political and economic factors that promote innovation in health care and health care delivery.
Inmar, Inc., a Winston-Salem-based company that is known for operating intelligent commerce networks, promoting collaboration and seeking innovation, has established the Inmar Presidential Chair of Analytics.
Wake Forest parents Larry and LeeAnn Merlo (P '16) have created the Larry J. and LeeAnn Merlo Presidential Chair for Communications and Entrepreneurship. As president and CEO of CVS Health, Larry Merlo has taken strong steps in his organization's commitment to public health.
The Thomas W. Smith Foundation Presidential Chair in Business Ethics supports a faculty member committed to the exploration of the relationship between business, government and society.
The Andrew Sabin Family Foundation Presidential Chair in Conservation Biology will enhance environmental education and research at Wake Forest and prepare upcoming leaders in the field. Through his family's foundation, Wake Forest parent Andrew Sabin (P '17) supports environmental programs around the world.
In 2013, Wake Forest announced the Burchfield Presidential Chair of Political Economy, established by Bobby Burchfield, a 1976 Wake Forest graduate and a prominent Washington, D.C., attorney, and the Michael H. and Deborah Rubin Presidential Chair of Jewish History, established by Mike and Debbie Rubin of Winston-Salem, who both earned graduate degrees from Wake Forest.
Categories: Faculty, Recognition, School of Business, Teacher-Scholar, Top Stories, University Announcement, Wake Will
Subscribe
Sign up for weekly news highlights.
Subscribe