Main Content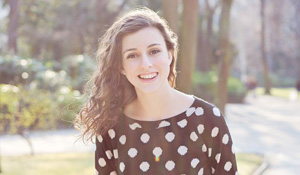 Representatives with the Pulitzer Center for Crisis Reporting have selected Charlotte Bellomy, a rising junior political science major and journalism minor, as Wake Forest's 2015 Pulitzer Fellow. This is the University's fourth fellowship recipient.
Bellomy, who is fluent in French, will report on the culture of religious inclusion of young Muslims in France following the Charlie Hebdo attacks in Paris, and the subsequent 'Je suis Charlie' and 'Je suis Hamed' responses.
"The story will seek to illustrate what the Charlie Hebdo attacks say about the larger picture of Muslim inclusion in French culture, and whether or not young people feel represented in that picture," said Bellomy, a native of Beaufort, S.C. "The coverage will focus on two sides of the issue: what it means to be a member of the young Muslim community in France, and how that community coexists with young adults of other faith backgrounds."
The journalism program at Wake Forest is a member of the Center's Campus Consortium, which brings foreign correspondents to campus and provides funding for the fellowship.
Justin Catanoso, director of Wake Forest's journalism program, said this year's candidates for the Pulitzer Center's fellowship were the most competitive, but Bellomy stood out amongst the group of student journalists.
"Charlotte is uniquely qualified due to her cultural and international background," said Catanoso. "Her project on Muslim inclusion in French culture is both a timely and important issue. Coupled with her extended family's residence in France and her travel writing experience from studying abroad in Rome last summer, Charlotte will capture the voices of this issue."
###
About Wake Forest University:
Wake Forest University combines the best traditions of a small liberal arts college with the resources of a large research university. Founded in 1834, the school is located in Winston-Salem, N.C. The University's graduate school of arts and sciences, divinity school, and nationally ranked schools of law, medicine and business enrich our intellectual environment. Learn more about Wake Forest University at www.wfu.edu.
About the Pulitzer Center on Crisis Reporting
The Pulitzer Center on Crisis Reporting, based in Washington, D.C., is an innovative award-winning non-profit journalism organization dedicated to supporting the independent international journalism that U.S. media organizations are increasingly less able to undertake. The Center focuses on under-reported topics, promoting high-quality international reporting and creating platforms that reach broad and diverse audiences.
Categories: Media Advisory, Student
Subscribe
Sign up for weekly news highlights.
Subscribe