Main Content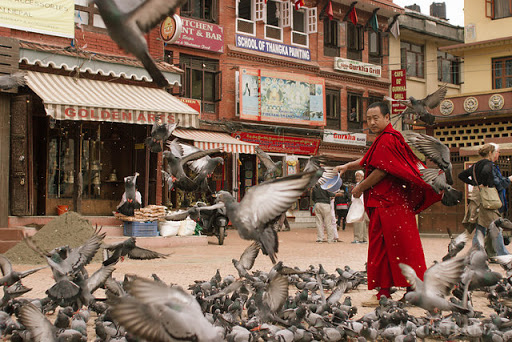 For more than 10 years, Wake Forest students have studied in Nepal with Associate Professor of Anthropology Steve Folmar through the five-week Summer Program in Nepal (SPIN). Most recently, student groups have conducted research in Besisahar, Nepal, located only a couple of miles from the epicenter of the earthquake that devastated the region on April 25.
"On our trip this past summer, we discussed our school motto, Pro Humanitate, often," said Sarah Millsaps, a junior anthropology major from Raleigh, N.C. "We are still grappling with the devastation and rising death toll, but agree that unless we devise a way to help, we will prove our motto to be empty words. Nepal is a place we visited and grew to call home."
So, the students have banned together to raise awareness and funds.
They have gathered under the name "Students for Nepal." Throughout exam week, they will set up tables around campus to sell prints of photos they took while in Nepal. Funds raised will go toward the International Commission for Dalit Rights and the Nepali Save the Children Fund.
Wake Forest's Anthropology Club is hosting a reception for the anthropology department to highlight the work that the department has done in Nepal. At the reception a station for cash donations as well as a computer station for online donations will be available to support selected aid organizations.
"While I was tempted to hop on the first plane across the ocean, I realized that the most good that I or any of the other students can do right now is fundraise," said Anna Grace Tribble, a senior anthropology major from Carrollton, Ga. "In order to recover, money needs to be thoughtfully donated to vetted organizations working on the ground. Our goal is to spread this message, so that the response to the Nepali earthquake is mindful and sustained."
Research in Nepal
While in Nepal, students stayed with families in Besisahar, studying how social status affects peoples' lives. They worked on a project assessing the community needs of marginalized people, particularly the needs of women and children.
Folmar's research and humanitarian efforts, which have spanned more than three decades, focus on issues of identity and social justice for the Dalits, or "untouchable" castes of Nepal. During the students' time and study in Nepal, they lived and worked with the Dalits, who primarily reside in rural villages and are the most vulnerable to the devastation caused by the Nepal earthquake.
Senior Kristi Chan, who completed a photojournalism project in Nepal last summer through the ACC-IAC program, was shocked when she saw photos of the remains of an 11th century temple where she sat and had tea less than a year ago.
"I felt helpless when I first heard the news of the earthquake, but I quickly remembered that what I was feeling was so small in comparison to what our friends in Nepal must be feeling," she said.
In dealing with the sorrow of the news of the earthquake, students have contacted many of their Nepali families – desperate for updates. Thankfully, most have heard from their host families that they are safe.
Folmar explained that the personal connection that these students are feeling is surreal, but that the students also understand the need to bring attention to the Dalit. He has watched as the students have quickly and graciously come together, during the last week of classes with finals looming, to support the country that they called home last summer.
"The students have been real stars in this stormy sky."
Categories: Campus Life, International, Pro Humanitate, Top Stories