Main Content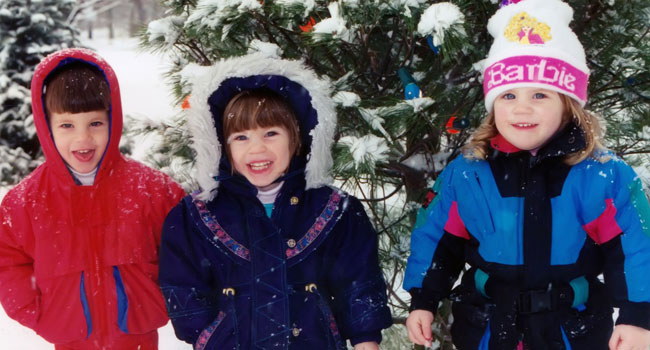 What happens when triplets graduate from three different colleges in three different states over the course of one weekend?
Wake Forest parents John Marbach and Sherry Pressler from Belle Mead, N.J., know the answer: planes, trains and automobiles.
"Four nights out, three different hotels, train tickets, car travel, and airplane travel, wow," said Pressler.
Her triplets – Melanie, Megan and John Marbach, Jr. – will graduate respectively from Loyola University Maryland in Baltimore, Md. on May 16; Fairfield University in Fairfield, Conn. on May 17; and Wake Forest University on May 18.
"The whole family feels incredibly lucky that the ceremonies fall on different days," said Megan Marbach, a senior at Fairfield University's School of Nursing. "Melanie and John are my best friends for life, so I wouldn't miss their graduations for anything."
"This is a really exciting weekend for our family. While Melanie and Megan are at different schools, we have made time to visit and support one another along the way," said John Jr. "We are lucky that the weekend turned out this way, and I wouldn't have it any other way."
The planning of the trip actually got underway in 2010, to be exact. Even then, Sherry and John worried about the triplets' college graduations being on the same day. "When they were choosing where to attend college four years ago, I remember checking the graduation calendars," said Pressler. "I would be heartbroken not to be able to attend all three graduation ceremonies."
Added John of his brood, "All three children felt it was important to attend each other's graduation."
The parents' graduation weekend will start on Thursday afternoon when they depart N.J. First stop is Baltimore, for Melanie's graduation from Loyola where she majored in accounting. She's the youngest of the three, by six minutes. Meanwhile, Megan will be traveling by train from Fairfield to N.J. and then drive to Md. while John Jr. will fly in from N.C.
Friday evening, the family will have dinner in Baltimore to celebrate Melanie's graduation, a gathering that will double as a 22nd birthday party for the triplets.
After the Loyola graduation Saturday morning, the next stop is Fairfield University in Conn. Four of the Marbachs will begin a road trip up Interstate 95 northbound to Fairfield, which is located about an hour from Manhattan. Megan will likely travel back to Fairfield immediately after the Loyola ceremony via the train, at least for part of her trip, as she does not want to miss out on pre-graduation night activities.
Fairfield's commencement is 9:30 a.m. on Sunday. Then it's off to Fairfield Beach for a celebration luncheon hosted by Megan and her roommates at their house. Afterwards, the five Marbachs will drive to JFK International Airport for a flight to Winston-Salem and make their way to Wake Forest where John Jr. majored in computer science.  The graduation ceremony begins at 9 a.m. on Monday.
"Our flight back home on Tuesday morning will be filled with a combination of extreme pride for the three graduates and the exhausted parents," said Pressler, who works for Johnson & Johnson.
John, director of Sales for the Tranzonic Companies, said the years have truly flown by since the triplets were born. "We have some elementary school pictures on a kitchen wall. The pictures seem like [they were taken] yesterday."
As far as post-graduation plans, John, an entrepreneur, is headed to Silicon Valley to work for a start-up, Tsumobi. Megan and Melanie hope to land jobs in New York City and live there.
As for the whirlwind travel, that's nothing new for the Marbachs. This spring, Megan and Melanie came to Wake Forest when John Jr. served as Executive Director of TEDxWakeForestU. He is already planning his trip to visit his sisters in New York.
"Our parents always say 'family comes first' and that's something we have always strived for. I look forward to sharing this experience together with them," he said.
Although Megan is pumped for the future, she's also unfazed by the looming, hectic travel schedule that awaits. "We can sleep Tuesday."
Categories: Commencement, For Parents, Student, Top Stories
Wake Forest in the News
Wake Forest regularly appears in media outlets around the world.