Main Content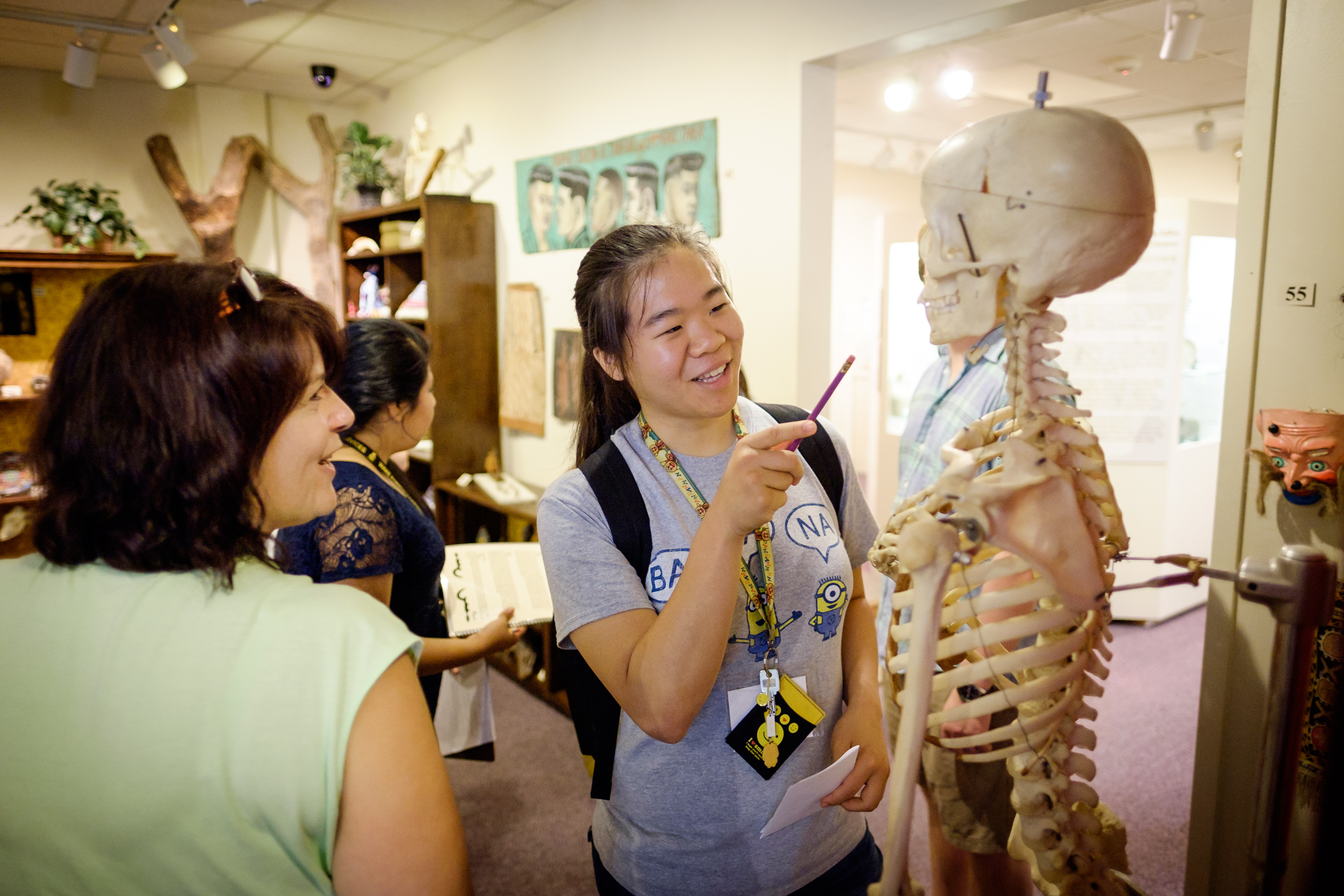 Rising high school juniors and seniors from around the world are not waiting until they get to college to make an impact on their community. Through the LENS@Wake Forest pre-college program, 58 students are choosing to take the first step to grow into global citizens.
LENS@Wake Forest, which stands for Learn. Experience. Navigate. Solve., is a three week program that offers interactive classroom learning, hands-on work with community and campus partners, and development of writing skills to produce real-world solutions for sustainability needs and cross-cultural communication challenges.
Students come for many reasons, but the underlying factor is the unique opportunity it provides. Sarah Bowen, from Matthews, N.C., was inspired by her brother Johnathan Bowen's experience as a LENS student. Johnathan participated when he was a rising senior in high school and couldn't stay away, now a rising senior at Wake Forest and a two-year program assistant with LENS. "I knew when my brother told me about the friends he made and the things he learned, I wanted the same experience," she said.
Taylor Williams, from Memphis, Tenn., came for a more specific reason. "I wanted to develop my leadership skills, and LENS was the program where I could best accomplish that."
Students live on the campus along with program assistants, who are current Wake Forest students, to get a taste of college life. Joshua Bennett, a rising senior from Dover, Del., enjoys this new experience. "Living on my own is a lot more responsibility than I'm used to having. I think it's great preparation for what's in store for us next year."
Miriam Dupree, a rising senior from Washington, D.C., said she feels like she is "living my education."
A summer of growth
This year, the program is growing along with its students. It is the first year with two sessions: LENS Global Sustainability and LENS Cultural Crossroads. "With the expansion of the program, LENS is able to expand its impact on both the number of students it engages and the number of community partners it serves," explained Michelle Klosterman, director of LENS@Wake Forest and board member of the Center for Energy, Environment, and Sustainability.
LENS Global Sustainability looks outward to work with community partners' sustainability needs, while LENS Cultural Crossroads looks inward to help campus partners with cross-cultural dialogue. Both sessions equip students with the tools necessary to enact change in a local community. Once they leave the program, students are primed to apply this knowledge to their own community, starting local and growing global, said Leigh Stanfield, director of global campus programs.
This is also the first year LENS@Wake Forest has included international participants. Stanfield notes how this aligns with the international perspective of LENS. "Having students from multiple countries allows us to provide a global experience for all LENS participants which is particularly relevant given that the program explores global issues," she said.
Learning inside and outside of the classroom
The class sizes are intentionally small and classroom discussions are engaging to represent the Wake Forest classroom experience. Alexis Wagoner, a rising senior from Darien, Conn., appreciates the relationship between professor and student. "The classroom experience is very different from my high school. I feel like I can have a conversation with the professors because of the level of respect they show the students."
Professors break students off into small groups to learn how to work with a purpose. But the team work doesn't stop there. Team-building activities, such as constructing structures out of marshmallows and spaghetti, provide the participants with a fun way to get to know each other. Additionally, excursions to local sites such as the Greensboro International Civil Rights Center and Museum and the Sanders Ridge Farm augment what they have learned on campus. At Sanders Ridge, students were able to get an up-close look at organic farming and soar through the trees on a mile long zip-line course.
At the conclusion of the program, students present their community action plan to the partner agencies. One group proposed a series of informational videos to promote community engagement with the Yadkin Riverkeeper, a local organization focused on improving the Yadkin Pee Dee River Basin through education, advocacy and action.
Another partnered with the University's Campus Life office, which guides meaningful student engagement with campus activities, service learning, and student organizations. The team proposed an incentives program to get student leaders to reach out across campus to other organizations to build interest and involvement in other groups. Top-performing leaders would gain recognition for their organizations through social media and campus news outlets.
LENS exemplifies the University's motto, Pro Humanitate, as it develops a globally competent citizen. Students have the opportunity to experience the academic and social culture of college while exploring pressing global issues and addressing the needs of community partners, said Klosterman.
Check out the Flickr gallery for more program photos.
Categories: Admissions, Campus Life, International, Pro Humanitate, Staff, Student, Sustainability, Top Stories
Subscribe
Sign up for weekly news highlights.
Subscribe