Main Content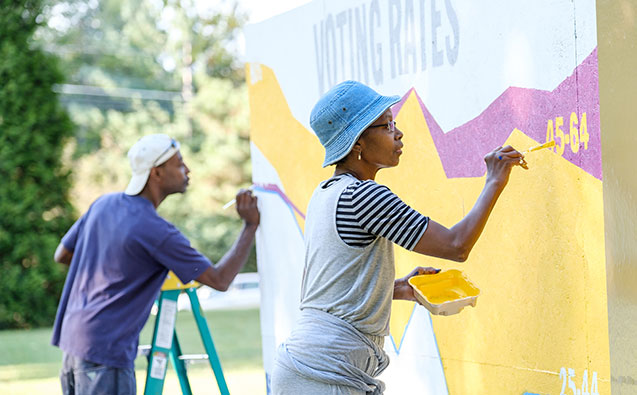 Wake the Vote, a Wake Forest University program combining classroom and real-world political experience, will host the election-themed exhibit "UP to US." The exhibit is part of the Wake the Vote Election Hub and will launch Sunday, Oct. 9 during a free, public event featuring visiting artists, panel discussions on key election topics, and an evening debate watch.
The event, which will also include food trucks and entertainment, runs from noon to 11 p.m. at Wake Forest's Pro Humanitate Institute (2599 Reynolda Rd. at Polo Rd. in Winston-Salem). The second presidential debate will air at 9 p.m.
Inspired by the observations and experiences of students participating in the Wake the Vote program, the exhibit includes more than 35 works by 12 national artists. It focuses on a number of issues common in today's headlines and political discourse such as immigration reform, vi olence in communities, access to education, and voting rights with the hope of producing more dialogue and participation in our democracy. The exhibit was curated with the creative production team of Big Bowl of Ideas.
"It has been my honor to spend 2016 with this extraordinary group of young people who are generating new models for civic engagement and leadership, which are both utterly unique and deeply necessary in our current political environment," said Melissa Harris-Perry, who is executive director of the Pro Humanitate Institute, Maya Angelou Presidential Chair and director of the Wake the Vote program. "We are in the final month of a journey we began at the start of this year. After months of travel, campaign work, written reflections, bi-partisan engagement, and tough conversations, these students have a message to share: what America is going to be is up to us."
The exhibit includes a giant 8-foot self-portrait of an artist over his papers going through the criminal justice system, photographs of people of different political persuasions and backgrounds to encourage dialogue, and custom installations about voting rights and other political issues.
Election memorabilia students gathered when attending campaign events and political conventions this year as well as political buttons and posters from previous elections will also be on display.
Interactive spaces will be centered on four election issues: education; immigration; guns, community violence and policing; and voting rights and youth political participation. Lectures and discussions on related topics featuring diverse political perspectives are planned.  Free food, music, family friendly entertainment, and political discussions are planned on Oct. 9. The UP to US exhibit will be on display through Nov. 11. All events are free and open to the public. A calendar of events will be available beginning Oct. 9 and will be regularly updated on the Wake the Vote website.
From volunteering on the campaigns of presidential candidates to attending classes to planning community forums to organizing non-partisan voter registration efforts, Wake the Vote students have spent 2016 examining issues central to the presidential election and learning about politics though democratic engagement. They attended the Iowa caucuses, the New Hampshire primaries, the Democratic and Republican Conventions and a variety of other election-related events.
For additional information on Wake the Vote and the Wake the Vote Election Hub, go to the Wake the Vote website. Chronicling their experiences has been an essential part of the program, so reflections from students on their experiences since the start of the year are also on the website.
People can also follow the students' experiences:
Categories: Student
Subscribe
Sign up for weekly news highlights.
Subscribe