Main Content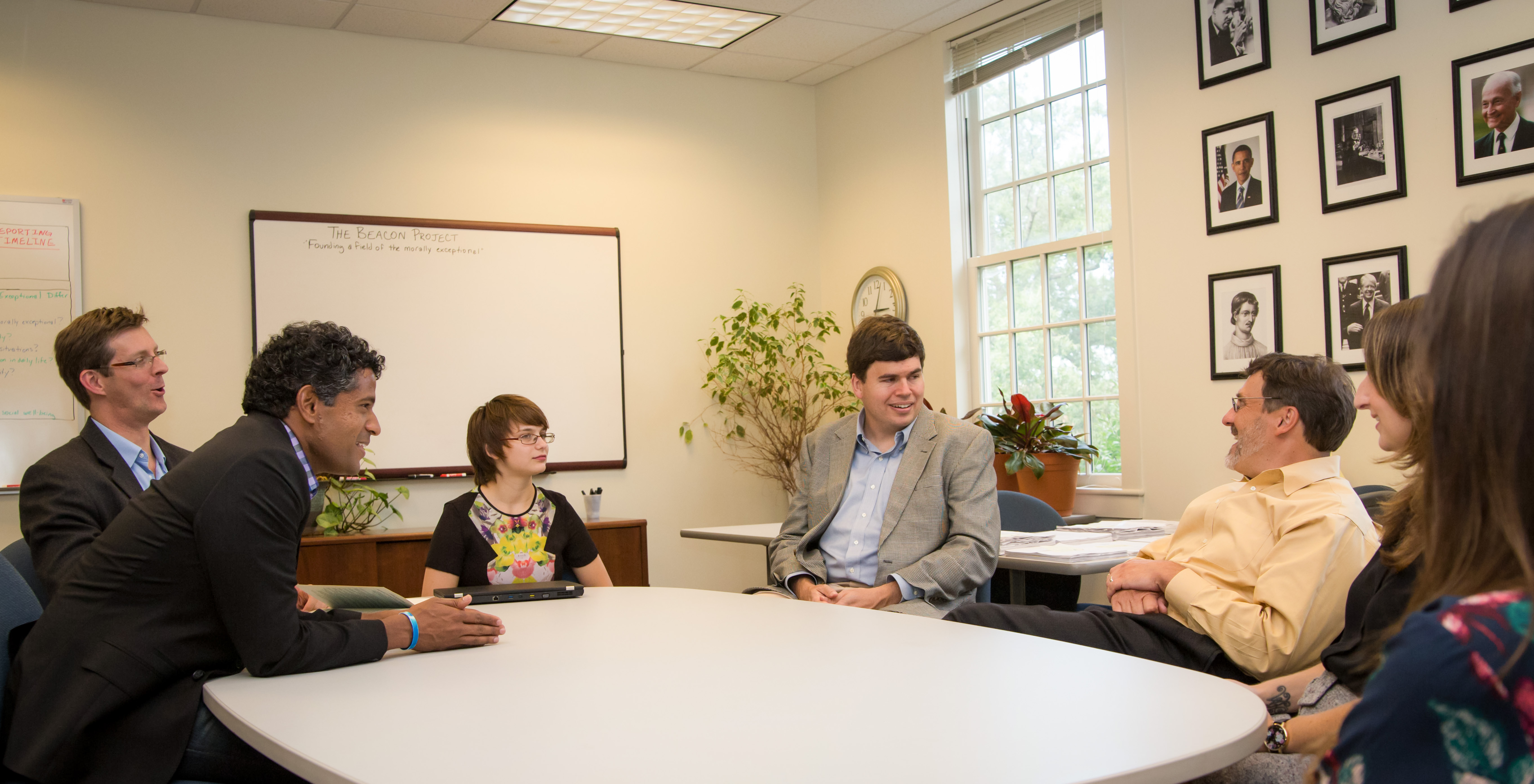 While much national media attention focuses on the moral failures of people in the public spotlight, a team of researchers at Wake Forest University is searching for moral superstars.
A $3.9 million grant from the Templeton Religion Trust will fund The Beacon Project, a three-year initiative to find and define the morally exceptional and better understand how to improve moral character.
Led by Wake Forest professor of psychology William F. Fleeson, the team includes R. Michael Furr, professor of psychology; Eranda Jayawickreme, assistant professor of psychology; Christian B. Miller, professor of philosophy; and Angela Knobel, associate professor of philosophy at Catholic University of America.
The grant is among the largest ever received for social sciences research at Wake Forest.
"A lot of attention has been paid to intellectual genius, but the morally exceptional represent a form of 'genius' that also deserves attention," Fleeson said.
The multi-faceted approach will include:
Competitions for psychology, philosophy and theology scholars around the world seeking funding for research on the morally exceptional;
Research projects by Wake Forest psychology and philosophy professors;
Two research conferences and a summer seminar;
A website with project activities and resources; and
A campus reading group and lecture series at Wake Forest.
"At the heart of this project is figuring out what makes people good," said Furr. "What are the psychological, cultural and spiritual factors that make people morally excellent? We are hoping what we do can lay the foundation for how we can foster these attributes."
Researchers will look at those who have been publicly recognized for moral virtue, but will also study next-door neighbor moral heroes who have not gotten widespread attention. The goal is to kickstart a new subfield of study that will eventually get meaningful conversations started with parents and educators.
This research will build on Fleeson and Furr's pioneering work on the existence of personality traits, including character traits, as well as other studies completed as part of The Character Project led by Miller.
"We are a team with liberals, conservatives, Christians and non-Christians," Fleeson said. "We are not pushing a particular agenda for what is moral. When I see all the suffering, cruelty and exploitation in the world, I feel like I need to do something about it. If we figure out what makes people morally exceptional, then we could eventually understand how to increase morality all around us, from everyday life to global leadership."
About the researchers
Fleeson has served as president of the Association for Research in Personality and as associate editor of the "Journal of Personality and Social Psychology." He studies the nature of personality, self-regulation, development, borderline personality disorder, and moral character. He has written dozens of articles published in leading psychology journals. He won the Society for Personality and Social Psychology Theoretical Innovation Prize and the 2015 Carol and Ed Diener Award in Personality Psychology.
Furr is a section editor of the "Journal of Personality Assessment" and has served as executive editor of the "Journal of Social Psychology." Furr studies personality psychology, social psychology, psychological measurement, and quantitative analysis. He is the co-author of "Psychometrics: An Introduction" (2013) and author of "Scale Construction and Psychometrics for Social and Personality Psychology."
Miller, author of "Moral Character" (2013) and "Character and Moral Psychology" (2014), recently led The Character Project and the Developing Character Project with combined funding of more than $5.6 million. Miller is writing a third book, geared toward a general audience, discussing the latest academic research on developing character. He will also write a new book on becoming morally exceptional as part of the Beacon Project.
Jayawickreme researches questions related to moral psychology, growth following adversity and wellbeing. He leads the Growth Initiative, an ongoing research program focused on positive change following adversity.
Knobel studies the theology of character, with a focus on Thomas Aquinas and virtue ethics. Her papers have appeared in many academic journals, and she is completing a book on character and virtue.
Categories: Faculty, Research, Top Stories
Wake Forest in the News
Wake Forest regularly appears in media outlets around the world.