Main Content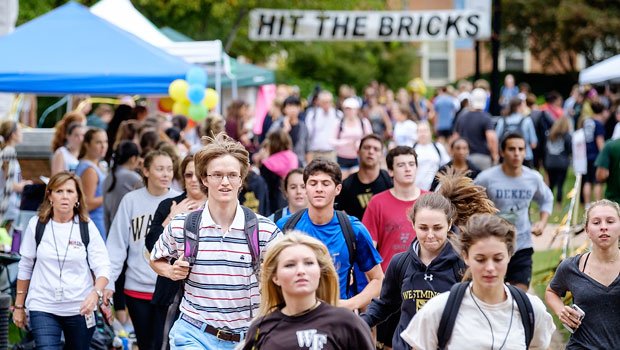 "Hit the Bricks," an eight-hour relay race along the brick pathway of Hearn Plaza to raise money for cancer research in honor of Brian Piccolo, was held on Oct. 1 from 11 a.m. to 7 p.m. Hit the Bricks met its 2015 goal with 100 teams raising more than $30,000.
This year "Hit the Bricks" marks the start of events supporting the 35th anniversary of the Brian Piccolo Cancer Research Fund, the student-launched charity has raised more than $2 million since 1980 to support cancer research.
Brian Piccolo, who attended Wake Forest in the 1960s and went on to become a running back for the Chicago Bears, died in 1970 of testicular cancer at the age of 26. This year also marks 50 years since Piccolo graduated from Wake Forest and 45 years since his induction into the Wake Forest Sports Hall of Fame. Piccolo's story was featured in the 1971 film "Brian's Song."
In 1980, junior Johnny Dawkins, then Wake Forest's vice president of the Interfraternity Council for Greek Life and a member of Sigma Pi, came up with the idea to launch a cancer research fund to harness the power of fraternities to do good for others. Through a variety of events, the money raised these 35 years has helped finance start-up labs at the Comprehensive Cancer Center where professors test cancer research theories on a small scale in hopes of achieving promising outcomes that can lead to greater support from the National Institutes of Health, the nation's medical research agency.
For example, the Piccolo funds have provided partial support for research on fatty acid synthase inhibitors — a potentially important therapeutic target in cancer. The project tests a possible method for effectively treating advanced prostate cancer.
"Thanks to the steadfast support of the Brian Piccolo Fund our talented physicians and researchers at the Comprehensive Cancer Center continue to achieve much success in their basic and clinical cancer research endeavors," says Dr. Boris Pasche, director of the Comprehensive Cancer Center at Wake Forest Baptist Medical Center. "We are most appreciative to the Wake Forest students for all their kindness and continued efforts in helping to make this happen."
Since 1981, Mike Ford, director of philanthropy programs, has worked closely with students planning activities to support the Brian Piccolo Fund. "It's a grassroots effort," says Ford. "The students have been the momentum behind the fund. Most of the $2 million has been raised from nickel and dime donations from parents, family and friends who have supported and continue to support the students in their efforts to help put an end to this terrible disease that affects so many lives."
Senior Elizabeth Earle, one of three 'Hit the Bricks' student co-chairs says, "I have had a lot of experiences with how cancer affects those struck with the disease and their families and friends. I have been a part of the cancer battles of a number of people very close to me, and I am passionate about finding a cure."
A final remembrance lap for cancer victims and survivors culminated with a luminary ceremony in front of Wait Chapel at the end of the event, which brings together students, faculty and staff for a cause that long has been important to the Wake Forest community.
Categories: Alumni, Campus Life, Events, Pro Humanitate, Student, Top Stories
Subscribe
Sign up for weekly news highlights.
Subscribe