Main Content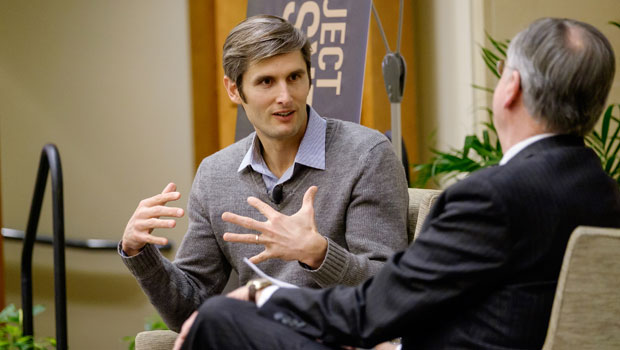 "Hustle and humility" are DonorsChoose.org's guiding principles, Charles Best told students, teachers and community members gathered in Broyhill Auditorium on April 5. As the nonprofit's CEO, he embraces both of these qualities as a leader.
DonorsChoose.org is a simple way to address educational inequity. Public school teachers use the website to create classroom project requests, and donors can choose the projects they want to support. Requests for support might include books for a reading corner, maker-space materials for creative types, STEM instruments for future scientists, or any one of thousands of projects that go beyond what the public school system can provide.
Nationwide, 716,308 projects totaling more than $418 million dollars have been funded.
"The internet allows one-dollar donors the same transparency to see where their money goes as large-dollar donors," Best said.
Once the project is funded, DonorsChoose.org purchases the items teachers request and sends them directly to the schools. When the items are received, teachers often use Twitter and Facebook to share photos of their students using them. As these photos are shared through social media, they generate excitement — encouraging more teachers to create projects and more donors to give.
Best says the concept for DonorsChoose.org came from his first-hand experience as a history teacher in the Bronx. Public school teachers often spend hundreds of dollars each year of their own money for classroom supplies. "During our breaks, we would talk about what we would like to do for our students if we had the resources."
Best says part of the nonprofit's success comes from recognizing that teachers know best what they need in the classroom. "That's why we are committed to fielding projects from front-line teachers for a specific group of students."
When asked about biggest challenges ahead, Best mentioned two — attracting more donors to the site and responding to the criticism that DonorsChoose.org is a bandage that ignores the underlying problems in the education system.
"Donors Choose gives voice to teachers about how they think education funds can best be spent. They know what books get kids excited about reading. They know what technology works best for students. There's a whole lot to learn from the data related to the projects that are created and funded that can help improve how education dollars are used," Best said.
Best's talk was part of Wake Forest University's Leadership Project, a program designed to showcase inspiring stories from leaders who represent a variety of professional paths.
DonorsChoose.org is one of Oprah Winfrey's "ultimate favorite things" and was featured on the cover of Fast Company as one of the "50 Most Innovative Companies in the World." For three years, Fortune Magazine has named Best to its "40 under 40" hottest rising stars in business.
Categories: Events, Speakers, Top Stories
Wake Forest in the News
Wake Forest regularly appears in media outlets around the world.