Main Content
This was so different than the last time she received news about her son. Instead of alone in the cold hospital hallway, June Booth (P '86) sat surrounded by Wake Forest friends in a quiet alcove of the Sutton Center, the sun streaming through the window. While silent tears coursed down her face, she remained quiet, processing the news she had just heard. It didn't seem possible.
"He wanted this so badly," she uttered, once she could finally speak.
It has been nearly 30 years since June's son, Neal Chastain ('86), died of complications with leukemia. Thirty years since the young man with the quick wit, business mind and compassionate heart was gone; 30 years since his mother missed the ceremony where his friends walked across the stage to receive their diplomas; 30 years since his family's dream of the first college degree was stunted.
"When we lost Neal, we lost the dreams that we had for him."
In all that time, June has never forgotten her son's love for Wake Forest. She faithfully visits campus at least once a year to meet the senior student who has received the Neal Monroe Chastain Memorial Scholarship and follows the 28 Chastain scholars' success in the class notes section of the Wake Forest magazine.
And in all that time, June has never let Wake Forest forget about her son. She tells each scholarship recipient about Neal, celebrates good news about the University, and has made friends of her own at Wake Forest.
In April 2016, in that sunny alcove of the Sutton Center, June received news that three decades after his death, Neal will receive his diploma from Wake Forest University.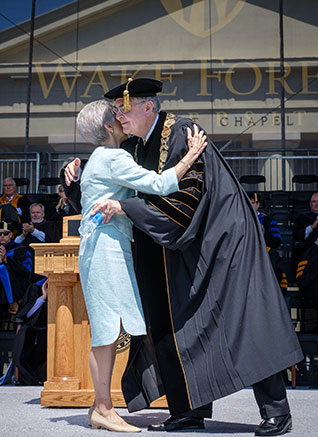 For years, June has walked through life carrying Neal's unfinished business in the recesses of her mind. On Commencement morning, she walked to receive her son's Wake Forest diploma – the diploma he wanted so badly.
"I am still shaking my head in disbelief," she commented, with a smile on her face. "Grateful does not begin to express my feelings. It is so much more than that. It's beyond gratitude – whatever that may be. Everyone in my family is so pleased. All are excited and thrilled this is going to happen. Like me, it brought tears to many eyes and great joy. This is better than winning the lottery!"
As she finished Neal's walk on Monday morning, June did so with a strange mix of joy and sadness but she also remembered her son with every step.
"Wake Forest is completing Neal's dream. I couldn't be happier."