Main Content
Highlights
Ten-year, $625 million construction effort enhances the residential experience
Strategic vision includes investing in academic, residential and athletic spaces that enhance all aspects of students' wellbeing
Many new facilities funded by leadership gifts to the Wake Will campaign
$210 million investment in regional construction and architecture firms boosts area economy
Wake Forest University is in the midst of a 10-year, $625 million construction effort that reflects the institution's commitment to offer the best residential college experience in the country.
Creating and transforming academic, residential and athletic spaces enhances classroom and campus life for students, while also providing a boost to the local economy.
Since July 1, 2015, the University has invested $55 million in construction and renewal projects. Milestones from this fiscal year include:
Celebrating the grand openings of the Sutton Center, an impressive extension of the historic Reynolds Gymnasium; McCreary Field House, an expansive indoor practice facility for student-athletes; a building adjacent to Worrell Professional Center for the health and exercise science department; and renovations in the Law School, including a transformative central commons;
Beginning a comprehensive overhaul of the mid-1950s Reynolds Gym;
Breaking ground on a next-generation South Campus residence hall and extensively renovating several of the 1950s residence halls surrounding Hearn Plaza.
All told, Wake Forest has completed more than $325 million in construction projects over the past five years and has plans for $300 million more over the next five. See below for a slideshow of projects recently completed or in progress.
"The construction activity on campus underscores our commitment to educating the whole person through an integrated residential learning experience." Nathan O. Hatch, Wake Forest President
"Wake Forest is determined to deliver the premier face-to-face liberal arts residential community, and our strategic vision includes investing in spaces that enhance all aspects of our students' wellbeing," Hatch said.
Donors ensure a strong foundation
Most of the newly completed facilities would not be possible without support from people like Mike (LLD '13) and Mary Farrell (P '10), Ben Sutton ('80, JD '83, P '14, P '16, P '19) and Bob McCreary ('61). Their generous leadership gifts for capital projects have helped Wake Will: The Campaign for Wake Forest close in on the $600 million Reynolda Campus fundraising goal two years ahead of schedule.
From the outside, the Sutton Center – named for IMG College Co-founder and Chairman Emeritus and University Trustee Ben Sutton – blends into the heart of campus as if it were built at the same time as the historic Reynolds Gym.
But, the inside of this remarkable two-story addition to the 60-year-old gym – the first of three planned phases to transform Reynolds Gym into a dynamic hub for campus-wide wellbeing – provides 46,000 square feet of flexible space for fitness programming and a venue for both academic and social gatherings.
Student-produced video for the Sutton Center grand opening
"Our vision for the Sutton Center was to create a space that encourages social, intellectual and spiritual growth and reflects how deeply we care about the physical wellbeing of the campus community," said Sutton, who believes the stress students feel can rival that of growing a billion-dollar company.
"My experience in business has been that people who feel good about themselves physically, emotionally and spiritually make far superior teammates to those who do not. We wanted to give that gift to students for generations to come." Ben Sutton, IMG College Co-founder and Chairman Emeritus and University Trustee
In February, Wake Forest formally cut the ribbon on McCreary Field House, the new indoor practice facility for Demon Deacon Athletics. The 80,000-square foot structure features a 120-yard multi-use field and weightlifting facilities for the football team. McCreary Field House is the first phase of a planned $58 million project that will include a new Sports Performance Center.
Campus construction builds the local economy
Over the past five years, Wake Forest has spent more than $210 million with local and regional construction companies – including Frank L. Blum, I. L. Long and Shelco – as well as architecture firms, providing work for thousands of people.
"The University's impact on the community is undeniable. Wake Forest's investment in facilities across the campus has resulted in a profound economic impact that continues to sustain thousands of local families and businesses." Win Welch, Vice President at I.L. Long Construction
His company most recently completed the HES space in Worrell Professional Center, McCreary Field House and Haddock House. "I.L. Long is honored to have served Wake Forest on more than 100 projects – large and small – over the past several decades. There's no business relationship we value more highly," Welch said.
Jim Parham has worked at Frank L. Blum since 1979 and been superintendent of some of the campus's most recent capital projects, including Farrell Hall, Deacon Tower, and the Reynolds Gym transformation project (including the Sutton Center).
Parham is a Winston-Salem native who grew up playing basketball in the gym, so supervising a project at Wake Forest is more than a job for him. It's personal.
"I like building in my own neighborhood," said Parham, whose first major campus project was the construction of Bridger Field House, which began in 1996. "It's nice to be working on a campus that you used to play on."
Today Parham oversees the site where generations of future Demon Deacons will play. While the original plans in the 1950s for Reynolds Gym included a rifle range, racquetball courts and a bowling alley…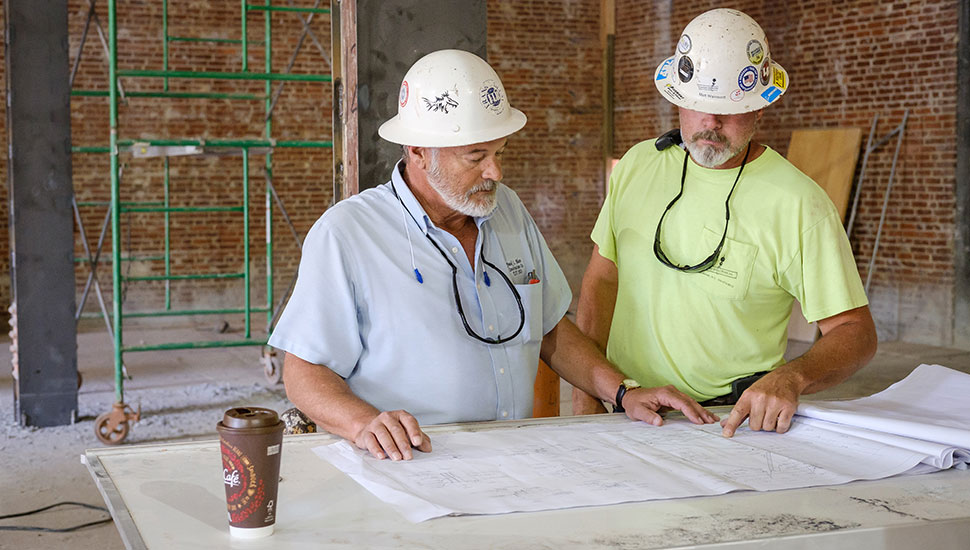 …the renovated facility will feature the types of spaces popular with students today, including an open living room, bouldering wall, a demonstration kitchen and group exercise rooms.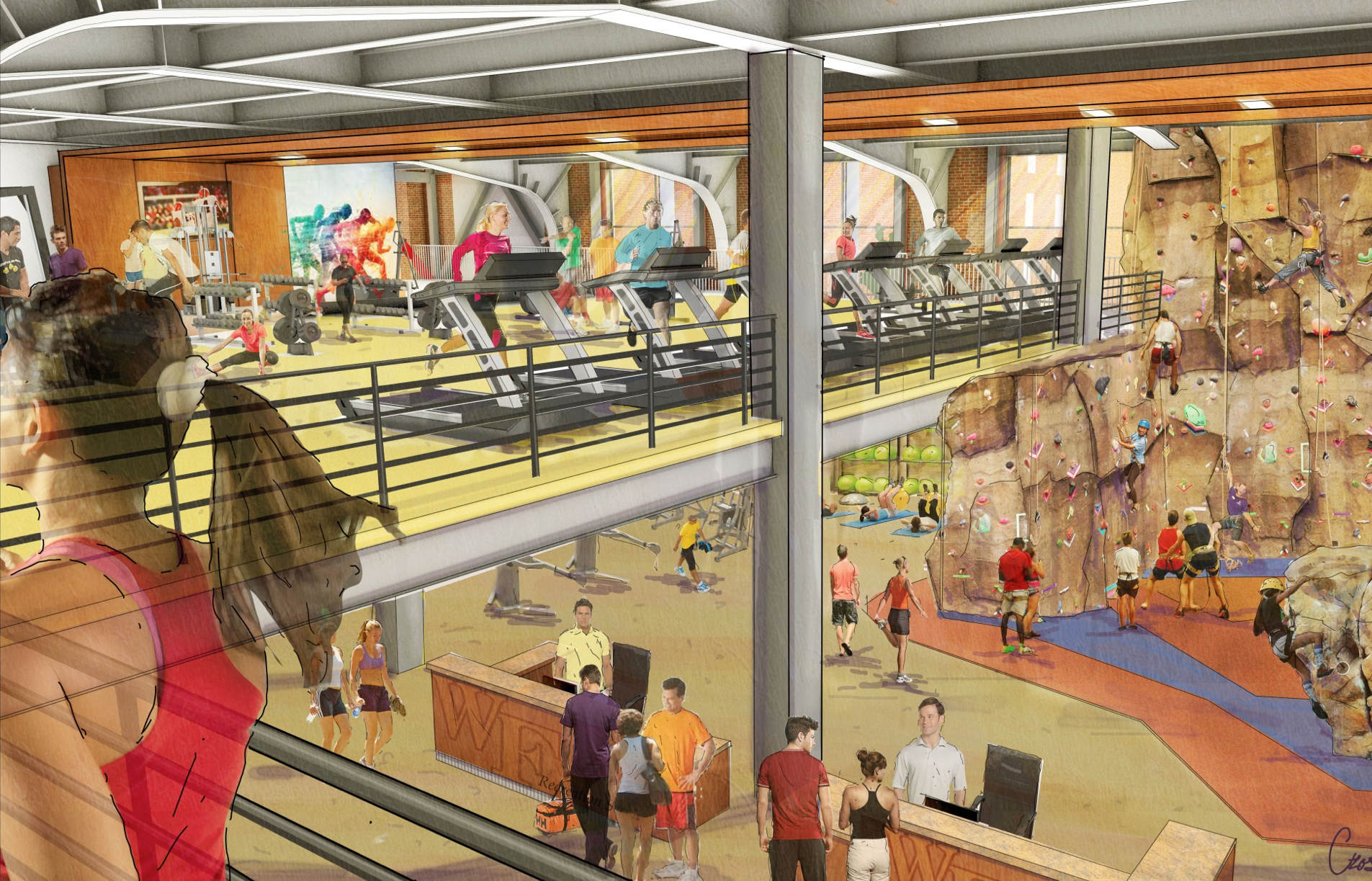 The impact of five years' worth of campus construction and renewal continues to add up.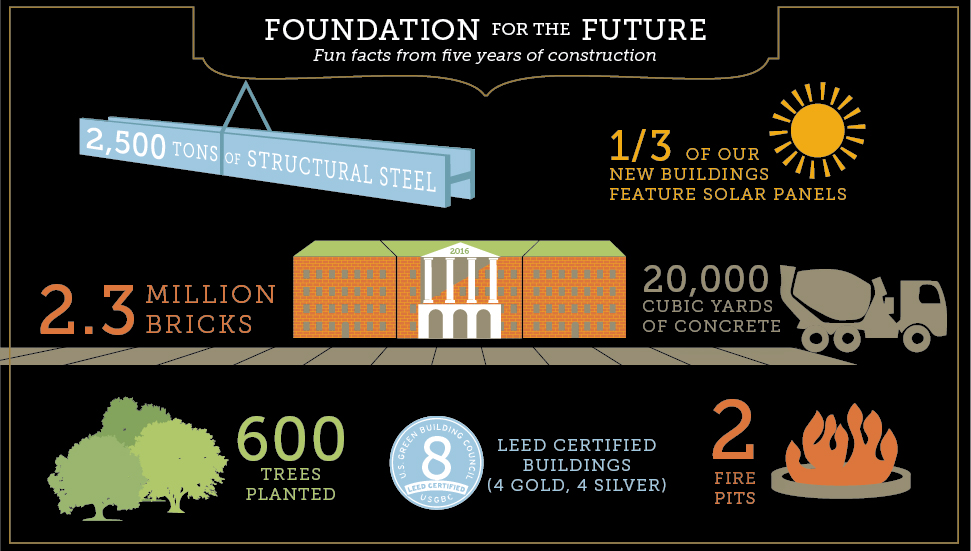 Renewal presents windows of opportunity
Considering that 40 percent of the building square footage on the Reynolda Campus dates back to its 1956 opening, implementing a comprehensive plan to renew historic buildings in addition to creating new spaces takes careful planning. Back then, Wake Forest had fewer than 1,700 undergraduate students compared to today's 4,900.
A phased renovation plan for the six original residence halls surrounding Hearn Plaza enabled the University to upgrade HVAC and electrical systems, remodel bathrooms and add automated building control systems in Kitchin Residence Hall during the 2015-2016 academic year. Now, similar work is taking place in Poteat and Huffman. Davis, Taylor and Efird will be remodeled in 2017 and 2018.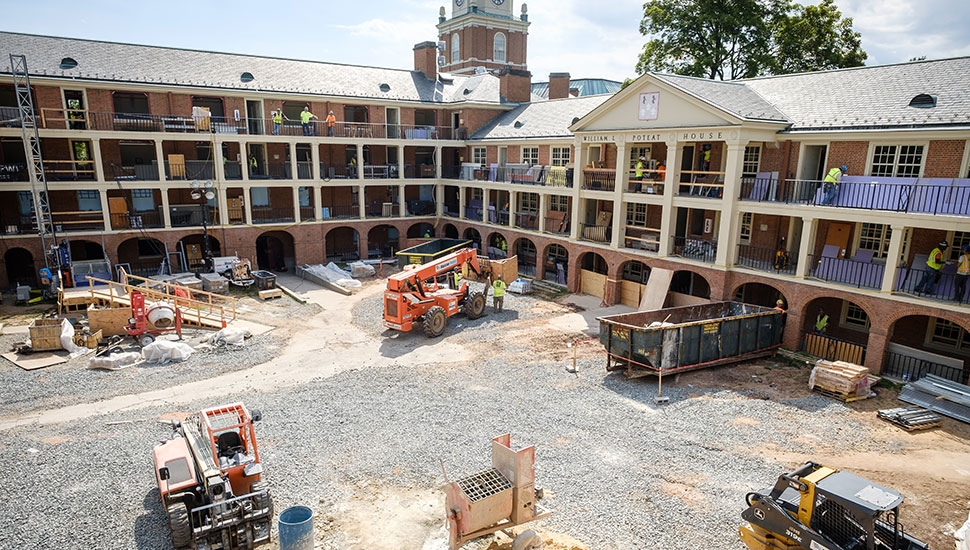 "While other institutions might have decided to tear these residence halls down, we chose to transform them because they were built so well originally," said Hof Milam, Executive Vice President at Wake Forest.
"Considering the amenities so many colleges offer in their residence halls today, Wake Forest's strategy has been one that carefully balances quality and cost, while providing students with a comfortable place for living and learning." Hof Milam, Executive Vice President at Wake Forest
Last fall, Wake Forest announced plans to lease space in the rehabilitated former R.J. Reynolds Tobacco Company 60 series building in Wake Forest Innovation Quarter, adjacent to what will become the home of the medical education programs of Wake Forest School of Medicine this summer.
New academic programs in Biomedical Sciences and Engineering will anchor the University's undergraduate presence, referred to as Wake Downtown, in Wake Forest Innovation Quarter beginning in 2017.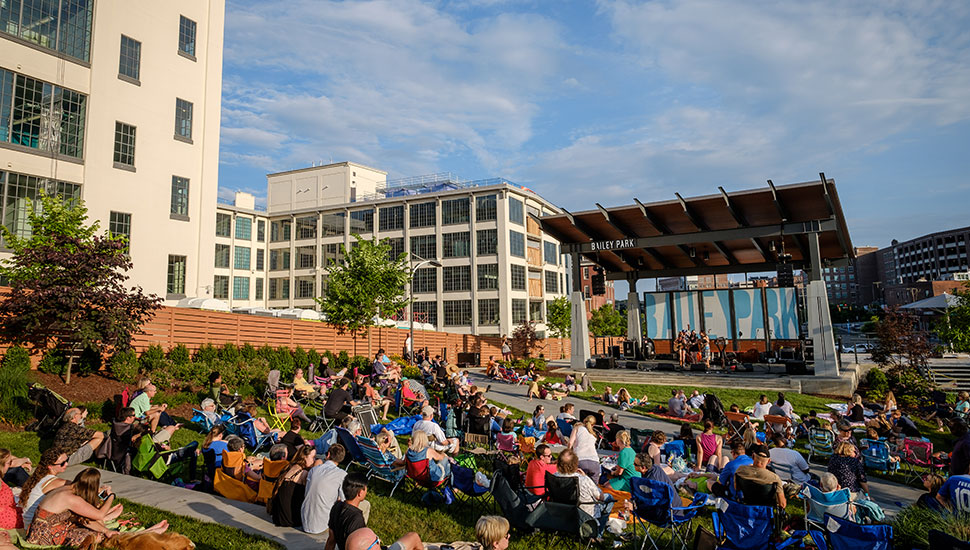 Kate Middleton, a junior biology major from Annandale, N.J., said rehabilitation efforts have received a positive student response.
The housing officer for Tri Delta sorority, Middleton says 92 percent of this year's pledge class requested to live in the sorority's housing block in Kitchin this fall – a significant increase over recent years that she largely attributes to the upgrades.
"The Quad is such a perfect, central location. It was really nice to come back and see how well done Kitchin was. The hardwood floors are really nice and make it homier," said Middleton, a psychology and neuroscience double-minor who was just as excited about the University's future of STEM education with Wake Downtown.
"As traditional as Wake looks on campus – it is what you imagine when you think about college – it's really appealing to see how we're transitioning these old warehouses into something more purposeful through Wake Downtown."
Blueprints map out the future
As fundraising continues, University leaders are making plans to renovate a number of academic buildings – including Scales Fine Arts Center, Salem Hall, Z. Smith Reynolds Library and Tribble Hall. They are also considering enhancements to some of the older South Campus residence halls and the Lawrence Joel Veterans Memorial Coliseum, which Wake Forest purchased in 2013.
Until then, Jim Parham, the superintendent on the Reynolds Gym transformation project, remains focused on the project at hand, which is expected to be completed in 2018.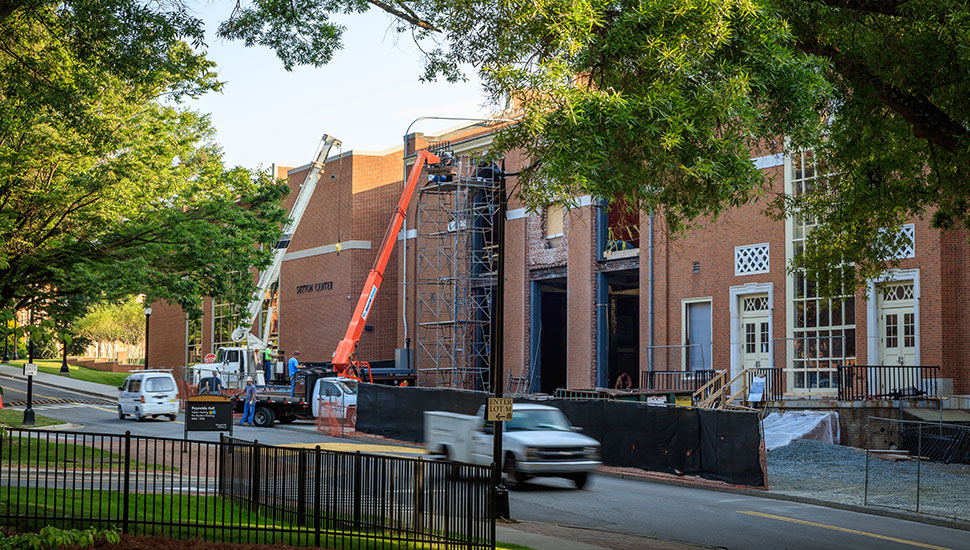 "Once the final building is complete, it's going to be a great facility and a meeting area. When the rebar pile and brick pile turns into grass seats and trellises, it's going to be one of the nicest corners on campus," Parham said.
Sutton, who visits upwards of 75 college and university campuses each year in his leadership role with IMG College, is looking far beyond the stately brick walls of the Reynolda Campus.
"I have seen up close and personal what so many other schools have undertaken and it is impressive," Sutton said. "But the significant investments we are making at Wake Forest are putting us well on our way – really, at the forefront – of developing one of the finest and most comprehensive wellbeing programs and facilities in the country."
Categories: Admissions, Athletics, Campus Life, Community, Philanthropy, President, Student, Thrive / Wellbeing, Top Stories, University Announcement, Wake Will