Main Content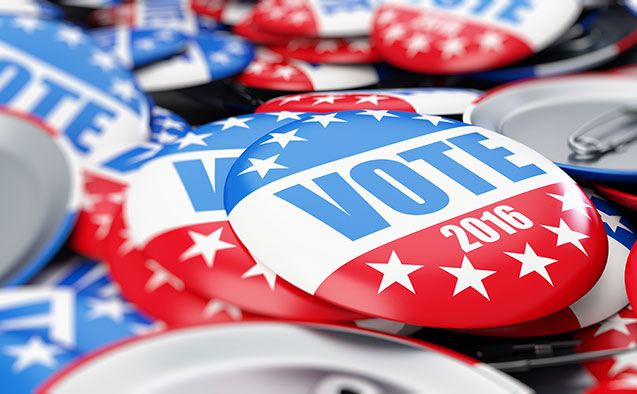 From foreign policy to education policy, Wake Forest University will host "Election 2016: Debating the Issues," a three-day series of forums featuring national and regional experts offering different perspectives on key election issues. Free and open to the public, the sessions will be held Oct. 25, 26, and 27.
"The purpose of the conference is to leave the audience better briefed on key issues now in debate in this election, and better informed about the various candidates' policy positions on these issues," said David Coates, professor of politics and international affairs and one of the organizers of the event.
Conservative and liberal voices are represented on panels moderated by Wake Forest professors. Speakers include members of the Council on Foreign Relations, immigration policy analysts from the Cato Institute and the Center for American Progress, a member of President Obama's economic team, an economics columnist from the American Enterprise Institute, an education policy researcher, leading journalists covering North Carolina politics and a high school teacher.
Two 90-minute moderated panels ending with a question-and-answer session will be held each day beginning in the late afternoon.  All sessions will be held in Pugh Auditorium in Benson University Center on the Wake Forest campus.  The schedule is below.  Additional details are posted on the conference website.
Tuesday, Oct. 25
Foreign Policy and National Security
4 – 5:30 p.m.
Moderator: David Coates, politics professor at Wake Forest
Speakers:
Jennifer Harris is a senior fellow at the Council on Foreign Relations and co-author of "War by Other Means: Geoeconomics and Statecraft."  She previously served on the policy planning staff at the U.S. Department of State and was responsible for global markets, geoeconomic issues and energy security. She is a Wake Forest graduate.
Henry Nau, professor at George Washington University, is a Council on Foreign Relations member and author of "Conservative Internationalism: Armed Diplomacy Under Jefferson, Polk, Truman and Reagan." He served on President Ronald Reagan's National Security Council and currently co-directs the U.S.-Japan-South Korea Legislative Exchange Program which organizes semiannual meetings with members of the U.S. Congress, Japanese Diet and Korean National Assembly.
Economic Policy
6:30 – 8 p.m.
Moderators: Robert Whaples and Todd McFall, Wake Forest economics professors
Speakers:
Jared Bernstein, senior fellow at the Center on Budget and Policy Priorities, served as chief economist and economic advisor to Vice President Joseph Biden from 2009 to 2011, executive director of the White House Task Force on the Middle Class, and a member of President Obama's economic team.
James Pethokoukis is a columnist and blogger at the American Enterprise Institute.  He has previously served as the Washington columnist for Reuters Breakingviews, the opinion and commentary wing of Thomson Reuters and as business editor and columnist for U.S. News & World Report.
Wednesday, Oct. 26
Al Hunt: An Insider's Perspective on American Politics Today
3 – 4 p.m.
Moderator: David Coates, politics professor and Rose O'Brien, politics and international affairs major
Speaker:
Al Hunt has covered politics and business in Washington D.C. for nearly four decades, oversees Bloomberg's coverage of U.S. elections and other political news. Since joining Bloomberg in January 2005, Hunt has played a key role in the Washington bureau's extensive growth, which today includes more than 160 editors and reporters. He also writes a weekly commentary column for Bloomberg News and The International Herald Tribune.
Immigration Politics
4 – 5:30 p.m.
Moderator: Hana Brown, Wake Forest sociology professor
Speakers:
Alex Nowrasteh is the immigration policy analyst at the Cato Institute's Center for Global Liberty and Prosperity. He is the co-author of the booklet "Open Immigration: Yea and Nay."
Phil Wolgin is the managing director for the immigration policy team at the Center for American Progress. He directs American Progress' research and publications on immigration and has helped lead the team's work on a diverse set of issues, such as immigration reform, child refugees at the United States' southern border and border security.
Education Policy in North Carolina
6:30 – 8 p.m.
Moderators: Sara Dahill-Brown, Wake Forest politics professor; Alan Brown, Wake Forest education professor
Speakers:
Marcus Brandon, executive director of CarolinaCAN:  The North Carolina Campaign for Achievement Now.  He has served two terms in the N.C. House of Representatives.
Lora Cohen-Vogel is Robena and Walter E. Hussman Jr. Endowed Chair of Policy and Education Reform in the School of Education at the University of North Carolina at Chapel Hill, where she also directs the PhD program in Policy, Leadership and School Improvement.  Lora is vice president of the Policy and Politics Division of the 25,000-member American Educational Research Association.
Stuart Egan is an English teacher at West Forsyth High School.  As an advocate for public schools, he writes articles and opinion pieces for North Carolina and national media outlets.
Thursday, Oct. 27
Voting and Politics in North Carolina
5 – 6:30 p.m.
Moderator: Michael Pisapia, Wake Forest politics professor
Speaker:
Sunshine Hillygus is professor of political science at Duke University and has published widely on American politics and elections, including most recently on youth voter turnout, and on public opinion, and information technology and politics. She is co-author of "The Persuadable Voter: Wedge Issue in Political Campaigns" and "The Hard Count: The Social and Political Challenges of the 2000 Census."
Andrew J. Taylor is professor of political science in the School of Public and International Affairs at North Carolina State University.  His research focuses on American politics, and his books include "Elephant's Edge: The Republicans as a Ruling Party," "Congress: A Performance Appraisal" and, with Toby L. Parcel, "The End of Consensus: Diversity, Neighborhoods, and the Politics of Public School Assignments."  Taylor is a past president of the North Carolina Political Science Association.
Covering Elections – the Intersection of State-Wide Media and Politics
7 – 8:30 p.m.
Moderator: Allan Louden, chair of communication and professor of political communication
Speakers:
Tim Boyum anchors the influential "Capital Tonight," a nightly political show that airs across the Time-Warner Cable's statewide network. He has had numerous one-on-one sit down interviews with Barack Obama, Hillary Clinton, and nearly all NC statewide office holders and office seekers. As a political reporter and anchor, Boyum covered the 2004, 2008, 2012 and 2016 Democratic National Conventions and the 2012 and 2016 Republican National Conventions.
Rob Christensen has covered North Carolina politics for 43 years at the News and Observer in Raleigh. He has appeared on over 550 TV or radio programs to comment on politics including about 80 national programs including CBS Evening News, MSNBC's "Hardball with Chris Matthews," "The NewsHour with Jim Lehrer" on PBS, CNN's "Cross Fire," and "Happening Now" on Fox News. Rob is the author of "The Paradox of Tar Heel Politics: The Personalities, Elections, and Events That Shaped Modern North Carolina," updated in 2010.
The event is co-sponsored by the Wake Forest Departments of Education, Communication, Politics and International Affairs, and Sociology as well as the American Ethnic Studies and Latin American and Latino Studies programs in conjunction with the Pro Humanitate Institute and Wake Forward.
This news release was updated to include information about "Al Hunt: An Insider's Perspective on American Politics Today" on Oct. 26 from 3-4 p.m.