Main Content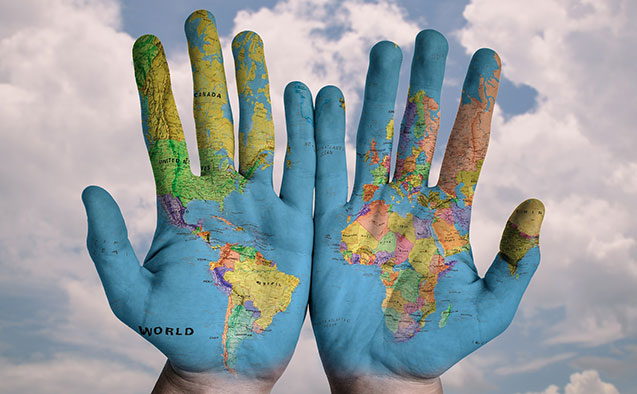 A new event to highlight and bring attention to the refugee experience – Wake Refugee Day: Unity in Diversity – will take place Saturday, Nov. 12 from 1:30 p.m. to 6 p.m. in Brendle Recital Hall and the lobby area of Scales Fine Arts Center.
Free and open to the public, the event includes a variety of activities to engage refugee families and community members interested in learning more about their diverse lives and experiences. There will be a photography exhibit, ethnic food, arts and crafts, a film screening, a martial arts demonstration, and a spoken word poetry recitation from two Iranian sisters, among other activities. Children's activities will also be available.
The event is the inspiration of Wake Forest junior Rose O'Brien who studied abroad in Italy last year, taught the language to refugees and experienced their cultures first hand.
"This is going to be a great opportunity to celebrate refugees and their cultures as opposed to talking about the geopolitics of why wars happen and why people are displaced and, instead, create something accessible to people in the community," O'Brien said.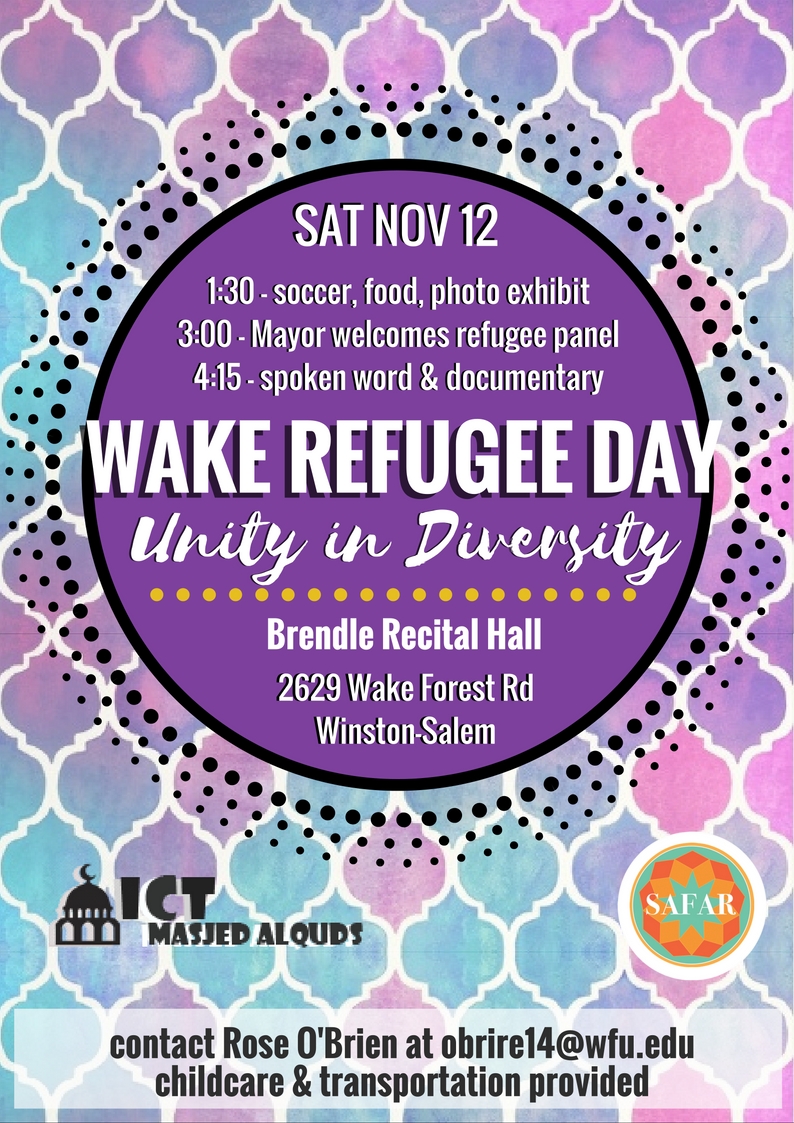 At 3 p.m., there will be a brief welcome and a panel discussion with refugees of different ethnicities who will talk about their experiences and lives in Winston-Salem and the broader community. Mayor Allen Joines will be on hand to introduce the participants. The panel will be moderated by Maria Henson, associate vice president and editor-at-large of Wake Forest Magazine.
As part of planning for Wake Refugee Day, O'Brien created the Student Association for the Advancement of Refugees (SAFAR) in hopes that it will become a sustaining organization and continue to support and connect the Wake Forest community to local refugees. She says there is a need for English as a Second Language (ESL) class support and leadership as well as opportunities to share culture by holding events like the Syrian cooking class that recently took place through Campus Kitchen.
A political science major and Winston-Salem native, O'Brien became interested in local refugees after learning about the ESL classes offered by Wake Forest's Teaching and Learning Center to Myanmar religious refugees who work on campus with food services company Aramark. Now, O'Brien teaches ESL classes in Winston-Salem through World Relief, a global program that partners with the U.S. Department of State and local churches to welcome and resettle refugees referred by the United Nations Refugee Agency in communities.
"I hope this event really brings people together, and they realize we actually have refugees in Winston-Salem. I think people don't realize that once refugees are here, that's not the end of their story," O'Brien she said. "Connecting refugees to others will help people realize it's very difficult to assimilate even in a nice little town like Winston-Salem."
Schedule of Events
1:30-3 p.m. – Soccer game on Davis Field, photographs, food, Arabic calligraphy table
3 p.m. – Mayor Joines provides opening remarks and introduces the panel, Brendle Recital Hall
3:15-4 p.m. – Panel discussion by four refugees from Ethiopia, Congo, Syria and Iraq, including a 15 minute Q&A opportunity for the audience
4-4:10 p.m. – Short speech about the Persian martial art Parthowa, followed by a brief demonstration
4:10-4:20 p.m. – Spoken word poetry by the Shokrighadi sisters
4:20-4:30 p.m. – 10-minute intermission
4:30-5:50 p.m. – "Pushing the Elephant," a documentary film about a Congolese woman who moves to the U.S. and becomes an activist for refugees
5:50-6 p.m. – Closing remarks
Subscribe
Sign up for weekly news highlights.
Subscribe