Main Content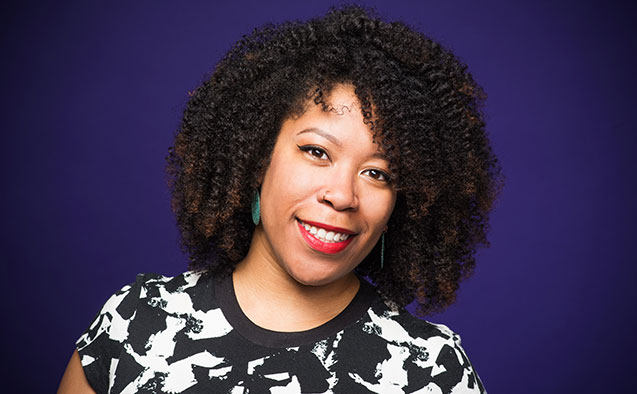 Tracy Clayton of BuzzFeed's Another Round will host a live show and recording full of laughs, special guest appearances and all manner of fun at Wake Forest University on Nov. 17 at 8 p.m. The event will be held at the Porter Byrum Welcome Center. Doors will open at 7:30 p.m.
Admission is free, but tickets are required. Tickets can be reserved online.
Writer and humorist Tracy Clayton joined BuzzFeed in 2014 where she writes and is co-host of the podcast Another Round. The show has been praised as wry, witty and intelligent, and has scored big interviews, including Lin-Manuel Miranda, Uzo Abuda and Hillary Clinton. Clayton is also a contributor at PostBourgie.com. She is originally from Louisville, Ky.
Clayton is the 2016-2017 Ida B. Wells Media Expert-in-Residence at the Anna Julia Cooper Center at Wake Forest University.
Clayton's visit, immediately on the heels of the election, will include public events with faculty, students and community members — encouraging broad, engaging conversations in her signature style of humor and insight.
"The Anna Julia Cooper Center is thrilled that Tracy has agreed to be an integral part of our media, race and gender conversations," said Maya Angelou Presidential Professor Melissa Harris-Perry. "She brings a generational sensibility reflecting the experiences of our students, a Southern identity informing her analysis, and a deep curiosity that leads her audiences to both hilarious and insightful conclusions. Clayton's work is perfectly positioned at the nexus of a changing media landscape that raises critical questions about race and gender in both form and content. I can't wait to see what new ideas Clayton sparks for our students and community."
About the Ida B. Wells Media Expert-in-Residence
Named for famed anti-lynching advocate Ida B. Wells-Barnett, the Wells Residency develops a year-long relationship between the Anna Julia Cooper Center and a journalist with a record of compelling work about Southern issues and an eye on gender and racial equality. During their residency, the Wells Expert-in-Residence produces writing or media, engages with students and community, and shares expertise with faculty.
About the Anna Julia Cooper Center
The Anna Julia Cooper Center is an interdisciplinary center at Wake Forest University with a mission of advancing justice through intersectional scholarship. The Center supports, generates and communicates innovative research at the intersections of gender, race and place, sustaining relationships between partners on campus and throughout the nation in order to ask new questions, reframe critical issues, and pursue equitable outcomes. The Center is directed by Melissa Harris-Perry.
Categories: Events
Subscribe
Sign up for weekly news highlights.
Subscribe