Main Content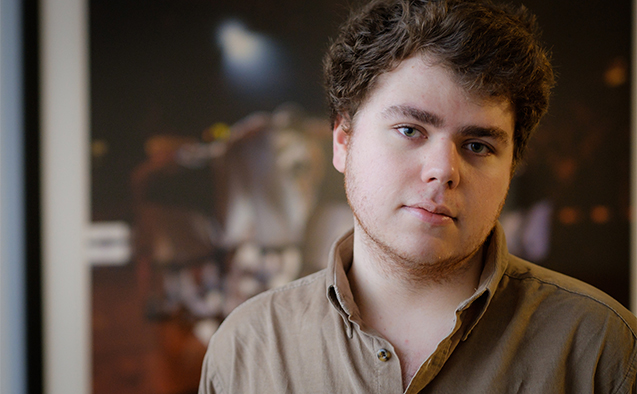 The WFU Awards and Recognitions briefs celebrate milestones of faculty, staff and students at Wake Forest.
Wake Forest student selected as 2018 Newman Civic Fellow
Wake Forest University junior David Ajamy has been named a 2018 Newman Civic Fellow by Campus Compact, a Boston-based non-profit organization working to advance the public purposes of higher education.
During his time at Wake Forest, Ajamy has been engaged in civic and political activity on campus and in the community. He serves on the executive board of Campus Kitchen, a student-run organization that uses leftover campus food resources to help feed the community. He is currently studying in the Wake Washington program and is working for D.C. Central Kitchen under the nationwide Campus Kitchens Project. As a participant in Wake the Vote, a yearlong intensive civic learning and democratic engagement experience, Ajamy interned with Democracy North Carolina and facilitated get-out-the-vote initiatives.
The Newman Civic Fellowship, named for Campus Compact co-founder Frank Newman, is a one-year experience emphasizing personal, professional and civic growth. Through the fellowship, Campus Compact provides a variety of learning and networking opportunities, including a national conference in partnership with the Edward M. Kennedy Institute for the United States Senate. The fellowship also provides access to apply for exclusive scholarship and post-graduate opportunities. The Newman Civic Fellowship is supported by the KPMG Foundation and Newman's Own Foundation.
WFU Physics Professor Keith Bonin appointed associate provost, research and scholarly inquiry
Earlier this week, Wake Forest Provost Rogan Kersh announced the appointment of Keith Bonin as associate provost for research and scholarly inquiry. Bonin will begin serving as associate provost July 1. Bonin joined the Wake Forest physics faculty in 1992 and has since served as physics department chair and physics department graduate program director. Additionally, Bonin was a vital force in the recent development of the department of engineering, helping develop the original concept outlining a plan for engineering instruction at Wake Forest. Bonin's scholarship focuses on optical traps, nanoscopic physics and biophysics.
Wake Forest student receives award from American Debate Association
Wake Forest senior Ned Gidley received the Julia Burke Award from the American Debate Association. The award is given to one debater who has embodied excellence in and passion for debate, a commitment to helping others, respect for the American Debate Association policy debate community, and dedication to maintaining friendships despite the pressures of competition.
WFU appoints new director of the Teaching and Learning Collaborative
Betsy Barre has been appointed the next executive director of the Teaching and Learning Collaborative. Barre joins Wake Forest from Rice University, where she is the associate director of the Center for Teaching Excellence. Earlier this year, the Professional and Organizational Development Network in Higher Education selected her as the winner of the 2017 Innovation Award for the development of a tool to help faculty, students, and administrators estimate the out-of-class workload assigned in their courses. Barre will join Wake Forest in mid-May.
Categories: Faculty, Recognition, Staff, Student, Top Stories
Subscribe
Sign up for weekly news highlights.
Subscribe