Main Content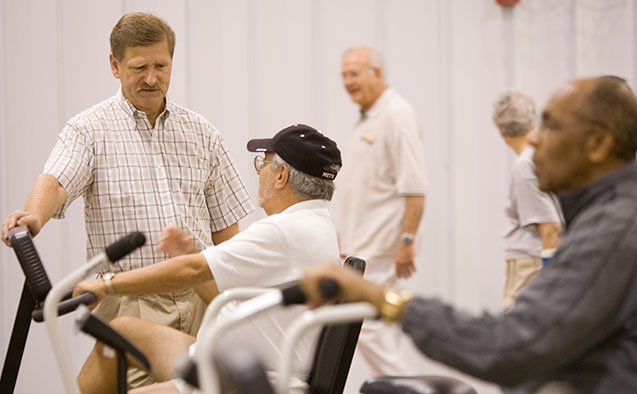 Developing a comprehensive map of the molecular changes in the human body that occur in response to physical activity is the focus of a new $170 million National Institutes of Health (NIH) awards program that will support researchers across the country, including Wake Forest University professors of Health and Exercise Science researchers Jack Rejeski and Anthony Marsh.
The NIH Common Fund announced today the first awards for its "Molecular Transducers of Physical Activity in Humans Program" (MoTrPAC), which will support 19 grants to collect various biological specimens from people of different races, ethnic groups, sex, ages, and fitness levels prior to, during, and following different types of exercise. The biological specimens will be analyzed to uncover how different types and intensities of physical activity affect various molecules within our bodies.
"We will be looking at why various forms of exercise have positive effects on human health," Rejeski said. "While a common finding across studies over the past several decades has been that exercise has a positive effect on various health outcomes, the molecular mechanisms for these effects remain to be explained."
Rejeski is one of four principal investigators from the Clinical Coordinating Center who will play a major role in managing the seven clinical sites that will be recruiting and training participants. He will provide his expertise in leading the exercise intervention core; Marsh is a co-investigator with Rejeski. The center also includes Mike Miller from Wake Forest School of Medicine, as well as Marco Pahor at University of Florida and Russ Tracy at University of Vermont.
The center will be responsible for a variety of tasks that range from refining the interventions, coordinating collection and analysis of biological specimens, data management and analysis, to the overall administration of the activities for MoTrPAC.
"This is a major NIH initiative, the largest ever to focus on the mechanisms underlying the health benefits of exercise. We are honored to be a part of MoTrPAC – it underscores the prominence of Wake Forest as a national leader in physical activity and health research," Marsh said.
Rejeski and Marsh are collaborative research partners whose work primarily focuses on quality of life issues related to mobility and physical exercise in the aging population.
These awards total approximately $170 million through fiscal year 2022; the total award for the exercise intervention core for the duration of the study is $513,577. The awardees will work as a consortium to develop plans for recruitment into clinical trials, identification of methods to analyze tissue samples, and selection of animal models to best replicate human studies. The animal models will allow researchers to search for changes in tissues not easily accessible in human patients, such as the brain, lungs, and kidneys.
In addition to the clinical trial sites, MoTrPAC will include seven chemical analysis sites, three awards to conduct physical activity studies in animal models, a bioinformatics center to disseminate data and tools to the entire research community.
The program will also provide funding to store data in a user-friendly public resource that any researcher can access to investigate the molecular mechanisms through which physical activity can improve or preserve health.
MoTrPAC is funded through the NIH Common Fund and managed by the National Institute of Arthritis and Musculoskeletal and Skin Diseases, National Institute of Diabetes and Digestive and Kidney Diseases, National Institute on Aging, and National Institute of Biomedical Imaging and Bioengineering. Awards are made using the NIH Cooperative Agreement mechanism which allows for substantial scientific interaction between the NIH and awardees.
The NIH Common Fund encourages collaboration and supports a series of exceptionally high-impact, trans-NIH programs. Common Fund programs are designed to pursue major opportunities and gaps in biomedical research that no single NIH institute could tackle alone, but that the agency as a whole can address to make the biggest impact possible on the progress of medical research. Additional information about the NIH Common Fund can be found at http://commonfund.nih.gov.
Categories: Faculty, Research, Top Stories