Main Content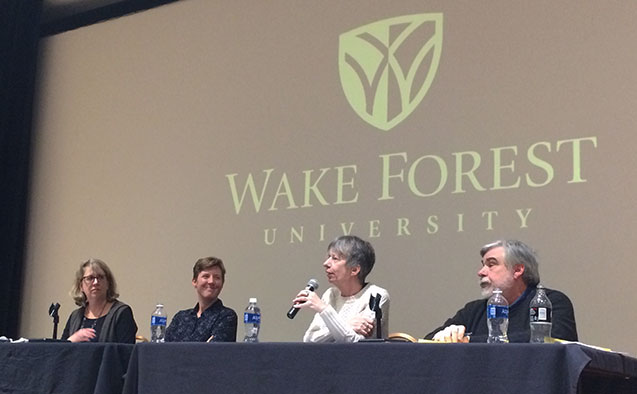 More than 300 members of the Wake Forest University community packed into Pugh Auditorium on Friday for a faculty-led panel on immigration and refugees.
Programs in the Middle East and South Asia Studies and American Ethnic Studies sponsored the event as a way to provide information and help people understand President Donald Trump's executive order titled "Protecting the Nation from Foreign Terrorist Entry into the United States."
Phoebe Zerwick, director of the journalism program and moderator of the panel, said faculty who began planning the event on Monday wanted a way to channel the scholarly expertise on our campus into an educational experience.
"We just felt that with the events of the weekend — with the executive order, all these people being detained at airports and all these protests — there was so much confusion over what it all meant," Zerwick told the Winston-Salem Journal before the event.
"As a journalist and a teacher, I really believe that people can come to the best positions about urgent issues through accurate information." Phoebe Zerwick, director of the journalism program
Panelists included:
Professor of Law Margaret Taylor, who is well known for her teaching and research on immigration detention policy and the deportation of criminal offenders;
Associate Professor of Sociology Hana Brown, whose work examines the relationship between politics, the state, and social inequality;
Adjunct Professor of Law Helen Parsonage, an immigration attorney who works directly with immigrants and refugees in the community; and
Professor of Politics and International Affairs Hank Kennedy, who has a long-standing teaching and professional interest in the issues of political Islam, and in U.S. foreign policy with respect to the Middle East and South Asia.
One thing they all agreed on – the implications of the so-called travel ban or exclusion order are unknown.
"Immigration lawyers are drinking from fire hoses right now," said Taylor.
"This last week puts me in a position I'm very uncomfortable with as an attorney – I have no idea [what will happen]," said Parsonage.
Panelists covered topics ranging from immigrant integration into society to the likely impact on terrorist activity to potential implications for any non-U.S. citizens. They also fielded questions from audience members about implications for U.S. allies, safety for Americans traveling abroad and the impact to research conducted outside the country.
Several international students asked questions relating to their post-graduation options, such as the status of H-1B visas in the future – something panelists agreed is to be determined.
Despite the uncertainty, Brown reassured them: "We can promise you Wake Forest will be a welcoming environment for international students."
For psychology graduate student Lauren Collier, the forum delivered what she had hoped for.
"Having information from multiple directions and perspectives at once is helpful," Collier said. "I'm not an expert on immigration so it is nice to know the numbers and the facts."
Categories: Events, Faculty, Top Stories
Subscribe
Sign up for weekly news highlights.
Subscribe