Main Content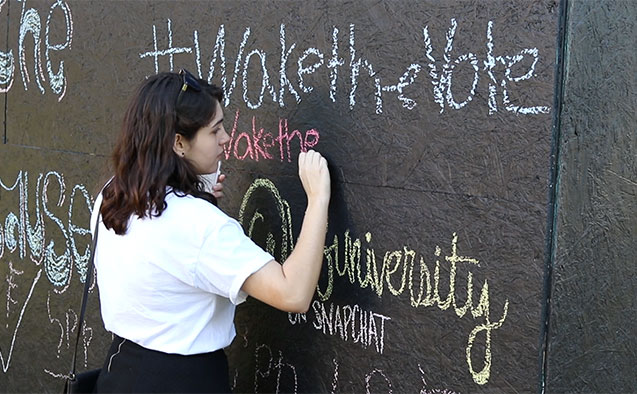 Who: Wake Forest University's Wake the Vote students and the University's Pro Humanitate Institute are partnering with Rock the Vote and Ben & Jerry's to host an Election Night Watch Party. The event is free and open to the public as well as students, faculty and staff. The event is co-sponsored by Wake the Vote, a large number of Wake Forest student organizations, and the Winston-Salem Urban League.
What: The Wake the Vote Election Night Watch Party will include food trucks, free ice cream, live music performance by The CrossRhodes, chalkboard drawing, the political art show UP TO US, carnival games, prizes, screen printing of t-shirts with political messages, and DJs. Election results will be shown on an outdoor Jumbotron and on six indoor screens.
"This will truly be a celebration of democracy," said Melissa Harris-Perry, executive director of the Pro Humanitate Institute and Maya Angelou Presidential Chair at Wake Forest. "This will be one of the liveliest election night watch parties in the country to mark what has been a lively election season."
This event also represents a milestone in the Wake the Vote program, an effort combining classroom and real-world political experience. Wake the Vote students have spent 2016 examining issues central to the presidential election and have attended the Iowa caucuses, the New Hampshire primaries, the Democratic and Republican conventions and a variety of other election-related events.  Learn more about the students' experiences on the Wake the Vote website.
When: Tuesday, Nov. 8 from 7 p.m. – 12 a.m.
Where: Wake Forest University's Pro Humanitate Institute (2599 Reynolda Road, Winston-Salem, NC 27106).
Parking: Parking will be provided offsite. The shuttle will stop at the Benson University Center on Wake Forest's Reynolda Campus and the Winston-Salem First parking lot (3730 University Parkway) behind the church in the lot on Long Drive. Shuttle service will begin running at 7 p.m. and operate on 20-minute intervals.
Subscribe
Sign up for weekly news highlights.
Subscribe